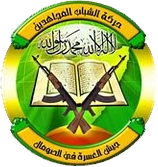 Al-Shabab Logo

The Somalia-based terrorist group al-Shabaab/al-Shabab has killed again in Kenya:
December 2, 2014

The Somali militant group al-Shabab has claimed responsibility for killing 36 people early Tuesday in northeastern Kenya.

The attack happened at a quarry near the town of Mandera where witnesses say gunmen struck as workers were sleeping in their tents.

An al-Shabab statement said its fighters had killed what they called "Kenyan crusaders" and were punishing Kenya for sending troops to fight in Somalia.

Al-Shabab Timeline2006

– Launches insurgency to take control of Somalia and impose strict Islamic law

2008

– U.S. declares al-Shabab a foreign terrorist organization

2009

– Seizes control of parts of Mogadishu and the port city Kismayo

2010

– Expands control across central and southern Somalia, carries out deadly bombing in Kampala, Uganda

2011

– Blocks drought/famine aid from areas under its control

2011

– East African leaders declare al-Shabab a regional threat; Ethiopian, Kenyan troops enter Somalia to pursue the group, which is driven out of Mogadishu

2012

– Declares itself an al-Qaida ally, loses ground in Somalia, abandons strategic coastal stronghold Kismayo

2013

– Attacks Mogadishu court complex, killing more than 30 and attacks mall in Nairobi, Kenya, killing at least 69 people

2014

– Attack in Mogadishu kills more than 10 on New Year's Day 

http://www.voanews.com/content/gunmen-kill-northeastern-kenya-mandera/2542110.html

December 2, 2014

Kenyan President Uhuru Kenyatta has replaced his interior minister and police chief following a massacre by Islamist group al-Shabab.

The president asked Kenyans to unite, and said: "We will not flinch in war against terrorists."

Kenya's police chief David Kimayo stood down, while Interior Minister Ole Lenku was dismissed.

Al-Shabab earlier killed 36 quarry workers in the Mandera region, near the Somali border.

The group attacked the workers around midnight on Monday as they slept in tents at the quarry in Kormey, 15km (nine miles) from the north-eastern town of Mandera.

The non-Muslim workers were shot dead after being separated from the Muslims.

"This is a war against Kenya and Kenyans," Mr Kenyatta said on national TV on Monday. "It is a war that every one of us must fight."

A driver who visited the scene of the attack, Ali Sheikh Yusuf, told the BBC most of the victims appeared to have been lined up, and shot in the head, at close range.

He said four were beheaded inside their tents, while three appeared to have escaped to Mandera town.

Al-Shabab said it carried out the attack, blaming the involvement of Kenyan forces in Somalia "and their ongoing atrocities therein, such as the recent air strikes on Muslims". The group put the number of killed at 40, higher than official accounts. http://www.bbc.com/news/world-africa-30295519
While I was in Nairobi, Kenya last March/April, al-Shabaab committed a terrorist act there and several were killed.  From a Church of God perspective, al-Shabaab creates difficulties in Kenya as it has heightened security and safety concerns in Kenya. While I am not aware that the Continuing Church of God (CCOG) had any members directly affected by this latest bombing, we do have hundreds of members in Kenya, as well as members in neighboring Tanzania. The problems caused by al-Shabaab were factors in interfering with the travel of CCOG members into Kenya for the Feast of Tabernacles in October of this year. Because of that, most from Tanzania had to stay in that country and a last minute Feast site over there had to be arranged.
Of course, al-Shabaab is not the only terrorist organization currently active.  It has been reported that al-Qaeda may be planning to blow up airliners later this month in Europe near the time many travel-related to Christmas:
December 1, 2014

A new report claims terrorists are plotting to blow up five jets bound for European cities before Christmas, in what one analyst said is a sign Al Qaeda is competing with the Islamic State for influence.

Britain's Sunday Express newspaper reported that, according to unnamed security experts, Al Qaeda terrorists are plotting a Christmas "spectacular." The threat reportedly is taken seriously enough that it led officials to consider banning hand luggage.

"We've been told that five planes are being targeted in a high profile hit before Christmas. They've been waiting for the big one," one unnamed airport security source told the newspaper…sources also say the U.S.-led bombing campaign against the Al Qaeda offshoot Khorasan group in Syria has not disrupted their plotting, and trained bomb makers are still around — even though notorious French bomb maker David Drugeon was killed in a recent missile strike. http://www.foxnews.com/politics/2014/12/01/terrorists-reportedly-plot-passenger-jet-attacks-over-europe/
Terrorism is horrible. Terrorism is wrong.
It is not just Kenya and Europe that are being affected.  Much worse will hit the USA and its Anglo-Saxon descended allies in the future.
Notice the following prophecy:
3 They have taken crafty counsel against Your people,
And consulted together against Your sheltered ones.
4 They have said, "Come, and let us cut them off from being a nation,
That the name of Israel may be remembered no more."

5 For they have consulted together with one consent;
They form a confederacy against You:
6 The tents of Edom and the Ishmaelites;
Moab and the Hagrites;
7 Gebal, Ammon, and Amalek;
Philistia with the inhabitants of Tyre;
8 Assyria also has joined with them;
They have helped the children of Lot. (Psalms 83:3-8, NKJV throughout unless otherwise noted or contained in citations)
It is my view that many of the nations in Psalm 83 will conspire to use terrorism against the USA, its Anglo-Saxon descended allies, and the current nation called Israel.  Psalm 83 is talking about a confederation of Arabic, Turkish (Edom), and European (Assyria) peoples.
Notice something that the old WCG reported decades ago:
Terrorists have become the means by which some powerful nations, desiring to avoid unwanted escalation or public outcry, can punish their enemies at a relatively small cost.

These modern-day guns-for-hire also provide the same service for smaller nations that may fear a direct confrontation with a major power.

Many nations make no bones about their connections to terrorist groups. Syria, Libya, Iraq and South Yemen all see no objection in directly aiding terrorism. (Taylor D. TERRORISM the Worst Is Yet to Come! Plain Truth, May 1984)
Worse terrorism happened since that came out.
Yet, it appears that the USA and others in the West are getting closer to accepting the idea that some type of regional confederation of Islamic nations is the solution for what has been happening (see US Military Chairman scales down threat from Islamic State and seems to be advocating the rise of the King of the South and Kissinger tells of New World Order, Cameron concerned about ISIS terrorism, while Obama tells of 'no strategy' related to bombing Islamic State raises some concerns). Such a confederation will not bring true peace (watch also the new video Middle East Peace? When?), but war and destruction.
Some of what groups like al Shabab and al Qaeda want will come to pass per Daniel 11:40-43 and Ezekiel 30:2-8, but this will not end up well for those who support this according to those same passages of scripture.
Some items of possibly related interest may include:
Africa: Its Biblical Past and Prophesied Future What does the Bible teach about Africa and its future? Did the early Church reach Africa? Will God call all the Africans?
How Will Middle East Peace be Brought About? Can humans bring peace to the Middle East? Here is a link to a related video: Middle East Peace? When?
The Prophesied 'Islamic' Confederation Where is an Islamic caliphate prophesied? Will one happen? Should you be concerned about it? Here is a link to a related video video: Will an Arabic Calphiphate Destroy the West?
Iraq, the King of the South, Armageddon, and Prophecy What will happen to Iraq? Is it the prophesied Mystery Babylon? What is Armageddon and how does that have to do with Iraq? Here is a related video Iraq, Armageddon, & Prophecy.
Damascus and Syria in Prophecy Will Bashar Assad hold power as he has it? Does the Bible show that Damascus, the capital of Syria, will be destroyed? What will happen to Syria? Will the Syrians support the final King of the South that the Bible tells will rise up? Which scriptures discuss the rise and fall of an Arabic confederation? Does Islamic prophecy predict the destruction of Syria. This is a YouTube video.
The 'Peace Deal' of Daniel 9:27 This prophecy could give up to 3 1/2 years advance notice of the coming Great Tribulation. Will most ignore or misunderstand its fulfillment? Here is a link to a related sermon video Daniel 9:27 and the Start of the Great Tribulation.
Iran in Prophecy Is Iran in Bible prophecy? If so, what does the Bible teach? What names, other than Persia, may be used to describe Iran? There is also a YouTube video titled Iran in Prophecy. Here is a related video Iran In Prophecy.
Is the Future King of the South Rising Up? Some no longer believe there needs to be a future King of the South. Might Egypt, Islam, Iran, Arabs, or Ethiopia be involved? Might this King be called the Mahdi or Caliph? What does the Bible say? A YouTube video of related interest may be: The Future King of the South is Rising. The Muslim Brotherhood and the Rise of the King of the South The Bible tells of the formation of a power of nations that are in the Middle East and North Africa that are part of the final "King of the South" (Daniel 11:40-43) The Muslim Brotherhood wishes to have an Islamic empire with basically the same nations. This YouTube video explains what to expect from such a confederation.
The Arab and Islamic World In the Bible, History, and Prophecy The Bible discusses the origins of the Arab world and discusses the Middle East in prophecy. What is ahead for the Middle East and those who follow Islam? What about the Imam Mahdi? What lies ahead for Turkey, Iran, and the other non-Arabic Muslims? An item of possibly related interest in the Spanish language would be: Líderes iraníes condenan la hipocresía de Occidente y declaran que ahora es tiempo para prepararse para el Armagedón, la guerra, y el Imán Mahdi.
The Gospel of the Kingdom of God was the Emphasis of Jesus and the Early Church Did you know that? Do you even know what the gospel of the kingdom is all about? You can also see a YouTube video sermon The Gospel of the Kingdom.
Europa, the Beast, and Revelation Where did Europe get its name? What might Europe have to do with the Book of Revelation? What about "the Beast"? Is an emerging European power "the daughter of Babylon"? What is ahead for Europe? Here is a link to a video titled: Can You Prove that the Beast to Come is European?
European Technology and the Beast of Revelation Will the coming European Beast power would use and develop technology that will result in the taking over of the USA and its Anglo-Saxon allies? Is this possible? What does the Bible teach? Here is a related YouTube video: Military Technology and the Beast of Revelation.
Must the Ten Kings of Revelation 17:12 Rule over Ten Currently Existing Nations? Some claim that these passages refer to a gathering of 10 currently existing nations together, while one group teaches that this is referring to 11 nations getting together. Is that what Revelation 17:12-13 refers to? The ramifications of misunderstanding this are enormous. A related sermon is titled Ten Kings of Revelation and the Great Tribulation.
World War III: Steps in Progress Are there surprising actions going on now that are leading to WWIII? Might a nuclear attack be expected? Does the Bible promise protection to all or only some Christians? How can you be part of those that will be protected? A related video would be Is World War III About to Begin? Can You Escape?
Wars, rumors of wars, and the Apocalypse Jesus foretold a time before the end where there would be wars and rumors of wars. The Apocalypse (the Book of Revelation) warns of the red horseman of war. Now, even secular writers, like Larry Edelson, are worried that wars and rumors of war are the most menacing problem that now haunts the earth? Are they right? What is the solution? This is a sermonette-length video.
Who is the King of the North? Is there one? Do biblical and Roman Catholic prophecies for the Great Monarch point to the same leader? Should he be followed? Who will be the King of the North discussed in Daniel 11? Is a nuclear attack prophesied to happen to the English-speaking peoples of the United States, Great Britain, Canada, Australia, and New Zealand? When do the 1335 days, 1290 days, and 1260 days (the time, times, and half a time) of Daniel 12 begin? When does the Bible show that economic collapse will affect the United States? Here is a link to a video titled: The Future King of the North.
When Will the Great Tribulation Begin? 2015, 2016, or 2017? Can the Great Tribulation begin today? What happens before the Great Tribulation in the "beginning of sorrows"? What happens in the Great Tribulation and the Day of the Lord? Is this the time of the Gentiles? When is the earliest that the Great Tribulation can begin? What is the Day of the Lord? Who are the 144,000? Here is a version of the article in the Spanish language: ¿Puede comenzar la Gran Tribulación en 2014 o 2015? ¿Es el Tiempo de los Gentiles? You can also see the English language sermon video: The Great Tribulation from the Mount of Olives.
Anglo – America in Prophecy & the Lost Tribes of Israel Are the Americans, Canadians, English, Scottish, Welsh, Australians, Anglo-Saxon (non-Dutch) Southern Africans, and New Zealanders descendants of Joseph? Where are the lost ten-tribes of Israel? Who are the lost tribes of Israel? What will happen to Jerusalem and the Jews in Israel? Will God punish the U.S.A., Canada, United Kingdom, and other Anglo-Saxon nations? Why might God allow them to be punished first? Here is a link to the Spanish version of this article: Anglo-América & las Tribus Perdidas de Israel. Information is also in the YouTube sermons titled Where are the Ten Lost Tribes? Why does it matter? and British are the Covenant People. A short YouTube of prophetic interest may be Barack Obama and the State of the Apocalypse.