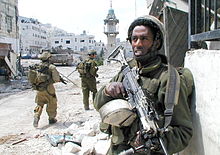 Israeli Defense Force photo

More attention is being placed on the Palestinian uprising and violence:
October 20, 2015
Another stabbing attack Tuesday morning in the West Bank left an Israeli soldier wounded and the assailant killed, increasing the fear in the country that no place is safe.The military said the Israeli officer was injured lightly in the stabbing. The army said the attack took place in the West Bank village of Beit Awwa near Hebron during a "violent riot" of Palestinian demonstrators.

The clashes are yet another guarantee that Israel will remain on edge, reports CBS News correspondent Barry Petersen. But the real dread is over random murder. An attacker Sunday killed a soldier before being killed himself.

The current unrest erupted in Jerusalem a month ago over tensions surrounding a Jerusalem holy site sacred to Jews and Muslims. It soon spread to Arab neighborhoods of east Jerusalem and then to the West Bank, Gaza and the rest of Israel.

The spate of daily attacks have caused panic across Israel and raised fears that the region is on the cusp of a new round of heavy violence.  http://www.cbsnews.com/news/israeli-stabbed-palestinian-middle-east-violence-un-ban-ki-moon/

October 20, 2015

World Council of Churches general secretary Rev. Olav Fykse Tveit has joined Pope Francis and the U.N. Secretary-General expressing deep concern over renewed violence in Jerusalem as Ban Ki-moon made his way to Israel to ty to find ways of defusing tensions.

The U.N.'s Ban was was heading for Israel Oct. 20 for in a diplomatic bid to address ongoing violence that has rocked the country for over a month, a U.N. spokesman said in Geneva.

During his visit Ban was to meet with israeli Prime Minister Benjamin Netanyahu as well as Palestinian Authority President Mahmoud Abbas.

Speaking after Sunday Mass the Pope had appealed once again for peace in the Holy Land.

"I am following with great concern the situation of high tension and violence that afflicts the Holy Land," he said.

Over the past month, nine Israelis have been killed in Palestinian attacks, most of them stabbings. In the same period, 41 Palestinians have been killed by Israeli fire, including 20 whom Israel labeled as attackers, and the rest in clashes with Israeli troops.  http://www.ecumenicalnews.com/article/world-churches-pope-and-ban-ki-moon-all-deeply-concerned-about-jerusalem-violence-34918

October 20, 2015

Ban on visit says there can be no de-escalation of violence without "reemergence of hope."

Netanyahu placed the blame for the violence on Abbas for "joining Hamas and ISIS in claiming that Israel is threatening the Al-Aksa Mosque." This, he said, is a "total lie." …

"I think it is time to tell the truth about Palestinian terrorism," Netanyahu said. "It is not about the settlements, it is not about the peace process, it is the desire to destroy the State of Israel, pure and simple."

Ban, who said he understood the "pain and anger felt by many Israelis in the current environment," said that "clearly these attacks against individuals are not taking place in a vacuum." He said that he has been "deeply troubled" by statements made by Hamas and Islamic Jihad praising the attacks, and also voiced his "deep concern" in a conversation with Abbas over "instances of inflammatory rhetoric."

Ban urged the Israeli government to do its utmost to calm down the situation, and said he welcomed statements by Netanyahu, other ministers and prominent rabbis about maintaining the status quo on the Temple Mount.

Ban said that the security challenges Israel is facing raises many "complicated dilemmas and may require tightening security measures." But, he added, these measures must be carefully calibrated to protect innocent lives, and where innocent lives are lost Israel should conduct full investigations.

"Israelis and Palestinians stand on the brink of another catastrophic period of violence. We need to keep the situation from escalating into a religious conflict with potential regional implications," he said. "We must create the conditions for meaningful negotiations that will end the occupation and realize the aspirations of both people. The only way to end this conflict is through negotiations that produce visible, meaningful results. Unilateral actions from either side will only perpetuate a downward spiral." http://www.jpost.com/Israel-News/Politics-And-Diplomacy/WATCH-LIVE-UN-chief-Ban-Ki-moon-meets-Netanyahu-during-snap-visit-to-Israel-427525
Ban Ki-moon seems to be hinting at an international 'solution' to the problems there.  The Palestinians are again learning that violence brings international attention and sometimes pressure to assist their goals.
Many Palestinians are depressed, distraught, and feel that they are without hope. Because of improper Islamic teachings, many believe that engaging in this type of murderous behavior, when it results in their personal deaths, will not only free them from problems in this life, but give them an opportunity to fulfill various lusts in the next (e.g. see Suicide bombers kill scores in Turkey–their hope for reward is flawed)–but that is a false hope.
As far as the Vatican goes, Pope Francis wants more access to Jerusalem.  The events happening there may give him more influence and a better ability to meet his objectives.
Decades ago, the late Church of God evangelist Raymond McNair wrote:
In the German Süddeutsche Zeitung there was an article in which it was revealed that Pope Paul VI had received a message in Fatima through the only remaining shepherd girl (who is now a nun). They were seen quite some time together and it appeared as if she had something to say to him. When asked in Rome, after his return, if his visit to Fatima was a success, Pope Paul said: " I went to Fatima to pray for peace to the Virgin Mary and I received the answer how to, achieve this peace."

There are many rumors that he did receive a message, but he has not wanted to divulge it.

Since the pilgrimage to Fatima, the Pope has spoken out on Jerusalem- demanding it become an international city. What most do not know is that there is evidence the Vatican has plans to move from Rome to Jerusalem … This event will stir the world! It will be the Pope 's final effort as the world's peacemaker! (McNair R. The Real Meaning Behind POPE PAUL'S PILGRIMAGE TO PORTUGAL. Plain Truth, June 1967, pp. 3, 47)

Jerusalem will become increasingly important to Catholics in the near future. The Papacy will, as previously reported in The PLAIN TRUTH, be moved from Rome to Jerusalem … Bible prophecy is very explicit on this point. Furthermore, according to a recent report in a leading German newspaper, the Third Fatima Message is reported (by inside, informed Vatican sources) to reveal that there will be a terrible World War III, during which (according to this Fatima Vision) both Rome and the Vatican will be destroyed! Could this possibly explain why the Vatican will be moved to Jerusalem? (McNair R. POPE MEETS PATRIARCH. Plain Truth, October 1967)
Like me, Raymond McNair (and the old Radio Church of God, who published the above) was aware that Catholic actions can be influenced by Marian apparitions and Catholic private prophecies.  Fatima is more important to the Church of Rome than most non-Catholics realize.  Pope Francis had his pontificate dedicated to the 'Lady of Fatima' and later consecrated the world to the immaculate heart of his version of Mary before the statue used in Fatima as a representation of what was claimed to appear there.
Pope Francis has been to Jerusalem and pushed to permanently acquire a building there last year (some details are in the article Church of God on Jerusalem's Western Hill).  Yes, the Vatican will take advantage of a crisis to get what it wants.
What is happening with the stabbings and other terrorism in Israel/Palestine is horrific.
Christians should "Pray for the peace of Jerusalem" (Psalm 122:6) and "Thy Kingdom come" (Matthew 6:10).
But real Christians also realize that this will not truly happen until after the return of Jesus and the establishment of the millennial kingdom–a concept that people like Pope Francis do not accept.
Some items of possibly related interest may include:
Jerusalem: Past, Present, and Future What does the Bible say about Jerusalem and its future? Is Jerusalem going to be divided and eliminated? Is Jesus returning to the area of Jerusalem? There are also two related YouTube videos you can watch: Jerusalem To be divided and eliminated and God's and Satan's Plan for Jerusalem.
Gaza and the Palestinians in Bible Prophecy What does the Bible teach about Gaza and the fate of the Palestinians? Here is a link to a related video: Gaza and Palestine in Prophecy.
United Nations: Humankind's Last Hope or New World Order? Is the UN the last hope for humanity? Or might its goals end up with sinister results? Two related videos include UN's 'New Universal Agenda' is a False Gospel! and United Nations and Vatican Are Planning the New World Order.
Differences Between Islam and the Continuing Church of God What are some of the main differences? Are there any similarities? A video of related interest is titled: Islam: Any Christian Concerns or Similarities?
The 'Peace Deal' of Daniel 9:27 This prophecy could give up to 3 1/2 years advance notice of the coming Great Tribulation. Will most ignore or misunderstand its fulfillment? Here is a link to a related sermon video Daniel 9:27 and the Start of the Great Tribulation.
How Will Middle East Peace be Brought About? Can humans bring peace to the Middle East? Here is a link to a related video: Middle East Peace? When?
Is the Future King of the South Rising Up? Some no longer believe there needs to be a future King of the South. Might Egypt, Islam, Iran, Arabs, or Ethiopia be involved? Might this King be called the Mahdi or Caliph? What does the Bible say? A YouTube video of related interest may be: The Future King of the South is Rising.
The Arab and Islamic World In the Bible, History, and Prophecy The Bible discusses the origins of the Arab world and discusses the Middle East in prophecy. What is ahead for the Middle East and those who follow Islam? What about the Imam Mahdi? What lies ahead for Turkey, Iran, and the other non-Arabic Muslims? An item of possibly related interest in the Spanish language would be: Líderes iraníes condenan la hipocresía de Occidente y declaran que ahora es tiempo para prepararse para el Armagedón, la guerra, y el Imán Mahdi.
Libya, Algeria, Morocco, and Tunisia in Prophecy What is ahead for North Africa? What does the Bible teach?
Egypt in Prophecy Does Egypt have a special role in end time prophecy? Will Egypt rise up and then be defeated. What does God teach will happen to those in Egypt? Here is a link to a YouTube video titled Egypt and End Time Prophecy.
Iraq, the King of the South, Armageddon, and Prophecy What will happen to Iraq? Is it the prophesied Mystery Babylon? What is Armageddon and how does that have to do with Iraq? Here is a related video Iraq, Armageddon, & Prophecy.
Iran in Prophecy Is Iran in Bible prophecy? If so, what does the Bible teach? What names, other than Persia, may be used to describe Iran? There is also a YouTube video titled Iran in Prophecy. Here is a related video Iran In Prophecy.
The Arab and Islamic World In the Bible, History, and Prophecy The Bible discusses the origins of the Arab world and discusses the Middle East in prophecy. What is ahead for the Middle East and those who follow Islam? What about the Imam Mahdi? What lies ahead for Turkey, Iran, and the other non-Arabic Muslims? An item of possibly related interest in the Spanish language would be: Líderes iraníes condenan la hipocresía de Occidente y declaran que ahora es tiempo para prepararse para el Armagedón, la guerra, y el Imán Mahdi.
The Prophesied 'Islamic' Confederation Where is an Islamic caliphate prophesied? Will one happen? Should you be concerned about it? Here is a link to a related video video: Will an Arabic Calphiphate Destroy the West?
The Gospel of the Kingdom of God was the Emphasis of Jesus and the Early Church Did you know that? Do you even know what the gospel of the kingdom is all about? You can also see a YouTube video sermons Why Teach the Kingdom of God? and The Gospel of the Kingdom.
Fatima Shock! What the Vatican Does Not Want You to Know About Fatima, Dogmas of Mary, and Future Apparitions. Whether or not you believe anything happened at Fatima, if you live long enough, you will be affected by its ramifications (cf. Isaiah 47; Revelation 17). Fatima Shock! is a highly documented book by Bob Thiel for those interested in the real truth about Fatima and how future apparitions may affect the future. In addition to the print version, there is a Kindle version of Fatima Shock! which you can acquire in seconds.