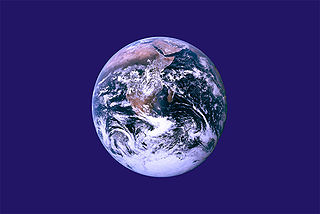 Unofficial Earth Day Flag
April 22nd is known as "Earth Day." This year's focus is on protecting species of life according to the Earth Day website:
Earth Day 2019: Protect Our Species
There has been a great loss of species. For more details, see the recent post 'Planetary Collapse Threatens Our Survival'.
Now, here is a little about the history of Earth Day:
By the late 1960s, air and water pollution had already achieved serious environmental damage in the USA. Acid rain damaged forests, smog plagued cities, and suburban sprawl in its own paved-over way extended urban blight. Yet little appropriate national legislation existed. There was no Environmental Protection Agency (EPA), Clean Water Act, or Endangered Species Act. Land, rivers, and people — whether in city or countryside — were all dumped on.
In 1969 that changed as two events grabbed the headlines: California's pristine coast at Santa Barbara played host to a massive oil spill and Cleveland's Cuyahoga River caught on fire. US Senator Gaylord Nelson, known from previous public service as Wisconsin's "Conservation Governor," flew back from Santa Barbara with an idea and on 22 April 1970, the first Earth Day was celebrated by 20 million Americans across the nation.
Earth Day quickly went global. By the 30th anniversary in 2000, people in 184 countries were holding Earth Day celebrations. That year the focus was clean energy. A decade later, the 40th anniversary saw attention shift to climate change…
What was, on that first Earth Day, full-blown confidence that industrial-technological civilization and 3.7 billion people could right itself has in 2013 become a troubled doubt that global consumerism for the nearly doubled population—7 billion—can. http://blog.oup.com/2013/04/history-earth-day/
There are several scriptures that would seem to be appropriate for "Earth Day." Here is one to look at:
15 Then the LORD God took the man and put him in the garden of Eden to tend and keep it (Genesis 2:15).
The concept of tending and keeping a garden suggests proper environmental stewardship.
Notice, however, the following:
18 The nations were angry, and Your wrath has come,
And the time of the dead, that they should be judged,
And that You should reward Your servants the prophets and the saints,
And those who fear Your name, small and great,
And should destroy those who destroy the earth (Revelation 11:18).
Thus, God is not pleased when humans abuse the environment.
In the past few years, there has been a lot of extreme weather. The time for God's further judgment is coming. It appears that the "beginning of sorrows" which includes "earthquakes in various places" has begun. The time to turn to God is now, for whosoever will respond to God's calling.
In 2015, Pope Francis released his encyclical titled Laudato Si. This was well received in the international community and was consistent with the 'New Universal Agenda'' Pope Francis endorsed that was adopted by the United Nations.
On September 7, 2016, Olav Fykse Tveit, Church of Norway Pastor, and the General Secretary of the World Council of Churches, essentially declared that those who ignore 'climate change' are committing the 'unpardonable sin' against the Holy Spirit.
While Christians should try to properly tend and keep the earth, certain of the Vatican's, WCC's, and the United Nations' plans go beyond that to include changes to society and governmental controls that look to lead to the rise of the Beast power that the Bible warns against.
It will take the Kingdom of God, not the international environmental movement, to solve the major problems associated with polluting the earth.
Before US President Donald Trump took office, I wrote and had the following published:
Donald Trump's view of climate change is expected to set up some type of issue between the USA and Europe. Europe will tend to see the USA as an irresponsible polluter of the planet, while Europe will claim to be the protector that the world needs. (Thiel B. Donald Trump and America's Apocalypse. Nazarene Books, 2017)
This is in the process of being confirmed.
Notice something from last month related to the loss of species:
15 March 2019

Environmental groups involved in talks at a United Nations conference in Kenya have accused the US of blocking an ambitious global response to plastic pollution. … a coalition of environmental groups at the conference condemned the US for blocking the ambitious attempts to tackle plastic pollution at source as well as downstream. …

"It's hard to find one solution for all member states," Siim Kiisler, the president of the UN environment assembly, told Agence France-Presse before the final decision. "The environment is at a turning point. We don't need verbose documents, we need concrete commitments."

When asked whether the US had pushed to have the commitments watered down during the week's negotiations, Kiisler said: "I will not answer that question."

David Azoulay, from the Center for International Environmental Law, condemned the weakening of the commitment.

He said: "The vast majority of countries came together to develop a vision for the future of global plastic governance. Seeing the US, guided by the interests of the fracking and petrochemical industry, leading efforts to sabotage that vision is disheartening." https://www.theguardian.com/environment/2019/mar/15/us-accused-of-blocking-ambitious-global-action-against-plastic-pollution-un-conference-environment
Plastic pollution is a major problem. And yes, change is needed. But we see that the Trump Administration is being blamed for not supporting international standards related to pollution.
Notice also something earlier:
Faced with a U.S. retreat from international efforts to tackle climate change, European Union officials are looking to China, fearing a leadership vacuum will embolden those within the bloc seeking to slow the fight against global warming.…

'WE LOST A MAJOR ALLY'

China's partnership with former U.S. President Barack Obama's administration helped get nearly 200 countries to support the Paris climate change pact in 2015.

That agreement, which looks to limit the rise in average global temperature to "well below" 2 degrees Celsius compared with pre-industrial levels, entered into force late last year, binding nations that ratified to draft national plans to reduce greenhouse gas emissions.

But despite Beijing's green policy drive, propelled by domestic anger over smog and the environmental devastation wrought by rapid economic growth, some EU officials are skeptical it can pull as much weight as the United States on climate issues.

"We will make a lot of noises (about allying with China), but let's be honest we lost an ally – a major one," a senior EU energy diplomat said, speaking on condition of anonymity. http://www.reuters.com/article/us-usa-trump-eu-climatechange-idUSKBN15G5B3
The Trump Administration's position on 'climate change' upset the Europeans at the latest G20 conference (see Trump, Germany, China, and G20).
Furthermore, because of at least two of Donald Trump's executive orders, the USA is being called a rogue nation. Here is a dictionary definition of rogue:
1. a dishonest, knavish person; scoundrel.

2.a playfully mischievous person; scamp:

The youngest boys are little rogues.
Check out the following video:
Because of US President Donald Trump's position on 'climate change' as well as certain executive orders from him, the USA has been declared a rogue nation by various ones in Europe, Africa, Asia, and other parts of the world. How does Webster's Dictionary define 'rogue'? Is it possible that considering that the USA is a rogue nation will be part of the justification for it getting taken over in the future? What does the Vatican want done? Does the Bible teach that friends, who do not mean to takeover the USA will one day destroy it? Might 'climate change' be part of a false gospel?
The relationship with Europe will get worse than people expect. 'Climate change' is likely to be one reason that the Europeans will feel justified about what they will ultimately do.
The Europeans will turn against its 'friend':
1 How lonely sits the city
That was full of people!
How like a widow is she,
Who was great among the nations!
The princess among the provinces
Has become a slave!

2 She weeps bitterly in the night,
Her tears are on her cheeks;
Among all her lovers
She has none to comfort her.
All her friends have dealt treacherously with her;
They have become her enemies. (Lamentations 1:1-2)
The Europeans will take over the USA per Daniel 11:39 (see also USA in Prophecy: The Strongest Fortresses). If more and more consider the USA to be a rogue nation, it will be easier to persuade more to support the takeover. Climate positions of the USA may be something that will be used to justify the takeover.
This will happen, even though they do not think that they want to:
5 "Woe to Assyria, the rod of My anger
And the staff in whose hand is My indignation.
6 I will send him against an ungodly nation,
And against the people of My wrath
I will give him charge,
To seize the spoil, to take the prey,
And to tread them down like the mire of the streets.
7 Yet he does not mean so,
Nor does his heart think so;
But it is in his heart to destroy,
And cut off not a few nations.
8 For he says,
'Are not my princes altogether kings?
9 Is not Calno like Carchemish?
Is not Hamath like Arpad?
Is not Samaria like Damascus?
10 As my hand has found the kingdoms of the idols,
Whose carved images excelled those of Jerusalem and Samaria,
11 As I have done to Samaria and her idols,
Shall I not do also to Jerusalem and her idols?'" (Isaiah 10:5-11)
More on Assyria can be found in the articles Germany's Assyrian Roots Throughout History and Germany in Biblical Prophecy. More on Samaria can be found in the articles Anglo – America in Prophecy & the Lost Tribes of Israel and Spiritual Samaritans: Old and New.
The USA is becoming more and more isolated from the international community and this will not end well for the USA.
Some items of possibly related interest may include:
The Bible, Christians, and the Environment How should Christians view the environment? Does the Bible give any clues? What are some of the effects of air, water, and land pollution? Is environmental pollution a factor in autism and death? Do pollutants seem to double the autism risk? What will Jesus do? A YouTube video is available titled Air Pollution, Autism, and Prophecy.
Weather Blessings and Sorrows Are weather problems a warning? What should be done? What does the Bible teach about weather? What about floods, droughts, heat, earthquakes, tornadoes, and solar storms? Here is a related YouTube video Does God Use Weather? A related item in the Spanish language would be Bendiciones y maldiciones del clima.
What is the Unpardonable Sin? What is it? Can you repent of it? Do you know what it is and how to avoid it? Here is a link to a related sermon video The Unpardonable Sin and the Prodigal Son. Here is a link to a shorter video The 'Unpardonable Sin' and 'Climate Change'?
United Nations: Humankind's Last Hope or New World Order? Is the UN the last hope for humanity? Or might its goals end up with sinister results? Two related videos include UN's 'New Universal Agenda' is a False Gospel! and United Nations and Vatican Are Planning the New World Order.
Laudato Si: Pope's Agenda or Kingdom of God? Pope Francis' 2nd encyclical is titled 'Laudato Si.' In it, he goes over his views related to environmental, economic, social, moral, agricultural, and spiritual issues. He advocates international cooperation to solve various problems he believes are affecting humanity. Is that Pope's agenda the solution? What about the Kingdom of God? does the Bible teach? Two related articles include Laudato Si: Will Pope Francis' economic actions match his words? and Laudato Si: A call for a one-world government?
How Old is the Earth and How Long Were the Days of Creation? Does the Bible allow for the creation of the universe and earth billions of years ago? Why do some believe they are no older than 6,000 years old? What is the gap theory? Where the days of creation in Genesis 1:3 through 2:3 24 hours long? Here is a link to a sermon: Genesis, 'Prehistoric man,' and the Gap theory. Here is a link to a related article in Spanish: ¿Cuán vieja es la Tierra? ¿Cuán largos fueron los Días de la Creación? ¿Teoría de la brecha?
What is the Meaning of Life? Who does God say is happy? What is your ultimate destiny? Do you really know? Does God actually have a plan for YOU personally? There is also a video titled What is the meaning of your life?
Just What Do You Mean — Repentance? Do you know what repentance is? Have you truly repented? Repented of what? Herbert W. Armstrong wrote this as a booklet on this important subject.
The Gospel of the Kingdom of God This free online pdf booklet has answers many questions people have about the Gospel of the Kingdom of God and explains why it is the solution to the issues the world is facing. Here are links to three related sermons: The World's False Gospel, The Gospel of the Kingdom: From the New and Old Testaments, and The Kingdom of God is the Solution.
USA in Prophecy: The Strongest Fortresses Can you point to scriptures, like Daniel 11:39, that point to the USA in the 21st century? This article does. A related sermon is titled: Do these 7 prophesies point to the end of the USA?
Who is the King of the West? Why is there no Final End-Time King of the West in Bible Prophecy? Is the United States the King of the West? Here is a version in the Spanish language: ¿Quién es el Rey del Occidente? ¿Por qué no hay un Rey del Occidente en la profecía del tiempo del fin?
Does God Have a 6,000 Year Plan? What Year Does the 6,000 Years End? Was a 6000 year time allowed for humans to rule followed by a literal thousand year reign of Christ on Earth taught by the early Christians? Does God have 7,000 year plan? What year may the six thousand years of human rule end? When will Jesus return? 2027 or 20xx? There is also a video titled The 6000 Year Plan: Is the end of humanity's reign almost up?
When Will the Great Tribulation Begin? 2019, 2020, or 2021? Can the Great Tribulation begin today? What happens before the Great Tribulation in the "beginning of sorrows"? What happens in the Great Tribulation and the Day of the Lord? Is this the time of the Gentiles? When is the earliest that the Great Tribulation can begin? What is the Day of the Lord? Who are the 144,000? Here is a version of the article in the Spanish language: ¿Puede comenzar la Gran Tribulación en 2018 o 2019? ¿Es el Tiempo de los Gentiles? You can also see the English language sermon videos: The Great Tribulation from the Mount of Olives and Can the Great Tribulation begin before 2020? A shorter and newer video is: Might the Great Tribulation start in 2019?
The Times of the Gentiles Has there been more than one time of the Gentiles? Are we in it now or in the time of Anglo-America? What will the final time of the Gentiles be like? A related sermon is available and is titled: The Times of the Gentiles.
Armageddon Who is involved and when will this gathering happen? Here is also a video from Dr. Thiel, from Tel Megiddo in Israel: Armageddon. Other videos include: Armageddon Will it come on Trump's watch?, Iraq, Armageddon, & Prophecy, Freemasonry, Armageddon, and Rome, Is China paving roads to Armageddon?, and Jordan, Petra, and Armageddon.
Physical Preparation Scriptures for Christians. We all know the Bible prophecies famines. Should we do something? Here is a version in the Spanish language Escrituras sobre Preparación física para los Cristianos. Here is a link to a related sermon: Physical preparedness for Christians.
Donald Trump in Prophecy Prophecy, Donald Trump? Are there prophecies that Donald Trump may fulfill?  Are there any prophecies that he has already helped fulfill?  Is a Donald Trump presidency proving to be apocalyptic?  Two related videos are available: Donald: 'Trump of God' or Apocalyptic? and Donald Trump's Prophetic Presidency.
Trump Presidency Magic 8 Ball or Bible Prophecy? BBC reported that one might as well use a 'Magic Eight-Ball' to try to predict what will happen in the remaining time of Donald Trump's presidency. What is a 'Magic Eight-Ball'? Dr. Thiel not only explains that, but also briefly goes over 10 biblically-based warnings he wrote would happen if Donald Trump were elected that have already began to come to pass. He also goes over something he wrote back in 2008 that the Trump presidency is also helping lead to fulfillment. Should you trust Bible prophecy or not? Dr. Thiel says that Bible prophecy can be trusted, despite the view of skeptics and others that either overlook or despise the Bible. This is a video.
Donald Trump and America's Apocalypse This 188 page book is for people truly interested in prophecies related to Donald Trump and the United States, including learning about several that have already been fulfilled and those that will be fulfilled in the future. The physical book can be purchased at Amazon for $12.99 from the following link: Donald Trump and America's Apocalypse.
Donald Trump and America's Apocalypse-Kindle Edition This electronic version of the 188 page print edition is available for only US$3.99. And you do not need an actual Kindle device to read it. Why? Amazon will allow you to download it to almost any device: Please click HERE to download one of Amazon s Free Reader Apps. After you go to for your free Kindle reader and then go to Donald Trump and America's Apocalypse-Kindle Edition.