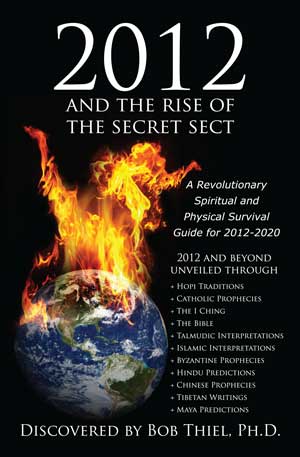 The Mayan calendar ("the law of the katun," or at least the current baktun) ends late on 12/21/2012.
Because of my book, 2012 and the Rise of the Secret Sect, I have paid more attention than I perhaps otherwise would to events related to the Mayan calendar.
Notice the following 16th century Mayan prophecy cited in my book:
But when the law of the katun has run its course, the God will bring about a great deluge again which will be the end of the world. When this is over, then our Lord Jesus Christ will descend over the valley of Jehoshaphat besides the town of Jerusalem where he redeemed us with his holy blood. (Chilam Balam, cited in 2012 and the Rise of the Secret Sect)
Now, since people who believe the Bible realize that the world will not end in a flood per God's promise in Genesis 9, why does any of this Mayan stuff matter?
Because when people wake up three years from now, on December 22, 2012, and the world has not been destroyed by a flood, there will be several reactions.
Some will dismiss all prophecy.  The Bible warns of that (2 Peter 3:19) and says that the prophecies of God will come to pass.
Others will declare that a new age of peace is dawning on humanity–perhaps the main reason that "2012" became popular initially is that the New Age  Movement felt that the Mayan's were not predicting the destruction of the world, but a new age.  A peaceful one.
Yet the Bible warns that false declarations of peace:
8 Therefore thus says the Lord GOD: "Because you have spoken nonsense and envisioned lies, therefore I am indeed against you," says the Lord GOD. 9 My hand will be against the prophets who envision futility and who divine lies; they shall not be in the assembly of My people, nor be written in the record of the house of Israel, nor shall they enter into the land of Israel. Then you shall know that I am the Lord GOD. 10 Because, indeed, because they have seduced My people, saying, 'Peace!' when there is no peace–and one builds a wall, and they plaster it with untempered mortar– 11 say to those who plaster it with untempered mortar, that it will fall. There will be flooding rain, and you, O great hailstones, shall fall; and a stormy wind shall tear it down. 12 Surely, when the wall has fallen, will it not be said to you, 'Where is the mortar with which you plastered it?' " 13 Therefore thus says the Lord GOD: "I will cause a stormy wind to break forth in My fury; and there shall be a flooding rain in My anger, and great hailstones in fury to consume it. 14 So I will break down the wall you have plastered with untempered mortar, and bring it down to the ground, so that its foundation will be uncovered; it will fall, and you shall be consumed in the midst of it. Then you shall know that I am the LORD. 15 Thus will I accomplish My wrath on the wall and on those who have plastered it with untempered mortar; and I will say to you, 'The wall is no more, nor those who plastered it, 16 that is, the prophets of Israel who prophesy concerning Jerusalem, and who see visions of peace for her when there is no peace,' " says the Lord GOD. (Ezekiel 13:8-16,NKJV)
So, on December 22, 2012 (and for some period after that date), we are likely to hear of more people discounting prophecies as well as more people looking at believing declarations of false times of peace.
This will affect nearly all who live at that time irrespective of what they now may believe about 2012.  Disaster will occur in the years following 2012, whether people believe it or not.
Those who wish to learn more about 2012 may wish to check out the following articles:
End of Mayan Calendar 2012–Might 2012 Mean Something? Are there Mayan calendar predictions for change in 2012? Changes were centuries ago predicted by the Hopi Native Americans. Do Mayan/Hindu/Hopi/Buddhist/New Age/Nostradamus prophecies have any value here? Why might Satan have inspired this date? Does the Dresden codex show destruction of the earth by flood? Can the great tribulation start before 2012? How might Barack Obama be involved in 2012?
Anglo – America in Prophecy & the Lost Tribes of Israel Are the Americans, Canadians, British, Scottish, Welsh, Australians, Anglo-Southern Africans, and New Zealanders descendants of Joseph? Where are the lost ten-tribes of Israel? Who are the lost tribes of Israel? Will God punish the U.S.A., Canada, United Kingdom, and other Anglo nations? Why might God allow them to be punished first?
2012 and the Rise of the Secret Sect This contains some concepts related to 2012 and a book.  This also has YouTube videos related to 2012.