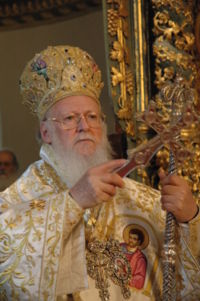 Patriarch Bartholomew I of Constantinople
Although to the consternation of many Eastern Orthodox, it got certain facts wrong, 60 Minutes interviewed the Orthodox Patriarch of Constantinople Sunday.  Here is a report from CBS:
Patriarch Bartholomew Feels "Crucified"

Leader of 300 Million Orthodox Christians Talks to 60 Minutes About The Hardships He And His Followers Face in Turkey…

http://www.cbsnews.com/stories/2009/12/17/60minutes/main5990390.shtml
Although to the Orthodox Constantinople was the "most important city in the Christian world", those associated with Rome and the Church of God would take exception to that.  However, for nearly a thousand years the eastern leg of the Roman Empire was more powerful than the western portion (roughly 6th century to its defeat in the 15th).  Some equate political power with spiritual power.
For more on the beliefs and history of the Eastern Orthodox churches, please check out the following articles:
Some Similarities and Differences Between the Orthodox Church and the Churches of God Both groups have some amazing similarities and some major differences. Do you know what they are?
Apostolic Succession What really happened? Did structure and beliefs change? Are many of the widely-held current understandings of this even possible? Did you know that Catholic scholars really do not believe that several of the claimed "apostolic sees" of the Orthodox have apostolic succession–despite the fact that the current pontiff himself seems to wish to ignore this view?  Is there actually a true church that has ties to any of the apostles that is not part of the Catholic or Orthodox churches?  What about Constantinople?  Read this article if you truly are interested in the truth on this matter!