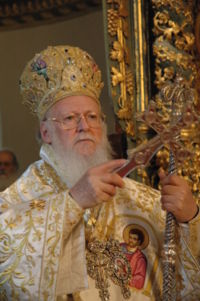 Patriarch Bartholomew I of Constantinople
Many Eastern Orthodox are determined to get closer to the Vatican:
Local Catholics and Greek Orthodox joined their leaders Wednesday on a pilgrimage that is a first – but a continuation of history.

Bishop McManus and Metropolitan Methodios, of the Greek Orthodox Metropolis of Boston, are leading 25 other pilgrims on a Sept. 15-26 trip to Rome, for an audience with Pope Benedict XVI, and to Constantinople, for Divine Liturgy celebrated by Patriarch Bartholomew. Patriarch Bartholomew is the Orthodox patriarch of Constantinople, in modern day Istanbul, Turkey.

Worcester is believed to be the site of the first official dialog between Catholic and Greek Orthodox leaders in the United States. They met Sept. 9, 1965 at St. Spyridon Church, now St. Spyridon Cathedral, in Worcester…

In 1054 the first major division in Christianity occurred when the patriarch of Constantinople and a papal delegation from Rome excommunicated each other in a dispute over papal primacy. Orthodox churches, generally defined by their region of origin, give special honor to the patriarch of Constantinople. He is considered the "first among equals" among Orthodox patriarchs; his primacy does not entail ultimate jurisdiction over other Orthodox churches. Over the centuries the schism hardened, but in recent decades both sides have made efforts toward reconciliation.  (http://www.catholicfreepress.org/_Pages/_This%20Week/0917Bishop.html)
This trend towards unity is dangerous and is warned against in biblical, Eastern Orthodox, and even certain Roman Catholic prophecies.  While the Catholic press seems to endorse it (almost all the time), this will be dangerous for the Eastern and Roman Catholics in general, and American Catholics in particular according to various prophecies.
Yet, within the Orthodox and Catholic world, many seem to be determined to make it happen.  Here is a link to several events in the past year that suggest it.
Two articles of possibly related interest may include:
Why Should American Catholics Should Fear Unity with the Orthodox? Are the current ecumenical meetings a good thing or will they result in disaster?
Orthodox Must Reject Unity with the Roman Catholics The talks for unification involve compromise and the apparent rising up of a changed religion that no one should accept.