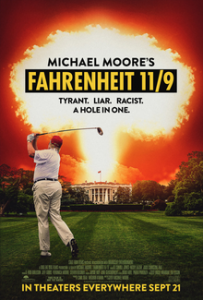 Director Michael Moore met with Pope Francis and made some comments about that meeting:
November 2, 2018

Michael Moore, the liberal film-maker, told "Late Night" with Seth Meyers that he met the pope two weeks ago and asked him about income inequality:

I went to the weekly audience, and then he asked to speak to me privately. It was an amazing moment, and I asked him if I could ask him a question.  …  And I said, "So you believe capitalism, the kinda — the capitalism we have now is a sin?" He goes, "Yes, it is." He said, "The poor must always come first."

And then he grabbed my hand and he said, "Please, pray for me." And I said, "I will, and please pray for me. And he said, "No, you have to make more movies." And I'm like, "I just wanted a prayer." He's like, "No, you go back to — you go back work." He has a sense of humor. https://www.cnsnews.com/blog/susan-jones/pope-told-michael-moore-capitalism-sin
Michael Moore partnered with producers Harvey Weinstein and Bob Weinstein in May 2017 to produce and distribute Fahrenheit 11/9. but after Harvey Weinstein had additional charges against him for sexual impropriety he did not provide the funding as originally expected–but funding to make the film did happen from other sources per Wikipedia.
Anyway, that movie came out in September and had political intent:
Michael Moore Is Releasing 'Fahrenheit 11/9' Before the Midterm Elections to 'Bring Trump Down'

Michael Moore wasn't taken seriously when he predicted that Donald Trump would win the 2016 election, but his insights have become highly sought-after since that fateful day in November 2016. Not coincidentally, that date is also the source of his upcoming documentary "Fahrenheit 11/9," which Moore discussed last night on "Real Time with Bill Maher": "You have to listen this time because he is going to win the 2020 election," he said. "This man believes in being president for life."

"I'm finishing my movie and getting it out before the midterms because I want millions of people to get to the polls. We're going to bring Trump down," Moore added … https://www.indiewire.com/2018/06/michael-moore-fahrenheit-11-9-release-date-trump-1201980123/
Michael Moore's movie did not do well financially as it reportedly only grossed about $6 million.
Now, presuming Michael Moore's account of his meeting with Pope Francis was correct, I am still waiting for Pope Francis to "put his money where his mouth is."
Francis has repeatedly made many statements that others give more to the poor, but I have yet to see any massive change in the Vatican's spending to conclude that he has decided to do that with Church of Rome funds (see also Caring for the poor is our 'passport to paradise', says Pope Francis; What about EU banking and deposit insurance?).
While the love of money is the root of all kinds of evil (1 Timothy 6:10) and people should care for the poor (cf. Galatians 2:10, 6:7-10; James 2:15-17), capitalism, per se, is not a sin.
People like Abraham, Isaac, and Jacob were capitalists. Jesus (Matthew 25:14-28) and Peter (Acts 5:3-4) made capitalist supporting statements, as well as statements in support of the poor.
Here is a 'capitalist' supporting parable spoken by Jesus:
12

Therefore He said: "A certain nobleman went into a far country to receive for himself a kingdom and to return.

13

So he called ten of his servants, delivered to them ten minas, and said to them, 'Do business till I come.'

14

But his citizens hated him, and sent a delegation after him, saying, 'We will not have this man to reign over us.'

15

And so it was that when he returned, having received the kingdom, he then commanded these servants, to whom he had given the money, to be called to him, that he might know how much every man had gained by trading.

16

Then came the first, saying, 'Master, your mina has earned ten minas.'

17

And he said to him, 'Well done, good servant; because you were faithful in a very little, have authority over ten cities.'

18

And the second came, saying, 'Master, your mina has earned five minas.'

19

Likewise he said to him, 'You also be over five cities.'

20

Then another came, saying, 'Master, here is your mina, which I have kept put away in a handkerchief.

21

For I feared you, because you are an austere man. You collect what you did not deposit, and reap what you did not sow.'

22

And he said to him, 'Out of your own mouth I will judge you, you wicked servant. You knew that I was an austere man, collecting what I did not deposit and reaping what I did not sow.

23

Why then did you not put my money in the bank, that at my coming I might have collected it with interest?'

24

And he said to those who stood by, 'Take the mina from him, and give it to him who has ten minas.'

25

(But they said to him, 'Master, he has ten minas.')

26 For I say to you, that to everyone who has will be given; and from him who does not have, even what he has will be taken away from him. (Luke 19:12-26)

This does not mean that capitalists do not sin, but it is in conflict with Pope Francis' assertion that capitalism is a sin.
Well, what about socialism?
Notice a report that the BBC had today about the oil-rich socialist nation of Venezuela:
Venezuela crisis: Mothers giving away babies, children living on streets
BBC has a video at the above link.
Notice something from this summer:
Venezuela's Maduro Admits Socialist Model Has Failed

August 2, 2018

Venezuela's President Nicolas Maduro admitted that his socialist economic model has "failed" amid food and medicine shortages as well as a failing infrastructure highlighted by Tuesday's power failure to 80% of Caracas. …
"The production models we've tried so far have failed and the responsibility is ours, mine and yours," Maduro told his ruling PSUV party congress. …

No word on whether he took a bite of an empanada during his speech while his country starves on the "Maduro diet" – a phrase coined after Venezuela's notorious food shortages gave rise to mass starvation across the country. Not even the donkeys are safe. …

Venezuela's industrial sector is operating at just 30% capacity, as illustrated by the farming sector, which now provides just a quarter of national consumption, after providing 75% just a few years ago according to the National Farmers Federation.

This should all make for some interesting debate questions during the next US elections, as Democratic Socialists have become the "new face" of the left. Just don't ask any questions about economics or logistics … https://www.zerohedge.com/news/2018-08-01/venezuelas-maduro-admits-socialism-has-failed
Yes, Venezuela, despite possibly having more oil than any other nation on earth, is having economic problems after it tried socialistic means to restrict capitalism.
Of course, the solution to problems facing the world is not eliminating capitalism nor embracing more socialism.
The solution to the problems facing the world is not to encourage Michael Moore to make more films, but national repentance, the acceptance of Jesus, and the coming Kingdom of God.
Pope Francis, Michael Moore, and all others are encouraged to learn more about it from our free online booklet: The Gospel of the Kingdom of God.
Some items of possibly related interest may include:
The Gospel of the Kingdom of God This free online pdf booklet has answers many questions people have about the Gospel of the Kingdom of God and explains why it is the solution to the issues the world is facing. Here are links to three related sermons: The World's False Gospel, The Gospel of the Kingdom: From the New and Old Testaments, and The Kingdom of God is the Solution.
Should a Christian Vote? This article gives some of the Biblical rationale on this subject. Would Jesus vote for president/prime minister? Is voting in the Bible? This is a subject Christians need to understand. A video of related interest is available titled: Should Christians Vote? Another video is 10 Reasons Not to Vote for Donald Trump or Hillary Clinton.
Is God Calling You? This booklet discusses topics including calling, election, and selection. If God is calling you, how will you respond? Here is a link to a related sermon: Could God be Calling You?
Christian Repentance Do you know what repentance is? Is it really necessary for salvation? A related sermon is also available titled: Real Christian Repentance.
Which Is Faithful: The Roman Catholic Church or the Continuing Church of God? Do you know that both groups shared a lot of the earliest teachings? Do you know which church changed? Do you know which group is most faithful to the teachings of the apostolic church? Which group best represents true Christianity? This documented article answers those questions. [Português: Qual é fiel: A igreja católica romana ou a igreja do deus?]
God's Grace is For All Is being Jewish a hindrance to salvation? What about not being a descendant of Israel? What does the Bible really teach? Here is a link to a related sermon titled Race and Grace; Do you view race as God does?
Does God Have a 6,000 Year Plan? What Year Does the 6,000 Years End? Was a 6000 year time allowed for humans to rule followed by a literal thousand year reign of Christ on Earth taught by the early Christians? Does God have 7,000 year plan? What year may the six thousand years of human rule end? When will Jesus return? 2027 or 20xx? There is also a video titled The 6000 Year Plan: Is the end of humanity's reign almost up?
When Will the Great Tribulation Begin? 2018, 2019, or 2020? Can the Great Tribulation begin today? What happens before the Great Tribulation in the "beginning of sorrows"? What happens in the Great Tribulation and the Day of the Lord? Is this the time of the Gentiles? When is the earliest that the Great Tribulation can begin? What is the Day of the Lord? Who are the 144,000? Here is a version of the article in the Spanish language: ¿Puede comenzar la Gran Tribulación en 2018 o 2019? ¿Es el Tiempo de los Gentiles? You can also see the English language sermon videos: The Great Tribulation from the Mount of Olives and Can the Great Tribulation begin before 2020? A shorter video is: Can the Great Tribulation begin in 2018?
Mexico, Central America, South America, Brazil, and the Caribbean in Prophecy [Español: México, América central, Suramérica, Brasil y el Caribe en la profecía] [Português: México, América Central, Ámérica do Sul, e Brasil na profecia] What will happen to those of Latin America? Will they have prosperity? Will they cooperate with Europe? Will they suffer in the future? What role might the various Caribbean nations/territories play? A video of related interest is titled: Donald Trump and Mexico's future.