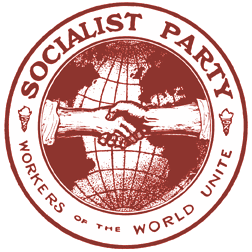 Newsweek reported the following:
The Capitalism Crisis: Is America Really Turning Socialist?

There's been an awful lot of scribble and chatter lately about a recent Gallup survey purporting to show that America, Democrats especially, are becoming more enamored of socialism.

Here's how the polling firm describes it: "For the first time in Gallup's measurement over the past decade, Democrats have a more positive image of socialism than they do of capitalism. Attitudes toward socialism among Democrats have not changed materially since 2010, with 57% today having a positive view. The major change among Democrats has been a less upbeat attitude toward capitalism, dropping to 47% positive this year—lower than in any of the three previous measures."

To put it differently, and in a way more relevant to the current political climate, Democrats are losing faith in capitalism, not growing more attached to socialism. That matters because of the consequences for both parties. …

From the beginning of the industrial revolution to the onset of the New Deal, socialism thrived as a viable thread in the national politics and as a leading cause of reform. Then the movement was subsumed into the Democratic Party as part of FDR's grand coalition and has remained there ever since. What's pushing it back out onto its own is not so much the rise of Sanders as it is the failures of Obama. …

Or at least if someone else was paying the bills. Which, when you boil it down, is one of the things most wrong with socialism. As Margaret Thatcher once said, "sooner or later you run out of other people's money." Just look at Venezuela.

For conservatives who support the free market—a much-improved way to describe capitalism—the trend identified in this latest Gallup survey provides both an opportunity and a warning. 08/18/18 https://www.newsweek.com/capitalism-crisis-america-really-turning-socialist-opinion-1078427
The USA is certainly more socialist than it was a century ago. And yes, there have been increased moves towards socialism by the federal government in the 21st century. Furthermore, we are seeing more media and political support for 'Democratic Socialists." We will see if there will be more of a socialist backlash against the Donald Trump presidency in the USA in future elections.
A major tenant of socialism is that the government needs to manage more things and that 'society' needs to fund that. Basically, that is the hope. One problem is that the more socialist many nation tends have become, they tend to have less economic production.
Consider Venezuela.
Venezuela is believed to have one of the largest, if not the largest, amount of oil reserves of any nation. Before it became more socialist, it was relatively prosperous. This does not mean that there are no issues with capitalism, but Venezuela was doing better economically than it is doing now.
Earlier this month, Venezuela's President Nicolas Maduro admitted that his socialist economic model has "failed":
Venezuela's Maduro Admits Socialist Model Has Failed

August 2, 2018

Venezuela's President Nicolas Maduro admitted that his socialist economic model has "failed" amid food and medicine shortages as well as a failing infrastructure highlighted by Tuesday's power failure to 80% of Caracas.
Compounding matters is the IMF's Weimar-topping hyperinflation forecast of 1,000,000% by year end, and a GDP set to plummet 18% this year, as the government continues to simply print money to in hopes of filling the void of what was once the country's economy.

"The production models we've tried so far have failed and the responsibility is ours, mine and yours," Maduro told his ruling PSUV party congress. "Enough with the whining… we need to produce with or without (outside) aggression, with or without blockades, we need to make Venezuela an economic power."

"No more whining, I want solutions comrades!"

No word on whether he took a bite of an empanada during his speech while his country starves on the "Maduro diet" – a phrase coined after Venezuela's notorious food shortages gave rise to mass starvation across the country. Not even the donkeys are safe. …

Venezuela's industrial sector is operating at just 30% capacity, as illustrated by the farming sector, which now provides just a quarter of national consumption, after providing 75% just a few years ago according to the National Farmers Federation.

This should all make for some interesting debate questions during the next US elections, as Democratic Socialists have become the "new face" of the left. Just don't ask any questions about economics or logistics… https://www.zerohedge.com/news/2018-08-01/venezuelas-maduro-admits-socialism-has-failed

Maduro said he will no longer blame the U.S. for his country's problems.

"Enough of whining," Maduro said. "You will not see me whining to myself. I do not blame them anymore. You do not see me whining in front of imperialism. Let them attacks us. It is up to us whether to act with aggression or without aggression."

Venezuela's economic decline began under former President Hugo Chavez. A country that was once overflowing with revenue from its state-run oil production saw those revenues sharply decline in the past decade as U.S. production increased and global prices fell.

Under Maduro, the crisis worsened. His government has nationalized cement and steel production and taken over operation of private businesses such as supermarket chains and others that provide basic services to its citizens.

But oil revenues still account for 96 percent of the country's revenues, so as government fails to collect an adequate amount of money from its oil business, it has failed to provide an adequate amount of services for its citizens. …

Almost 1 million Venezuelans have fled hunger and repression by migrating to neighboring Colombia over the past two years. Another roughly 50,000 sought asylum in the United States. Roughly 800 Venezuelan refugees cross the border into Brazil every day. https://www.westernjournal.com/ct/venezuelan-president-finally-admits-that-socialism-is-broken-economy-is-destroyed/
Venezuela's inflation rate is the highest ever recorded–it even exceeded that of pre-WWII Germany.
Further currency devaluation is even now part of Nicolas Maduro's proposed solution for Venezuela:
August 18, 2018

Maduro orders 96 percent devaluation in hyperinflation-stricken Venezuela

"I want the country to recover and I have the formula. Trust me," Maduro said in a nighttime speech broadcast on state television.
Economists expressed doubts that Venezuela's cash-strapped government, which faces U.S. sanctions and has defaulted on its bondholders, would succeed. …

Venezuelans will see their meager salaries further eroded and companies will struggle with major increases to both taxes and the minimum wage, they said.

Amid this aggressive devaluation and monetary expansions due to salaries and bonuses, we are expecting a much more aggressive stage of hyperinflation. All the more so in a context where the elimination of excessive money printing is not credible. The worst of all worlds, said Venezuelan economist Asdrubal Oliveros of consultancy Ecoanalitica.

The International Monetary Fund has predicted that inflation in Venezuela would hit 1 million percent this year. …

Hundreds of thousands of Venezuelans have emigrated by bus across South America in one of the region's worst migration crises. https://www.cnbc.com/2018/08/18/maduro-orders-96-percent-devaluation-in-venezuela.html
President Maduro did not lay out all the details on how he hopes to improve Venezuela. But currency devaluation hurts everyone who has savings in the devalued currency.
For the sake of the Venezuelans, I pray that their lives will be improved.
Humanity's forms of socialism have not brought utopia.
Venezuela, and the rest of the world, needs the Kingdom of God (watch also Millennial Utopia).
Some items of possibly related interest may include:
Mexico, Central America, South America, Brazil, and the Caribbean in Prophecy [Español: México, América central, Suramérica, Brasil y el Caribe en la profecía] [Português: México, América Central, Ámérica do Sul, e Brasil na profecia] What will happen to those of Latin America? Will they have prosperity? Will they cooperate with Europe? Will they suffer in the future? What role might the various Caribbean nations/territories play?
United Nations: Humankind's Last Hope or New World Order? Is the UN the last hope for humanity? Or might its goals end up with sinister results? Two related videos include UN's 'New Universal Agenda' is a False Gospel! and United Nations and Vatican Are Planning the New World Order.
Laudato Si: Pope's Agenda or Kingdom of God? Pope Francis' 2nd encyclical is titled 'Laudato Si.' In it, he goes over his views related to environmental, economic, social, moral, agricultural, and spiritual issues. He advocates international cooperation to solve various problems he believes are affecting humanity. Is that Pope's agenda the solution? What about the Kingdom of God? does the Bible teach? Two related articles include Laudato Si: Will Pope Francis' economic actions match his words? and Laudato Si: A call for a one-world government?
Did The Early Church Teach Millenarianism? Was the millennium (sometimes called chiliasm) taught by early Christians? Who condemned it? Will Jesus literally reign for 1000 years on the earth? Is this time near? Two related sermons are available Millennial Utopia and The Millennium.
Europa, the Beast, and Revelation Where did Europe get its name? What might Europe have to do with the Book of Revelation? What about "the Beast"? Is an emerging European power "the daughter of Babylon"? What is ahead for Europe? Here is a link to a video titled: Can You Prove that the Beast to Come is European?
European Technology and the Beast of Revelation Will the coming European Beast power would use and develop technology that will result in the taking over of the USA and its Anglo-Saxon allies? Is this possible? What does the Bible teach? Here is a related YouTube video: Military Technology and the Beast of Revelation.
Does God Have a 6,000 Year Plan? What Year Does the 6,000 Years End? Was a 6000 year time allowed for humans to rule followed by a literal thousand year reign of Christ on Earth taught by the early Christians? Does God have 7,000 year plan? What year may the six thousand years of human rule end? When will Jesus return? 2023 or 20xx? There is also a video titled The 6000 Year Plan: Is the end of humanity's reign almost up? Here is a link to the article in Spanish: ¿Tiene Dios un plan de 6,000 años?
When Will the Great Tribulation Begin? 2017, 2018, or 2019? Can the Great Tribulation begin today? What happens before the Great Tribulation in the "beginning of sorrows"? What happens in the Great Tribulation and the Day of the Lord? Is this the time of the Gentiles? When is the earliest that the Great Tribulation can begin? What is the Day of the Lord? Who are the 144,000? Here is a version of the article in the Spanish language: ¿Puede comenzar la Gran Tribulación en 2016 o 2017? ¿Es el Tiempo de los Gentiles? You can also see the English language sermon videos: The Great Tribulation from the Mount of Olives and Can the Great Tribulation begin before 2020? A shorter video is: Will the Great Tribulation Start in 2017?
Just What Do You Mean — Repentance? Do you know what repentance is? Have you truly repented? Repented of what? Herbert W. Armstrong wrote this as a booklet on this important subject.
The Gospel of the Kingdom of God This free online pdf booklet has answers many questions people have about the Gospel of the Kingdom of God and explains why it is the solution to the issues the world is facing.
The Gospel of the Kingdom of God was the Emphasis of Jesus and the Early Church Did you know that? Do you even know what the gospel of the kingdom is all about? You can also see a YouTube video sermons Why Teach the Kingdom of God? and The Gospel of the Kingdom.
Anglo – America in Prophecy & the Lost Tribes of Israel Are the Americans, Canadians, English, Scottish, Welsh, Australians, Anglo-Saxon (non-Dutch) Southern Africans, and New Zealanders descendants of Joseph? Where are the lost ten-tribes of Israel? Who are the lost tribes of Israel? What will happen to Jerusalem and the Jews in Israel? Will God punish the U.S.A., Canada, United Kingdom, and other Anglo-Saxon nations? Why might God allow them to be punished first? Here is a link to the Spanish version of this article: Anglo-América & las Tribus Perdidas de Israel. Information is also in the YouTube sermons titled Where are the Ten Lost Tribes? Why does it matter? and British are the Covenant People. A short YouTube of prophetic interest may be Barack Obama and the State of the Apocalypse.
Will the Anglo-Saxon Nations be Divided and Have People Taken as Slaves? Will the lands of the United States, United Kingdom, Canada, Australia, and New Zealand be divided? What about Jerusalem? What does Bible prophecy teach? Are there non-biblical prophecies that support this idea? Who will divide those lands? Who will end up with the lands and the people? Here is a link to a video titled Will the USA and other Anglo-nations be Divided and Their People Made Slaves? Here is a related item in the Spanish language ¿Serán divididas las naciones anglosajonas?