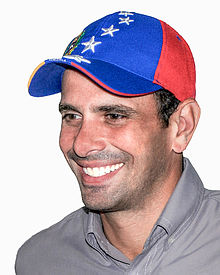 Henrique Capriles Radonski 
The Governor of Miranda in Venezuela has called for more protests:
March 3, 2014

CARACAS, Venezuela –  A leader of the Venezuelan opposition called Monday for citizens to begin organizing committees that could sustain the pressure that continuing street protests have placed on the socialist government of President Nicolas Maduro.

Former presidential candidate Henrique Capriles announced the effort via Twitter, directing people to a blog post that laid out plans for the so-called popular defense committees. In an apparent effort to organize and expand the opposition base, he said politics would be set aside, but that could be difficult in a country so polarized. Venezuela faces inflation that reached 56 percent last year, shortages of basic commodities and one of the highest rates of violent crime in the world.

"Leave aside the political agenda and violence which the government wants to draw us into, so that we can concentrate on the social problems that affect all of us," Capriles' statement said. The objective is to create a "great social movement" to press for change in the country.  http://www.foxnews.com/world/2014/03/03/venezuelan-opposition-leader-calls-for-citizens-to-organize-popular-defense/
Notice also the following:
United Nations officials say Secretary-General Ban Ki-moon will meet with Venezuela's foreign minister in Geneva Tuesday to discuss violent street protests against the government of President Nicolas Maduro

Foreign Minister Elias Jaua will also speak to the UN Human Rights Council about the student-led protests.

Venezuela's UN ambassador, Jorge Valero said in a radio interview Saturday that the talks would be an opportunity for Jaua to explain how his government has been advancing the peace process and what measures are being taken to recover from the disturbances.

Protesters are demanding the resignation of President Maduro because of the country's high crime rate, inflation and shortages of staples such as milk and flour.

The Maduro government, which succeeded that of the late Hugo Chavez, blames the violence on right-wing opponents of his government, accusing them of receiving support from the United States. The U.S. government denies involvement in the unrest. http://www.voanews.com/content/un-chief-venezuelan-fm-to-discuss-violent-protests/1862309.html
Carnaval is going on in Venezuela for the next couple of nights (Tuesday night will be a big night for this).  The government has hoped that Carnaval would stop protests, but obviously some still want to protest that government, which is probably why it is intending to meet with the UN tomorrow.
Pope Francis recently told people to pray to his version of Mary for peace in Venezuela.  Specifically Francis said to pray to the 'Lady of Coromoto' is an apparition that that that allegedly appeared twice to the chief of the local tribe in the area now known as Venezuela, once in 1651 and again on September 8, 1652.
Carnaval could actually increase protests as more people tend to get together and talk than normally happens. Carnaval is clearly not a biblical holiday (see Mardi Gras: The Devil's Carnival? and/or watch Mardi Gras & Carnaval: Are they for Christians?). Carnaval and Marian interventions are not the answer, the kingdom of God is.
The situation in Venezuela is volatile. And, of course, so is the situation in Ukraine and many other parts of the world.  Even though Venezuela is somewhat of a Russian ally, Russia would not likely wish to intervene in support of that government (though it might try to use that as a negotiating chip in the future as it attempts to deal with what the West wants to do it for its interventions in eastern Ukraine, and if the Venezuelan government were to ask for its assistance).
Because of the cultural, ethnic, language, legal, and religious ties between Europe and Latin America, I have long believed that those two regions will likely cooperate more in the future. These ties will be primarily economic, along with the religious and cultural ones, but also may include some type of military cooperation. This is consistent with Ezekiel 27:12-23 and other scriptures.
The calls for protest by Henrique Capriles may help pave the way for closer European cooperation with Venezuela.
Some items of possibly related interest may include:
Mexico, Central America, South America, Brazil, and the Caribbean in Prophecy [Español: México, América central, Suramérica, Brasil y el Caribe en la profecía] [Português: México, América Central, Ámérica do Sul, e Brasil na profecia] What will happen to those of Latin America? Will they have prosperity? Will they cooperate with Europe? Will they suffer in the future? What role might the various Caribbean nations/territories play?
Europa, the Beast, and Revelation Where did Europe get its name? What might Europe have to do with the Book of Revelation? What about "the Beast"? Is an emerging European power "the daughter of Babylon"? What is ahead for Europe? Here is a link to a video titled: Can You Prove that the Beast to Come is European?
The Malachy Prophecies and "Peter the Roman" An Irish bishop allegedly predicted something about 112 popes in the 12th century. Pope Benedict XVI was number 111. Francis would be number 112–if he is that one–and if so, he is to reign until Rome is destroyed. May he be an antipope/final Antichrist?
Pope Francis: Could this Marian Focused Pontiff be Fulfilling Prophecy? Pope Francis has taken many steps to turn people more towards his version of 'Mary.' Could this be consistent with biblical and Catholic prophecies? This article documents what has been happening. There is also a video version titled Pope Francis: Could this Marian Focused Pontiff be Fulfilling Prophecy?
Mary, the Mother of Jesus and the Apparitions Do you know much about Mary? Are the apparitions real? What happened at Fatima? What might they mean for the rise of the ecumenical religion of Antichrist? Are Protestants moving towards Mary? How do the Eastern/Greek Orthodox view Mary? How might Mary view her adorers? Here is a link to a YouTube video Marian Apparitions May Fulfill Prophecy.
Do you understand the ramifications of the 'Lady of Guadalupe'? It is claimed that a female apparition appeared near Mexico City on December 12, 1531. How has it affected the world? What might it suggest about the future?
Mardi Gras: The Devil's Carnival? Is Mardi Gras Christian? Do you know that in Bolivia the carnival/Mardi Gras time is part of a celebration known as the Devil's Carnival? Where did it come from? There is also a related YouTube video Mardi Gras & Carnaval: Are they for Christians?
Is Lent a Christian Holiday? When did it originate? What about Ash Wednesday? If you observe them, do you know why? Here is an old, by somewhat related, article in the Spanish language by Dr. Hoeh: ¿Por Qué Se Observa la Cuaresma?
Which Is Faithful: The Roman Catholic Church or the Continuing Church of God? Do you know that both groups shared a lot of the earliest teachings? Do you know which church changed? Do you know which group is most faithful to the teachings of the apostolic church? Which group best represents true Christianity? This documented article answers those questions.
The Last Pope Do Biblical and Catholic Prophecies Point to Pope Francis? Why might Pope Francis be the last pope? What happens if he is? Biblical and other prophecies help explain what to expect.
The Last Pope: Do Biblical and Catholic Prophecies Point to Pope Francis? Amazon Book What does the Bible say about a pope near this time? Is the final pope to be an antipope and antichrist? Does Catholic prophecy point to Pope Francis as being the dreaded "Peter the Roman"? This 186 page book provides information and answers.
The Last Pope: Do Biblical and Catholic Prophecies Point to Pope Francis? Kindle This electronic version of the printed book which is available for only US$2.99. And you do not need an actual Kindle device to read it. Why? Amazon will allow you to download it to almost any device: Please click HERE to download one of Amazon s Free Reader Apps. After you go to for your free Kindle reader and then go to The Last Pope: Do Biblical and Catholic Prophecies Point to Pope Francis? Kindle.