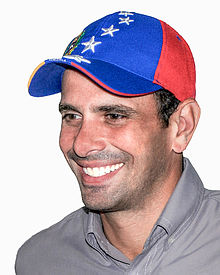 Henrique Capriles Radonski
Venezuela's President Nicolas Maduro has called for the end of protests:
March 15, 2014

(Reuters) – Venezuela's President Nicolas Maduro warned protesters in Caracas on Saturday to clear a square they have made their stronghold, or face eviction by security forces.

Plaza Altamira, in upscale east Caracas, has been a focus of anti-government protests and violence during six weeks of unrest around Venezuela that has killed 28 people.

"I'm giving the Chuckys, the killers, just a few hours," Maduro said, using the name of a murderous child-doll in a horror film to describe anti-government demonstrators who have made the normally genteel 1940s square a base of operations.

"If they don't retreat, I'm going to liberate those spaces with the security forces," Maduro added. "They have a few hours to go home … Chuckys, get ready, we're coming for you."

Students and other protesters have been using the square, in the pro-opposition Chacao district of Caracas, as a rallying point since a wave of protests started to gather steam in mid-February.  http://www.reuters.com/article/2014/03/15/us-venezuela-protests-idUSBREA2E0R520140315

March 15, 2014

Foreign Minister Elias Jaua has called US Secretary of State John Kerry a murderer and accused him of inciting violence in Venezuela. Jaua's words came in retaliation to Kerry's accusation that the Venezuelan government is terrorizing its own people.

In a heated rebuke to Kerry, Jaua denounced him as a murderer of the Venezuelan people.

"Kerry, we denounce you before the world. You are inciting violence in Venezuela, and we will denounce it in every part of the world. We denounce you as a murderer of the Venezuelan people," Jaua said in Caracas.

He added that Venezuela would not back down until the US ordered its "lackeys" in Venezuela to cease their violent activities.

"Every time we're about to isolate and reduce the violence, Mr. Kerry comes out with a declaration and immediately the street protests are activated," Jaua said in a speech carried on state TV. He added that the protests had not succeeded, however, in achieving their aim of triggering a coup d'etat in Venezuela.

Mass protests have gripped country over the last month with many demonstrations descending into violence and clashes with riot police. http://rt.com/news/venezuela-maduro-kerry-killer-034/
Of course, many do not blame the USA's John Kerry.  A political leader who supports the protests blames the government of Venezuela:
Saturday March 15, 2014  12:00 AM

INTERVIEW | Henrique Capriles Radonski…

As the strategy of the Venezuelan opposition seems to discreetly shift towards less radical stances, major opposition leader Henrique Capriles Radonski clings to one single vision, his own vision, his longstanding vision. While underscoring that protests should continue because the problems which caused it persist, he stressed the need to get rid of polarization and tighten ties between the middle class and low-income sectors…

– Do you mean that should the government refuse to give way, we are heading for a conflict?

– Undoubtedly. Not promoted by Capriles. Probably, we will have much of what we have seen. Twenty-five days after the inauguration of President Carlos Andrés Pérez, the government broke down and eventually left.

– Is same thing happening at this moment?

– It might be happening at this moment.

– So, protests weakened the government.

– Depending on how they finish.

– How will they finish?

– Some protest will remain.  http://english.eluniversal.com/nacional-y-politica/140315/if-the-government-does-not-give-in-there-will-be-conflict
The government of Venezuela had hoped that Carnaval 2014 would stop protests, but obviously some still want to protest that government, despite it now being over.
Pope Francis recently told people to pray to his version of Mary for peace in Venezuela. Specifically Francis said to pray to the 'Lady of Coromoto' is an apparition that that that allegedly appeared twice to the chief of the local tribe in the area now known as Venezuela, once in 1651 and again on September 8, 1652.  That was not the answer.
Here is something else about the situation in Venezuela:
Complaint list

Although their movement is smaller than those in Brazil, Ukraine and the Middle East, the protesters in Venezuela share a similarly amorphous list of grievances and causes.

Some want Maduro out now. All complain about crime, inflation and shortages of basic goods. Demands to free detainees, especially hardline opposition leader Leopoldo Lopez, have become an increasingly loud cry on the streets.

The protests have wrong-footed the moderate leadership of Venezuela's opposition coalition, including two-time presidential candidate Henrique Capriles, who lost to Maduro by just 1.5 percentage points in last year's vote.

His strategy had been to work patiently in grassroots communities while waiting for the next electoral opportunity, parliamentary elections in 2015, but now firebrand opposition leaders and students are taking the lead.

Fellow Latin American nations, though deeply worried, have taken a relatively low-key approach to Venezuela's crisis.

Leftist allies have backed Maduro's right to defend himself against "coup plotters" while more conservative governments have urged dialogue but in moderate terms.

Maduro broke diplomatic ties with Panama after it pushed for a meeting of the Organization of American States to discuss Venezuela. Caracas views the OAS as a U.S. pawn.

Foreign ministers from South America's Unasur group of governments were meeting in Chile on Wednesday to discuss Venezuela.

"We'll be in favor of protecting and promoting human rights, but at the same time we can't accept violent mobilizations that seek to bring down a legitimately constituted government," Chilean Foreign Minister Heraldo Munoz told reporters.

U.S. Secretary of State John Kerry said Venezuela's neighbors should take the lead in helping mediate the situation, and rejected Maduro's repeated accusations that Washington was deliberately stirring up trouble against him.

"We've become an excuse. We're a card they play," Kerry told a U.S. House of Representatives committee when asked about Venezuela. "And I regret that, because we've very much opened up and reached out in an effort to say, 'it doesn't have to be this way'."

Oil exports, which provide 95 percent of Venezuela's revenues, remain unaffected by the crisis.  http://www.voanews.com/content/reu-venezuela-unrest-death-toll-rises-students-fight-troops-again/1870217.html
About two dozen were killed in Venezuela the past week and the situation in Venezuela is volatile. And, of course, so is the situation in Ukraine and many other parts of the world. Even though Venezuela is somewhat of a Russian ally, Russia would not likely wish to militarily intervene in support of that government (though it might try to use that as a negotiating chip in the future as it attempts to deal with what the West wants to do it for its interventions in eastern Ukraine, and if the Venezuelan government were to ask for its assistance).
Because of the cultural, ethnic, language, legal, and religious ties between Europe and Latin America, I have long believed that those two regions will likely cooperate more in the future. These ties will be primarily economic, along with the religious and cultural ones, but also may include some type of military cooperation. This is consistent with Ezekiel 27:12-23 and other scriptures.
The continued calls for protest by Henrique Capriles may help pave the way for closer European cooperation with Venezuela.
Some items of possibly related interest may include:
Mexico, Central America, South America, Brazil, and the Caribbean in Prophecy [Español: México, América central, Suramérica, Brasil y el Caribe en la profecía] [Português: México, América Central, Ámérica do Sul, e Brasil na profecia] What will happen to those of Latin America? Will they have prosperity? Will they cooperate with Europe? Will they suffer in the future? What role might the various Caribbean nations/territories play?
Europa, the Beast, and Revelation Where did Europe get its name? What might Europe have to do with the Book of Revelation? What about "the Beast"? Is an emerging European power "the daughter of Babylon"? What is ahead for Europe? Here is a link to a video titled: Can You Prove that the Beast to Come is European?
The Malachy Prophecies and "Peter the Roman" An Irish bishop allegedly predicted something about 112 popes in the 12th century. Pope Benedict XVI was number 111. Francis would be number 112–if he is that one–and if so, he is to reign until Rome is destroyed. May he be an antipope/final Antichrist?
Pope Francis: Could this Marian Focused Pontiff be Fulfilling Prophecy? Pope Francis has taken many steps to turn people more towards his version of 'Mary.' Could this be consistent with biblical and Catholic prophecies? This article documents what has been happening. There is also a video version titled Pope Francis: Could this Marian Focused Pontiff be Fulfilling Prophecy?
Mary, the Mother of Jesus and the Apparitions Do you know much about Mary? Are the apparitions real? What happened at Fatima? What might they mean for the rise of the ecumenical religion of Antichrist? Are Protestants moving towards Mary? How do the Eastern/Greek Orthodox view Mary? How might Mary view her adorers? Here is a link to a YouTube video Marian Apparitions May Fulfill Prophecy.
Do you understand the ramifications of the 'Lady of Guadalupe'? It is claimed that a female apparition appeared near Mexico City on December 12, 1531. How has it affected the world? What might it suggest about the future?
Which Is Faithful: The Roman Catholic Church or the Continuing Church of God? Do you know that both groups shared a lot of the earliest teachings? Do you know which church changed? Do you know which group is most faithful to t