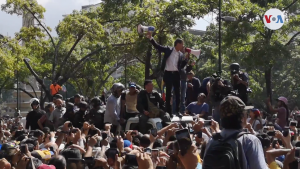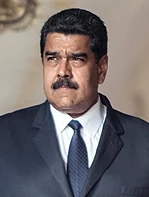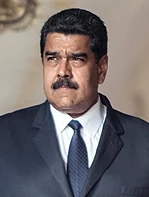 Juan Guaido encouraging supporters to stand against Nicolas Maduro

The situation in Venezuela remains unsettled:
Venezuelan Opposition Leader Tries New Tactic to Topple Maduro

May 2, 2019

Juan Guaido, Venezuela's self-proclaimed president, says a staggered industrial action would start Thursday, leading to a general strike.

The strike is the latest strategy in his effort to force President Nicolas Maduro out of power through a popular uprising. Two days of rallies in the streets of Caracas have led to violent clashes between Guaido's supporters and Venezuelan forces, but the military's top officers have yet to heed Guaido's call to defect from Maduro.

Millions of Venezuelans — fed up with out-of-control inflation, severe food and fuel shortages, a lack of medical care, and periodic blackouts — have fled the country.

As head of the opposition-controlled National Assembly, Guaido used the constitution to declare Nicolas Maduro's presidency illegitimate, saying his election in December was a fraud. He has been recognized by the United States and more than 50 other nations as Venezuela's rightful president.

Maduro is accusing Guaido of trying to carry out a U.S.- and Colombian-supported coup and says the opposition will fail.

He said demonstrators will be prosecuted "for the serious crimes that have been committed against the constitution, the rule of law and the right to peace." https://www.voanews.com/a/venezuelan-opposition-leader-tries-new-tactic-to-topple-maduro-/4900510.html

2 May 2019
How significant is Guaidó's call for strikes?

In a series of tweets (in Spanish), Mr Guaidó said the final phase of "Operation Liberty" had begun and it was the turn of public workers to join in.

He urged protesters to stay on the streets until Mr Maduro's government would be finally forced to resign.

Mr Guaidó has been courting the public sector for weeks – but winning their support will be difficult, the BBC's Americas editor Candace Piette says.

For years, state employees have been told that if they did not turn up at government rallies, they would lose their jobs.

So if the opposition leader does win them over, it will be a huge victory against President Maduro, our editor says.

What international reaction has there been?

Tensions are rising between the US and Russia over the crisis.

US Secretary of State Mike Pompeo said the US may take military action to resolve the crisis, and accused Russia and Cuba of destabilising the country through their support for Mr Maduro.

The US also reiterated its support for Mr Guaidó.

Russian Foreign Minister Sergei Lavrov told Mr Pompeo that America's influence over Venezuela was destructive and a violation of international law.

UN Secretary General António Guterres has appealed for both sides in Venezuela to avoid violence, while the EU has called for "utmost restraint to avoid the loss of lives and an escalation in tensions". https://www.bbc.com/news/world-latin-america-48128846
The fact that Juan Guaido was even able to make his plea suggests that Nicolas Maduro does not have the control he seemed to think that he had.
Venezuela is a resource rich country. It may have the greatest amount of oil reserves of any country, and it is also a significant producer of gold.
Venezuela was one of the wealthiest countries in Latin America, but now is one of the poorest.
While all human governments tend to mismanage resources and their economies, Venezuela has been more extreme that way than many.
CBS reported:
Inflation recently hit one million percent … 05/01/19 https://www.cbsnews.com/news/who-is-venezuelas-president-juan-guaido-or-nicolas-maduro-understanding-the-venezuela-crisis-and-protests/
Forbes mentioned a different rate, covering a slightly different time period:
Things are bad in socialist Venezuela, and they could be about to get even worse.

Massive planned demonstrations this week combined with the possibility of even tighter U.S. sanctions on the country could push the beleaguered state even deeper into its economic malaise.

The country is already suffering the rare and nasty phenomenon of hyperinflation which is quickly destroying the economy.

The country's inflation measured an annualized 72,944% on April 27, according to estimates from Steve Hanke, professor of applied economics at Johns Hopkins University and an expert in hyperinflation. That level of inflation quickly makes money worthless and impoverishes the country's people. https://www.forbes.com/sites/simonconstable/2019/04/30/mass-protests-planned-in-venezuela-wednesday-amid-tightening-u-s-sanctions/#5482f3835979
It is hard to have an economy when the currency gets so devalued. Those who think that this can only come in other lands, need to realize that Germany had a similar problem that helped propel the rise of Adolf Hitler.
And one day, mismanagement of the US economy (through things like massive debt accumulation, confiscatory taxation, and quantitative easing) will be a factor in the US dollar becoming worth less than Venezuela's currency now is (see also The End of US Dollar Dominance).
Here are some comments from my 2017 book Donald Trump and America's Apocalypse:
The 45th President of the United States

Despite what was so far happened, I can state with biblical assurance that the time that the Bible calls the "Great Tribulation" (Matthew 24:21) will NOT begin until sometime after the first presidential term of Donald Trump ends.

However, the end of the 6,000 years God has granted humanity to rule itself will likely be over the next decade or so (a detailed discussion of this is in an article at the website www.cogwriter.com). Thus, simply by the virtue of timing, Donald Trump is destined to take steps that ultimately will aid in the fulfillment of end-time biblical prophecies.

As president, Donald Trump will have to deal with the fact that the U.S.A. is the most indebted nation in the history of humanity …

Debt is a prophesied problem (cf. Habakkuk 2:6-8).

The time will come when the U.S.A. government will no longer be able to borrow at low interest rates and/or it will create more money electronically and/or via the printing press to try to continue.

Make no mistake about it — massive inflation is coming.

The U.S.A. dollar will ultimately crash and be worthless. That "pride" of American power will be broken (cf. Leviticus 26:19). …

The Economy

While pushing biblically immoral ideas is bad for the economy, it should be noted that economies vary. A modern reality is that being the world's de facto reserve currency has helped prolong the U.S.A.'s dominance.

When the U.S. dollar is no longer the world's reserve currency, this will hurt the U.S.A. financially. Increasing debt, including "quantitative easing," is a form of dishonest profits that is not something that God approves of and will punish the U.S.A. for (cf. Ezekiel 22:13-16).

Inflation will eventually hit the U.S.A. extremely hard. As the world becomes less attached to the American dollar, many financial jobs and opportunities will be in places other than the U.S.A. Eventually, but not yet, the U.S.A. dollar will become worthless.

Will it always be straight downhill for the economy of the U.S.A.?

No.

There are some reasons to have some temporary optimism. The longer there is some economic stagnation in parts of the economy, the more demand tends to build up, and an increase in demand may prolong the economy. In addition, technological and other developments may temporarily support the U.S. economy—as can reductions of regulatory burdens.

Some policies of Donald Trump may help. The stock market in the U.S.A. responded favorably in the weeks after the election of Donald Trump. Various ones see his policies and his cabinet selections as a refreshing pro-business change that will fuel economic growth, investment, and prosperity …

There are issues with what Donald Trump says when he speaks. I expect people will call for his impeachment. 

The Bottom Line

Like many politicians, Donald Trump does not meet the following:

21 Moreover you shall select from all the people able men, such as fear God, men of truth, hating covetousness; (Exodus 18:19)

3 The God of Israel said, The Rock of Israel spoke to me: 'He who rules over men must be just, Ruling in the fear of God. (2 Samuel 23:3)

This does not bode well for the U.S.A.

Furthermore, the Bible warns against the type of moral decline that is occurring in the U.S.A.:

12 Therefore thus says the Holy One of Israel:  "Because you despise this word, And trust in oppression and perversity, And rely on them,  13 Therefore this iniquity shall be to you Like a breach ready to fall, A bulge in a high wall, Whose breaking comes suddenly, in an instant. (Isaiah 30:12-13)

But how can this happen to the USA?  It will likely happen with a combination of events. Notice:

5 "Moreover the multitude of your foes Shall be like fine dust, And the multitude of the terrible ones Like chaff that passes away; Yes, it shall be in an instant, suddenly. 6 You will be punished by the Lord of hosts With thunder and earthquake and great noise, With storm and tempest And the flame of devouring fire. (Isaiah 29:5-6)

The debt situation of the U.S.A. is putting it at risk of being unable to recover should it be hit by weather problems, terrorist acts, war, riots, solar flares, severe earthquakes, civil unrest, devastation of their genetically-modified food supplies, food shortages, and/or various pestilences–an intensity of "sorrows" such as Jesus discussed in Matthew 24:4-8 leading up to the time of the Great Tribulation. Political issues, climate change, trade policies, communication's deals, and other events are pushing the U.S.A. to a position that will encourage its takeover someday. Disasters, especially if there is an ElectroMagnetic Pulse (EMP) attack or a severe solar flare storm, could be part of a so-called "perfect storm" of events that could set the USA for destruction. (Thiel B. Donald Trump and America's Apocalypse. Nazarene Books, 2017)
Neither Juan Guaido nor Nicolas Maduro are calling for national repentance in Venezuela either. But the USA has certain unique aspects which will turn more countries strongly against it than will happen with Venezuela.
That being said, as I have written before, ultimately, I believe that Venezuela will change and some of those who left that nation for other lands will return.
Venezuela, also, will likely have some prosperity with trade from the rising Babylonian Beast power, but that will be temporal.
Venezuela, like the rest of the world, needs repentance and the Kingdom of God.
Some items of possibly related interest may include:
Mexico, Central America, South America, Brazil, and the Caribbean in Prophecy [Español: México, América central, Suramérica, Brasil y el Caribe en la profecía] [Português: México, América Central, Ámérica do Sul, e Brasil na profecia] What will happen to those of Latin America? Will they have prosperity? Will they cooperate with Europe? Will they suffer in the future? What role might the various Caribbean nations/territories play?
Is God Calling You? This booklet discusses topics including calling, election, and selection. If God is calling you, how will you respond? Here is a link to a related sermon: Could God be Calling You?
Christian Repentance Do you know what repentance is? Is it really necessary for salvation? A related sermon is also available titled: Real Christian Repentance.
The End of US Dollar Dominance Is the USA losing its economic status? What about the petro-gold-yuan? A related video is also available: US Dollar being challenged by Gold-Petro-Yuan.
The Times of the Gentiles Has there been more than one time of the Gentiles? Are we in it now or in the time of Anglo-America? What will the final time of the Gentiles be like? A related sermon is available and is titled: The Times of the Gentiles.
Eliminate the $100 bill? Various ones, like Harvard economist and Trilateralist Larry Summers have called for the elimination of the USD$100 bill and the 500 Euro note. In Asia, South Korea is heading towards cashlessness by 2020. Electronic currencies are information and subject to monitoring. Did something God inspired the Apostle John over 1900 years ago now able to come to pass? This is a video.
The 'Peace Deal' of Daniel 9:27 This prophecy could give up to 3 1/2 years advance notice of the coming Great Tribulation. Will most ignore or misunderstand its fulfillment? Here is a link to a related sermon video Daniel 9:27 and the Start of the Great Tribulation.
Collapse of the Euro and Dollar? War in 2020? Larry Edelson of Money and Markets described aspects of current economic difficulties and explained why he felt matters would get a lot worse. He said war, like World War III, could break out as early as 2020. What did he call the 'granddaddy of all cycles"? Will matters go as he said? What does the Bible teach? Dr. Thiel provides biblical insights that secular sources often miss. This is a video.
Europa, the Beast, and Revelation Where did Europe get its name? What might Europe have to do with the Book of Revelation? What about "the Beast"? Is an emerging European power "the daughter of Babylon"? What is ahead for Europe? Here is a link to a video titled: Can You Prove that the Beast to Come is European?
European Technology and the Beast of Revelation Will the coming European Beast power would use and develop technology that will result in the taking over of the USA and its Anglo-Saxon allies? Is this possible? What does the Bible teach? Here is a related YouTube video: Military When Will the Great Tribulation Begin? 2019, 2020, or 2021? Can the Great Tribulation begin today? What happens before the Great Tribulation in the "beginning of sorrows"? What happens in the Great Tribulation and the Day of the Lord? Is this the time of the Gentiles? When is the earliest that the Great Tribulation can begin? What is the Day of the Lord? Who are the 144,000? Here is a version of the article in the Spanish language: ¿Puede comenzar la Gran Tribulación en 2018 o 2019? ¿Es el Tiempo de los Gentiles? You can also see the English language sermon videos: The Great Tribulation from the Mount of Olives and Can the Great Tribulation begin before 2020? A shorter and newer video is: Might the Great Tribulation start in 2019?
The Times of the Gentiles Has there been more than one time of the Gentiles? Are we in it now or in the time of Anglo-America? What will the final time of the Gentiles be like? A related sermon is available and is titled: The Times of the Gentiles.
Armageddon Who is involved and when will this gathering happen? Here is also a video from Dr. Thiel, from Tel Megiddo in Israel: Armageddon. Other videos include: Armageddon Will it come on Trump's watch?, Iraq, Armageddon, & Prophecy, Freemasonry, Armageddon, and Rome, Is China paving roads to Armageddon?, and Jordan, Petra, and Armageddon.
World War III: Steps in Progress Are there surprising actions going on now that are leading to WWIII? Might a nuclear attack be expected? What about WWIV? Does the Bible promise protection to all or only some Christians? How can you be part of those that will be protected? A related video would be Is World War III About to Begin? Can You Escape?
Does God Have a 6,000 Year Plan? What Year Does the 6,000 Years End? Was a 6000 year time allowed for humans to rule followed by a literal thousand year reign of Christ on Earth taught by the early Christians? Does God have 7,000 year plan? What year may the six thousand years of human rule end? When will Jesus return? 2026 or 20xx? There is also a video titled 6000 Years: When will God's Kingdom Come? Here is a link to the article in Spanish: ¿Tiene Dios un plan de 6,000 años?
The Plain Truth About Gold in Prophecy. How Should a Christian View Gold? What do economists and the Bible teach about gold? Gold and silver may drop in value. Inflation/deflation? What do Christians need to know about gold?
Anglo – America in Prophecy & the Lost Tribes of Israel Are the Americans, Canadians, English, Scottish, Welsh, Australians, Anglo-Saxon (non-Dutch) Southern Africans, and New Zealanders descendants of Joseph? Where are the lost ten-tribes of Israel? Who are the lost tribes of Israel? What will happen to Jerusalem and the Jews in Israel? Will God punish the U.S.A., Canada, United Kingdom, and other Anglo-Saxon nations? Why might God allow them to be punished first? Here is a link to the Spanish version of this article: Anglo-América & las Tribus Perdidas de Israel. Information is also in the YouTube sermons titled Where are the Ten Lost Tribes? Why does it matter? and British are the Covenant People. A short YouTube of prophetic interest may be Barack Obama and the State of the Apocalypse.
Are You Being Called by God? Norman Shoaf wrote various points to consider.
When You Sin: Do You Really Repent? This is an article by Charles F. Hunting. A related sermon is Confess to God and truly repent.
The Gospel of the Kingdom of God This free online pdf booklet has answers many questions people have about the Gospel of the Kingdom of God and explains why it is the solution to the issues the world is facing. Here are links to three related sermons: The World's False Gospel, The Gospel of the Kingdom: From the New and Old Testaments, and The Kingdom of God is the Solution.
Donald Trump in Prophecy Prophecy, Donald Trump? Are there prophecies that Donald Trump may fulfill?  Are there any prophecies that he has already helped fulfill?  Is a Donald Trump presidency proving to be apocalyptic?  Two related videos are available: Donald: 'Trump of God' or Apocalyptic? and Donald Trump's Prophetic Presidency.
Trump Presidency Magic 8 Ball or Bible Prophecy? BBC reported that one might as well use a 'Magic Eight-Ball' to try to predict what will happen in the remaining time of Donald Trump's presidency. What is a 'Magic Eight-Ball'? Dr. Thiel not only explains that, but also briefly goes over 10 biblically-based warnings he wrote would happen if Donald Trump were elected that have already began to come to pass. He also goes over something he wrote back in 2008 that the Trump presidency is also helping lead to fulfillment. Should you trust Bible prophecy or not? Dr. Thiel says that Bible prophecy can be trusted, despite the view of skeptics and others that either overlook or despise the Bible. This is a video.
Donald Trump and America's Apocalypse This 188 page book is for people truly interested in prophecies related to Donald Trump and the United States, including learning about several that have already been fulfilled and those that will be fulfilled in the future. The physical book can be purchased at Amazon for $12.99 from the following link: Donald Trump and America's Apocalypse.
Donald Trump and America's Apocalypse-Kindle Edition This electronic version of the 188 page print edition is available for only US$3.99. And you do not need an actual Kindle device to read it. Why? Amazon will allow you to download it to almost any device: Please click HERE to download one of Amazon s Free Reader Apps. After you go to for your free Kindle reader and then go to Donald Trump and America's Apocalypse-Kindle Edition.
Just What Do You Mean — Repentance? Do you know what repentance is? Have you truly repented? Repented of what? Herbert W. Armstrong wrote this as a booklet on this important subject.
The Gospel of the Kingdom of God This free online pdf booklet has answers many questions people have about the Gospel of the Kingdom of God and explains why it is the solution to the issues the world is facing. Here are links to three related sermons: The World's False Gospel, The Gospel of the Kingdom: From the New and Old Testaments, and The Kingdom of God is the Solution.