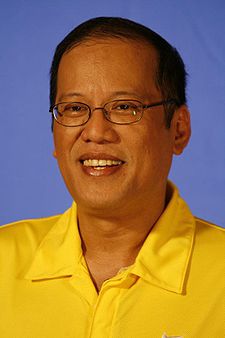 Noynoy Aquino
Noynoy Aquino, the President of the Philippines, lost his Secretary of the Interior, in a recent plane crash there, which also involved former WCG/GCI Pastor Jessup Bahinting:
22 August 2012

After three days of a deep sea search in Masbate, President Aquino took home the remains of Interior Secretary Jesse Robredo, fulfilling a promise to his grief-stricken family.

Robredo's flag-draped coffin was flown to Naga City yesterday with plans set in motion for a state funeral.

Retrieval operations continue for Cebu pilot Capt. Jessup Bajinting and his Nepalese co-pilot Kshitiz Chan.  http://newsinfo.inquirer.net/255352/president-escorts-body-of-robredo-to-naga-search-for-plane-and-pilots-ends-in-sunken-plane-at-depth-of-180-feet?ModPagespeed=noscript

22 August 2012

The family of Captain Jessup Bahinting grieved upon learning that the wreckage of the aircraft that Local Government Secretary Jesse Robredo took has been found in the seawaters off Masbate.

But Bahinting's wife, Margarita, has accepted her husband's fate. Bahinting was the pilot of the ill-fated plane.

Express your condolences to DILG Secretary Jesse Robredo's family…

Margarita, a member of the Grace Communion International (GCI), said her faith gave her strength and eased the pain of her loss.

GCI is a Christian group where Jessup was a pastor and supervisor for the Visayas.  http://www.sunstar.com.ph/cebu/local-news/2012/08/22/pilot-s-wife-says-she-has-accepted-husband-s-fate-238720

Being good friends, Capt. Jessup Bahinting couldn't refuse a request by Interior and Local Governments Secretary Jesse Robredo for a special afternoon flight to Naga City last Saturday…Before starting their aviation business, the Bahintings lived in Cagayan de Oro from the early 1980s to 1991 where he worked full-time as a church pastor of the Worldwide Church of God (WCG). http://newsinfo.inquirer.net/253672/robredo-asked-for-naga-flight-to-attend-childs-awarding-rites?ModPagespeed=noscript
The old Worldwide Church of God (WCG) made a series of doctrinal compromises in the late 1980s and 1990s under the leadership of Joseph Tkach.  The group that did that, later (after his death) renamed their church Grace Communion International (GCI).  Those that did not accept the doctrinal heresies of the Tkach-WCG left and formed many Church of  God (COG) groups.
GCI itself is now a Protestant group, yet the genuine Church of God is not Protestant as it preceded the formation of not only the Protestant movement, but that of the Roman Catholic Church of Rome.
Some articles of possibly related interest may include:
Islands and Bible Prophecy What's ahead for islands? What does the Bible prophesy about them?
Asia in Prophecy What is Ahead for Asia? Who are the "Kings of the East"? What will happen to nearly all the Asian? Who has the 200,000,000 man army related to Armageddon?
Did Early Christians Believe that Humans Possessed Immortality? What does John 3:16, and other writings, tell us? Did a doctrine kept adopted from paganism?
Born-Again originally meant being born at the resurrection, not at the time of conversion.
What Did Early Christians Understand About the Resurrection? Is there more than one future resurrection? Did early Christians teach a physical resurrection? Did early Christians teach three resurrections?
6. The Philadelphia Church Era was predominant circa 1933 A.D. to 1986 A.D. The old Radio Church of God and old Worldwide Church of God, now basically the most faithful in the Church of God.
7. The Laodicean Church Era has been predominant circa 1986 A.D. to present. These are non-Philadelphians who mainly descended from the old WCG.
The History of Early Christianity Are you aware that what most people believe is not what truly happened to the true Christian church? Do you know where the early church was based? Do you know what were the doctrines of the early church? Is your faith really based upon the truth or compromise?
News Articles Related to Church History This link is to articles on Church history that were once published on the COG News Page.
The Churches of Revelation 2 & 3 Do they matter? Most say they must, but act like they do not. This article contains some history about the Church of God (sometimes referred to as the continuation of Primitive Christianity) over the past 2000 years. It also discusses the concept of church eras.
What Do Roman Catholic Scholars Actually Teach About Early Church History? Although most believe that the Roman Catholic Church history teaches an unbroken line of succession of bishops beginning with Peter, with stories about most of them, Roman Catholic scholars know the truth of this matter. Is telling the truth about the early church citing Catholic accepted sources anti-Catholic? This eye-opening article is a must-read for any who really wants to know what Roman Catholic history actually admits about the early church.
Nazarene Christianity: Were the Original Christians Nazarenes? Should Christians be Nazarenes today? What were the practices of the Nazarenes.
Location of the Early Church: Another Look at Ephesus, Smyrna, and Rome What actually happened to the primitive Church? And did the Bible tell about this in advance?
Apostolic Succession What really happened? Did structure and beliefs change? Are many of the widely-held current understandings of this even possible? Did you know that Catholic scholars really do not believe that several of the claimed "apostolic sees" of the Orthodox have apostolic succession–despite the fact that the current pontiff himself seems to wish to ignore this view?  Is there actually a true church that has ties to any of the apostles that is not part of the Catholic or Orthodox churches?  Read this article if you truly are interested in the truth on this matter!
Early Church History: Who Were the Two Major Groups Professed Christ in the Second and Third Centuries? Did you know that many in the second and third centuries felt that there were two major, and separate, professing Christian groups in the second century, but that those in the majority churches tend to now blend the groups together and claim "saints" from both? "Saints" that condemn some of their current beliefs. Who are the two groups?
Hope of Salvation: How the Genuine Church of God differ from most Protestants How the real Church of God differs from mainstream/traditional Protestants, is perhaps the question I am asked most by those without a Church of God background.