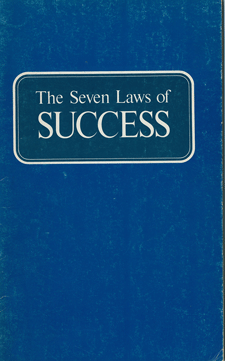 In his booklet, The Seven Laws of Success, the late Herbert W. Armstrong wrote the following related to the sixth law of success:
Importance of Law Number 6

Among the case histories recounted in the beginning pages was that of the president of a major automobile manufacturing corporation. He had utilized the first five of these laws—that is, except he had the usual goal that leads in the wrong direction. Yet in the flash depression of 1920, when he lost his personal fortune, he committed suicide.

This man had reached the point where he was, to all appearances, through! During life he had resourcefully solved emergencies and problems that arose. But now, suddenly, it seemed that everything had been swept from under his feet. Everything he had worked for. Everything he had accumulated. Everything he had set his heart on! There was NOTHING left! He was washed up—finished! So it seemed to him. I never knew his private life.

He gave up! He committed suicide. So near success, yet so far!

Yes, nine in ten, at least once or twice in a lifetime, come to the place where they appear to be totally defeated! All is lost!–`apparently, that is. They give up and quit, when just a little more faith and perseverance—just a little more STICK-TO IT-IVENESS would have turned apparent certain failure into glorious success.

Law number six, then, is PERSEVERANCE—stick-to-it-iveness!

I know! I have reached that point more than once! I, too, had everything swept out from under me in that flash depression of 1920.

I had been making an income, still in my twenties, equivalent to an executive's salary in today's dollar value. But some 90 percent of it came from five or six big Midwestern corporations. Most of these great corporations "went under"—that is, they went into "receivers'" hands.

Later, in 1926, an advertising business I had started on the west coast was wiped out from under me by an association decision made in the east. A million-dollar project was dashed to oblivion by the stock-market crash and depression of 1929. But I did not quit or give up living. That was when my life GOAL was changed!

Even the first two years of the operation of Ambassador College stared constant defeat in the face. Nearly everybody thought we were through—we had failed! WHY, they wondered, didn't I realize it and QUIT? In those days I had to listen to associates around me talking constantly about "when this college folds up."

But it didn't fold up! By the year 1949 we got over our first financial hump. Later, the second. Today, I think we may be justified in saying that the college is, indeed, a glorious SUCCESS! And our other operations today are worldwide on a major scale.
Things do not always go as planned. Instead of giving up, Christians should pray and try to persevere when needed.
Some articles of possibly related interest may include:
What is the Meaning of Life? Who does God say is happy? What is your ultimate destiny? Do you really know? Does God actually have a plan for YOU personally?
The Seven Laws of Success Booklet by Herbert W. Armstrong that can help people become successful.