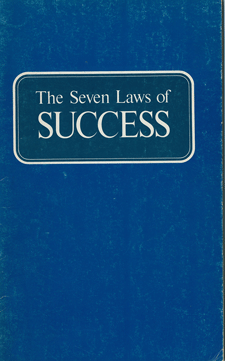 In his booklet, The Seven Laws of Success, the late Herbert W. Armstrong listed the following first "six laws of success":
Here, then, is the first law of success:

FIX THE RIGHT GOAL!…

So, the SECOND law of success in time sequence, is EDUCATION, or PREPARATION…

The all-important law coming next in time order is GOOD HEALTH…

Take the FOURTH LAW. If you are motivated by GOD'S WORD, you'll have DRIVE…

Law Number 5—for Emergencies…RESOURCEFULNESS!…

Law number six, then, is PERSEVERANCE—stick-to-it-iveness!
Here is what he wrote related to the seventh law of success:
Still We Need Law Number 7!

Well now, it would certainly seem that if one follows these SIX laws of success, nothing more should be required!

But still, these "successful" men I have described followed these six principles. They gained their goals. They made money. They attained recognized status. They enjoyed the passing pleasures.

Still their lives were empty—they were never satisfied—they were discontented, they never found lasting, permanent, enduring happiness—they did not take their acquisitions with them when they died, and their fame died with them!

What they lacked—what ALL lack who fail of REAL success, application of Success Law number 7—the most important law of all! That is the ingredient that would have changed everything?

The Overlooked SEVENTH Law

I have reserved this all-important seventh Law till last to explain. But far from being least, it is first in vital importance!

I have held it till now because 1) it is the very last one that people will acknowledge and apply; and 2) being first in making possible real success, I want to state it last so it will remain stamped in the mind of the reader.

When serious illness strikes, people call the doctor. It is automatic for most to rely on human professional knowledge and skill—on material drugs, medicines and knives. But finally, when the attending physician—perhaps with specialists called in collaboration—gravely shakes his head and says there is no more that medical science can do—it is now in the hands of a higher Power—then, at last people cry out desperately to the Creator God!

Is it possible that the living GOD might be a factor in determining the success or failure of one's life? Few have thought so.

People will ignore all their lives any idea of divine guidance and help—yet if one should find himself on a foodless and waterless raft after a shipwreck in mid-ocean, it is remarkable how quickly he would begin to believe there really is a living God! In last-resort desperation most people will cry out to Him whom they have ignored, disobeyed, and set at naught all their lives.

Wouldn't it seem axiomatic that, if there is a compassionate beneficent Creator standing ready and willing to give us emergency help as a last resort, it would have been more sensible to have sought His guidance and help all along? Yet some have acquired wealth, lived luxuriously, and then, suddenly losing all, turned finally to God in their economic distress. Others have committed suicide. Few, it seems, will ever rely on their Maker and life-Sustainer until they feel helpless and in desperate need. Even then the motive too often is selfish.

Yet, if we are to enjoy the good things of life—freedom from fears and worries, peace of mind, security, protection, happiness, abundant well-being—the very SOURCE of their supply is the Great God! Since all comes from Him anyway, why not tap the SOURCE from the very beginning?

But in our day of modern science, sophistication and vanity, it has not been fashionable to believe in a Maker. In this deceived world, knowledge of God has found little or no place in modern education.

The ALL-IMPORTANT seventh Law of Success, nevertheless, is having contact with, and the guidance and continuous help of GOD!

And the person who does put this all-important seventh law last is very probably dooming his life to failure at the end.

Why of First Importance

Look again at the very first Law, as it has been listed here. It is not merely choosing a goal—any goal. It is setting as one's life-aim the right goal.

The "successful" of this world all had goals. But their goals led to material ends. They sought happiness in vanity, pride of status, material acquisitions, physical activities and pursuits. They sought the approbation of people. But people are human, and their lives are temporary. Material objects, too, are not enduring, but wax old until consigned to disuse.

The main goals of those supposed to be successful in the world usually are two: Vanity—desire for status; and money with the material things it will buy. But happiness is not material, and money is not its source. Vanity, as Solomon observed is like a striving after wind!

These men I have mentioned made money. Their bank accounts may have been full, but their lives were empty. When they acquired money, it never satisfied, and always they wanted more. These monetary victories, these material acquisitions, gave, of course, a thrill of satisfaction—but it never lasted!

This life-long struggle—this constant striving "after wind"—striving after false values—left in its wake a trail of fears and worries, apprehensions, disappointments, heartaches, troubled consciences, discontent, empty lives, frustrations—and finally, DEATH!

Oh yes, of course there were pleasures, moments of excitement, periods of enjoyment. There were occasional thrills, temporary sensations of delight. But always they were followed by periods of depression. Always a gnawing inner soul-hunger returned. This in turn drove them to seek satisfaction in the thousand-and-one events in the world's whirl of material pleasures and pastimes. Yet these never filled the void. They never satisfied the real inner hunger.

These people probably didn't realize it, but the hunger was spiritual. And spiritual hunger is never satisfied by material food!

The "successful" of this world applied six of the success laws. But they left GOD out of the picture, and the happiness of real success out of their lives.

It seems almost no one, today, realizes HOW—and WHY—we were made. WHAT we humans are, and WHY we are. Why should we live in ignorance of these basics of knowledge?

Two basic and vital facts are overlooked:

1. While man was made a material being, of the dust of the ground, sustained by eating material food and drinking material water, he was made also to need spiritual food, and to drink of the "living water" of God's Spirit. Without these spiritual needs man cannot be truly and continually happy. Nothing else really satisfies.

2. The Eternal Creator, who made us in His own likeness, is creator of ALL that is. Everything man needs to make life continuously and abundantly satisfying, must come from Him. He is the SOURCE OF SUPPLY. He is the GIVER of everything good. WHY must men ignore the true SOURCE, and try to obtain where there is nothing to be obtained? If I wish to draw clear, sparkling drinking water from a well, I will go to a well filled with such water, not to one that is empty. God says of our people: "For my people have committed two evils; they have forsaken me the FOUNTAIN of living waters, and hewed them out cisterns, broken cisterns, that can hold no water" (Jeremiah 2:13).

And again He says: "Ho, every one that thirsteth, come ye to the waters, and he that hath no money; come ye, buy, and eat; yea, come, buy wine and milk without money and without price. Wherefore do ye spend money for that which is not bread? And your labour for that which satisfieth not?" (Isaiah 55:1-2.)

Once again, look at the first of the Success Laws. Stated another way, it is to DEFINE SUCCESS! And what constitutes real Success? Once you have learned the true meaning of Success, then you have found the only right goal.

The right goal sets the direction of your life's journey. Success is the destination of that journey. Success is where you finally arrive—and true Success includes a happy and enjoyable journey along the way.

PURPOSE to Life?

Is there, after all, a PURPOSE to life?

If we were put here by a Creator, would He have put us here without a REASON? And a Creator with Mind and Power that could have designed and produced the human mind and body could have failed to make available for humans every tool, ingredient and facility needed to fulfill His Purpose!

Of course men cut off from God have no knowledge of that Purpose. For that knowledge is not material, but spiritual knowledge. And spiritual things cannot be seen—nor heard, felt, smelled or tasted. Spiritual knowledge can be transmitted only by revelation. And this world has rejected revelation. Men cut off from their Creator of necessity are spiritually blind and ignorant, groping in the dark. So they fail to seize the proper tools, ingredients and facilities.

But the Maker has sent an instruction book along with the human mechanism He made.  It contains all the real answers. It reveals life's real PURPOSE—the potential destiny of man! That instruction book, as Bruce Barton aptly said, is the "book nobody knows."  Almost no one knows that 95% of the contents of that Book is virtually ignored by the professing Christian clergy. Most scientists and educators today suppose, erroneously and in ignorance of the facts, that the Bible is merely the book of an ancient race of Jewish people, striving to devise a concept of a god—in by gone days of ignorance and superstition. They don't examine the Book, as they examine other data, to see what it says. They ignore it as something beneath their pride of intellect to consider.

The religious Bible-believing fundamentalists generally quote and use not more than some 5% of the Scriptures. Approximately one-third of the entire contents of the Bible is devoted to ADVANCE NEWS REPORTS, called, in religious terminology, prophecy. FEW pay any attention to this third of the writings—and most seem devoid of understanding.

What almost ON ONE realizes is that the ignored 95% of that great volume is the INSTRUCTION BOOK which the Maker sent along with His product—just as any manufacturer of a material commodity does. Yet some scholars today have been surprised and shocked to learn that this ignored, maligned, misrepresented Book contains THE ANSWERS to life itself—reveals the PURPOSE of life—the LAWS that govern it—the ANSWER to what IS Success, and how to achieve it!

It has been like discovering a gold mine of knowledge they did not know existed. They have found that it MAKES SENSE—that, indeed, IT IS THE VERY FOUNDATION of KNOWLEDGE in just about all areas—that it provides the only right approach to the acquisition of further discoverable knowledge.

This ultimate potential destiny is the only TRUE goal. It is your reason for being alive! It is the reason you were born!

Those who have worked, striven, fought their way to any other goal have been wasting their lives—living for naught! They have, in true fact, been going nowhere! And how many, since humans were first put here on earth, have really known that PURPOSE—that one right goal of life? Very few, indeed!

The time when we need divine guidance, enlightenment, and help, is at the very BEGINNING—at the time when a young man or woman chooses that RIGHT GOAL. Without divine guidance the wrong goal is always set.

That is why poor people possessing the least knowledge and material goods sometimes appear to be the happiest. Actually they were not happy. They merely are less discontented! They have not progressed as far in the WRONG DIRECTION as those who smugly and vainly supposed themselves to be their more intelligent betters!

Life has a PURPOSE. God has set in actual, inexorable motion definite LAWS to PRODUCE for man every happiness, security, and GOOD thing he desires—THE WAY OF LIFE that will fulfill God's PURPOSE for our being!

LOOK! THINK! An automobile was designed and built by its human makers to transport passengers, and do it more speedily and in more comfort than the old horse and buggy. Would it not be ridiculous if the automobile had a mind and free volition of action, and it would say: "That's silly! I don't think I was made to transport people. I think I was made for some other purpose. I refuse to transport people. I want to be an instrument for viewing the stars in the heavens."

Apparently it is only stupid, foolish man—with POTENTIAL mind power and CAPACITY for intelligence beyond any creature God has created—who says "WHY have you made me thus?"

WHAT, then is the PURPOSE for which we were put here?

Of this, mankind has totally lost all conception. To people spiritually drunk on the false material concepts of our day, the statement of that purpose would appear strange, absurd, impossible. It SO FAR transcends anything conceived by humanity in this blinded world that the statement of it would prove too great to be grasped and accepted.

Suffice it to say—and I shall leave it to another booklet to explain—man was put here for the PURPOSE of being conformed to, and finally stamped with the exact perfect CHARACTER of Jesus Christ! Write for the free booklet Why Were You Born?

Christ is now stamped with the identical CHARACTER IMAGE of God, as well as the shining, brilliant, glorified appearance of God! For a mortal human to be transformed into that perfect spiritual image means that we must be CHANGED!

The Bible pictures God as the Master Potter—us as the clay. Indeed we are, literally clay images of God—composed of the dust of the ground (Genesis 2:7). As we now bear only the physical image of the "earthy," we shall when changed, bear the spiritual image of the heavenly—of GOD (1 Corinthians 15:47-49). So we are clay images with human minds that are free moral agents. They may submit, or they may rebel. They have power of will, and of decision.

Free to Choose

Understand this! You are a free moral agent. God will never "cram" His religion down your throat." He will never force you to decide His way or go His way. He not only allows you to choose the wrong way—He compels you to make your own decision. Otherwise His PURPOSE would be thwarted!

The living God has set two ways before us. One, His Way, the cause of all the good things you want here and now, plus eternal life in REAL SUCCESS continuously forever. The other the way of self-centeredness, vanity, greed, envy—the way mankind has gone, in rebellion against God and His Law—the way that causes all unhappiness, suffering, evils, and ends in death. And God compels you to choose!  Yet He commands you to choose the Way that leads to REAL SUCCESS (see Deuteronomy 30:19).

You Need HELP

That ultimate TRUE Success is something you cannot attain to by yourself. The ingredient you lack is the GUIDANCE, the POWER and SPIRIT OF GOD.

You must make the decision. You must set this right GOAL. You must set your will. You must expend your full effort. You must WORK AT overcoming, growing and developing spiritually, and sticking with it. Yet GOD supplies the all-important ingredient—His power, His love, His faith—His guidance—HIS LIFE!

7th Law Changes Everything

Now look how DIFFERENT a whole life becomes when this SEVENTH SUCCESS LAW is utilized.

First, it will completely alter your overall major GOAL as I have just explained. Of course, you will have other minor goals—such as the profession or occupation to provide material needs, and HELP achieve the major goal. And these minor goals always must be compatible with and contributing to the major goal.

Your main goal, now, will be spiritual and not material. It will follow the WAY OF LIFE of the Ten Commandments. You will actually LIVE BY every Word of GOD—that is, the Bible!

Now re-examine the Second Law of SUCCESS.

Your EDUCATION and entire preparation will be DIFFERENT. You will seek to learn the TRUE VALUES of life—yes, of this life as well as the hereafter! This means your number one textbook will be the BIBLE. It will reveal to you the MIND OF CHRIST. This will provide your mental APPROACH in all education and practice.

Third, you will receive the KNOWLEDGE which God reveals about laws of HEALTH.

Take the FOURTH LAW. If you are motivated by GOD'S WORD, you'll have DRIVE. God commands that you do what you do with your might! Apply yourself! Whatever is worth doing is worth doing the very best you can! Nine Biblical passages command that you apply your self with DILIGENCE! Ten other places in the Bible command us to BE DILIGENT. And 36 Scriptures command, or show the example of acting diligently! Many of these instruct us diligently to seek God's guidance and help, several diligently to keep His commandments.

How about the businessman? "Seest thou a man diligent in his business? He shall stand before kings; he shall not stand before [obscure] men" (Proverbs 22:29).

The Bible does not condone laziness or shiftlessness. It counsels us to consider the ant and be wise. The Bible commands industriousness!

Solving Problems

Now, Law Number FIVE. No matter how intelligent, alert, or resourceful you may be, YOU NEED GOD'S WISDOM and HELP in solving the constant problems and meeting the recurring obstacles that beset life's path. Whether it is in business, a profession, private life or what. The man who has CONTACT WITH GOD, who can take these matters—these emergencies—these problems—in the quietness of his private prayer room to the Throne of Grace and seek God's counsel and advice IS GOING TO HAVE DIVINE GUIDANCE! That is, of course, provided he is submissive, obedient, diligent, faithful. WISDOM comes from GOD.

May I give you a personal example? God has blessed His Work, and caused it to grow into a tremendous worldwide activity, with offices around the world. God has set me in the position of human director and leader over this expanding enterprise, employing hundreds of people. We encounter problems of all kinds, constantly. I have problems to solve, obstacles to hurdle, policies to set, decisions to make which affect many lives—frequently involve many thousands of dollars, even millions. It is a weighty responsibility.

Always—and I can remember it from at least age 5—I have desired to have UNDERSTANDING. But more than fifty years ago, I discovered that I sadly lacked, yet sorely needed WISDOM. Having dedicated my life to live, literally, according to every word of God's Instruction Book—the Bible—I obeyed this command of God: "If any of you lack wisdom, let him ask of God. . . and it shall be given" (James 1:5). He has given me wisdom. Of course He has allowed me to make mistakes—but never a major mistake that could threaten His great Work.

Wisdom must be applied to every specific circumstance individually. I learned many years ago the need of getting all of the facts bearing on a case before making a decision. But it requires more. God's Word says that in multitude of counselors there is safety. In any important decision I call in the most competent possible counselors, specialists in the field involved.

You simply cannot know, if you have never had this divine help, how very, very much it means! We have been saved hundreds, of times from costly blunders. We are saved from worries and the "headaches" most businessmen have to suffer over such problems. We can proceed in CONFIDENCE—that assurance that is FAITH! What a blessing! What a comfort, and a joy!

It PAYS Off

People trying to live without the living CHRIST in their lives are missing the most practical and valuable asset they could have. In the language of our day, "IT PAYS OFF!" Of course, we have to expend our own effort. We have to really THINK. We use all our own effort. We have to really THINK. We use all our own resources and natural resourcefulness. But we have that added SECURITY of divine GUIDANCE. Often God simply works out CIRCUMSTANCES. He literally gives us "the breaks"! IT PAYS!

Finally, now, look at Success Law Number SIX. Perseverance—Stick-to-it-iveness—Enduring—Never quitting or giving up.

The Maker's Instruction Book seems full of this. Jesus' parable of the sower and the seed showed the four classes. All heard God's Message. All were given the opportunity. Three classes GAVE UP. One never really got started. Two started out with joy and a great flourish, but let former friends, the cares of this material life, pleasures, choke them off, and discourage them. The other class of quitters simply did not have the depth of strength of character within themselves to stay with anything. They were just naturally quitters. Even of those who went on, and endured, some were more diligent, more resourceful, better prepared, more careful of health, and consequently developed farther in accomplishment than others. Theirs will be the greater reward!

Jesus Christ said, plainly, "He that endureth unto the END, the same shall be SAVED" (Matthew 24:13).

Yes, these Seven Laws are the WAY, not only to business and economic SUCCESS—they are THE LAWS that lead to rich, rewarding, interest-filled, abundant living and, in the end, to ETERNAL LIFE AND GLORY in the Kingdom of God.

It teaches you to choose the RIGHT GOAL. It teaches you to STUDY, to show yourself approved to your Maker. It teaches you to acquire KNOWLEDGE, right and true education—preparation for success. It teaches you to watch your health. It teaches diligence—drive—dedication, persistent application. It teaches resourcefulness, and offers you divine help in applying it—and it teaches STAYING WITH IT TO THE END!

WHAT A HAPPY LIFE God haw made available! What blessedness,–what JOY! What SECURITY, this life of implicit living FAITH—reliance on the Creator—GOD!

I know! I've been enjoying this life for more than fifty years! It's a BUSY life—but it's interesting, thrilling, happy, abundantly REWARDING! And to constantly look forward to the OVERALL GOAL—an eternity in THE KINGDOM OF GOD!

I want to SHARE that life with you! You may enjoy it too!
Christians should pray, study the Bible, and rely on God.
Some articles of possibly related interest may include:
What is the Meaning of Life? Who does God say is happy? What is your ultimate destiny? Do you really know? Does God actually have a plan for YOU personally?
What Should I Pray About? An old article by Lynn Torrance on prayer.
Living as a Christian: How and Why? In what ways do Christians live differently than others. What about praying, fasting, tithing, holy days, and the world? There is also a YouTube video related to that also called: Living as a Christian: How and Why?
The Seven Laws of Success Booklet by Herbert W. Armstrong that can help people become successful.