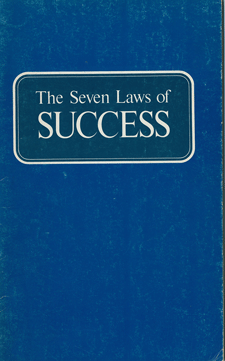 On this last day of unleavened bread, consider that perseverance is a helpful trait for real Christians.
In his booklet, The Seven Laws of Success, the late Herbert W. Armstrong wrote the following related to what he called the sixth law of success:
Importance of Law Number 6

Among the case histories recounted in the beginning pages was that of the president of a major automobile manufacturing corporation. He had utilized the first five of these laws—that is, except he had the usual goal that leads in the wrong direction. Yet in the flash depression of 1920, when he lost his personal fortune, he committed suicide.

This man had reached the point where he was, to all appearances, through! During life he had resourcefully solved emergencies and problems that arose. But now, suddenly, it seemed that everything had been swept from under his feet. Everything he had worked for. Everything he had accumulated. Everything he had set his heart on! There was NOTHING left! He was washed up—finished! So it seemed to him. I never knew his private life.

He gave up! He committed suicide. So near success, yet so far!

Yes, nine in ten, at least once or twice in a lifetime, come to the place where they appear to be totally defeated! All is lost!–`apparently, that is. They give up and quit, when just a little more faith and perseverance—just a little more STICK-TO IT-IVENESS would have turned apparent certain failure into glorious success.

Law number six, then, is PERSEVERANCE—stick-to-it-iveness!

I know! I have reached that point more than once! I, too, had everything swept out from under me in that flash depression of 1920.

I had been making an income, still in my twenties, equivalent to an executive's salary in today's dollar value. But some 90 percent of it came from five or six big Midwestern corporations. Most of these great corporations "went under"—that is, they went into "receivers'" hands.

Later, in 1926, an advertising business I had started on the west coast was wiped out from under me by an association decision made in the east. A million-dollar project was dashed to oblivion by the stock-market crash and depression of 1929. But I did not quit or give up living. That was when my life GOAL was changed!

Even the first two years of the operation of Ambassador College stared constant defeat in the face. Nearly everybody thought we were through—we had failed! WHY, they wondered, didn't I realize it and QUIT? In those days I had to listen to associates around me talking constantly about "when this college folds up."

But it didn't fold up! By the year 1949 we got over our first financial hump. Later, the second. Today, I think we may be justified in saying that the college is, indeed, a glorious SUCCESS! And our other operations today are worldwide on a major scale.
Things do not always go as planned. Instead of giving up, Christians should pray and try to persevere when needed.
Perseverance is something the New Testament shows Christians are to develop:
1 Therefore, having been justified by faith, we have peace with God through our Lord Jesus Christ, 2 through whom also we have access by faith into this grace in which we stand, and rejoice in hope of the glory of God. 3 And not only that, but we also glory in tribulations, knowing that tribulation produces perseverance; 4 and perseverance, character; and character, hope. 5 Now hope does not disappoint, because the love of God has been poured out in our hearts by the Holy Spirit who was given to us. (Romans 5:1-5)

2 Grace and peace be multiplied to you in the knowledge of God and of Jesus our Lord, 3 as His divine power has given to us all things that pertain to life and godliness, through the knowledge of Him who called us by glory and virtue, 4 by which have been given to us exceedingly great and precious promises, that through these you may be partakers of the divine nature, having escaped the corruption that is in the world through lust.

5 But also for this very reason, giving all diligence, add to your faith virtue, to virtue knowledge, 6 to knowledge self-control, to self-control perseverance, to perseverance godliness, 7 to godliness brotherly kindness, and to brotherly kindness love. 8 For if these things are yours and abound, you will be neither barren nor unfruitful in the knowledge of our Lord Jesus Christ. 9 For he who lacks these things is shortsighted, even to blindness, and has forgotten that he was cleansed from his old sins. (2 Peter 1:2-9)
Consider also Jesus' words:
12 And because lawlessness will abound, the love of many will grow cold. 13 But he who endures to the end shall be saved. 14 And this gospel of the kingdom will be preached in all the world as a witness to all the nations, and then the end will come. (Matthew 24:12-14)
Many have had their love grow cold and will not properly support the work needed to fulfill Matthew 24:14. Philadelphia Christians need to persevere.
Some items of possibly related interest may include:
The Seven Laws of Success Herbert W. Armstrong had seven laws that he felt could help people become successful.
Christian Success Does the Bible teach that Christians are to be successful? Are there at least seven laws of success that Christians should follow? How does the Bible teach we are to become successfully spiritually? Does the Bible really teach that Christians should be successful physically? This video answers these questions and more from the Bible. An outline of some of the scriptures used is here: Christian Success Outline.
Living as a Christian: How and Why? In what ways do Christians live differently than others. What about praying, fasting, tithing, holy days, and the world? There is also a YouTube video related to that also called: Living as a Christian: How and Why?
Why Were You Born? Why did God make you? Herbert W. Armstrong wrote this as a booklet on this important subject. You may also wish to read the article What is Your Destiny? or watch the video, also titled What is Your Destiny?
What is the Meaning of Life? Who does God say is happy? What is your ultimate destiny? Do you really know? Does God actually have a plan for YOU personally? There is also a video titled What is the meaning of your life?
Should the Church Still Try to Place its Top Priority on Proclaiming the Gospel or Did Herbert W. Armstrong Change that Priority for the Work? Some say the Church should mainly feed the flock now as that is what Herbert W. Armstrong reportedly said. Is that what he said? Is that what the Bible says? What did Paul and Herbert W. Armstrong expect from lower level leaders? A related sermon is available titled Priority of the Philadelphia Work.
The Final Phase of the Work What is the final phase of the work? Who will lead it? Do you have the courage to support it? Here is a related YouTube video titled The Final Phase of the Work. The written article has been translated into Spanish La Fase Final de la Obra.
Leading the Final Phase of the Work Matthew 24:14 teaches "And this gospel of the kingdom will be preached in all the world as a witness to all the nations, and then the end will come " will be fulfilled and RCG is not the group doing this. Who is leading the final phase of the work? What did Herbert Armstrong and the old WCG teach about that and about prophets? Does Bob Thiel meet the criteria that the Bible and the old WCG set? What is the proof? What has the Continuing Church of God been doing? This is a sermonette length video.