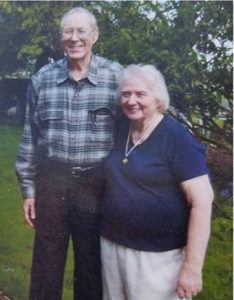 Norman and Charlene Smith (from GCI)

A reader forwarded me the following:
>I just posted this on the Pasadena AC Forum;

I had planned to post a few things today that were more entertaining and uplifting but now I must make a very sad announcement. I just had a call from CHARLENE SMITH to tell me that NORMAN SMITH died early this morning. He had been in a coma for several days and had not eaten since last Tuesday, April 20th. This is very sobering news to us as NORMAN was WAYNE'S roommate and CHARLENE was my roommate at AC and we have re-connected in recent years. I spoke with her for about 30 minutes yesterday as I knew she would be having a very difficult time. I am very pleased that ESTHER COLE GLOVER is near by and assisting them at the Funeral Home. The family is not planning a funeral service but I will give their mailing address for anyone who wishes to mail a card to them.  Their son KEVIN  has been with them for several years and has done a fabulous job in caring-giving. Please keep them in your thoughts and prayers.

Doris Cole<
Nearly five years ago, Grace Communion International (GCI, the group that apostatized WCG) posted the following about him:
Norman Smith was born on the family farm near Burnt Prairie, in Southern Illinois on February 18, 1930. He lived there until at age 20 he left to attend Ambassador College in Pasadena, CA. Norman's wife, Charlene also enrolled in Ambassador in 1950. …

Norman stated in a 1994 interview, "I attempt to look at both the great progress the church has made since I have been a part of it and also admit the mistakes which have seriously hindered some people's ability to see the love of Jesus Christ. Admitting the mistakes does not mean to dwell on them. But, admitting the mistakes is a form of reaching out to those who have been hindered and have faltered." Norman retired in 2005 and has served as Assistant Pastor in the Eugene, OR, congregation to the present. He was a member of the church's Advisory Council of Elders for several years and has served on the GCI Board since January 2015. https://update.gci.org/2016/08/gci-board-of-directors/
For what it's worth, let me add that I believe I met him once or twice.
It is sad that he fell away from the truth before his death.
More on the falling away can be found in the following:
The Falling Away: The Bible and WCG Teachings Who is 2 Thessalonians 2:3 referring to? Are there multiple falling aways? Here is a related link in Spanish/español: La Apostasía: Enseñanzas de la Biblia y de la WCG. There are also two YouTube videos on the subject that you can watch The Falling Away Part 1: From the Bible and Church History and The Falling Away Part 2: Positions Presented by Others.