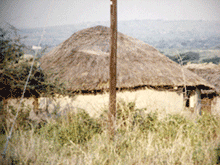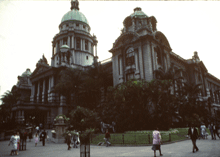 Hut in South Africa — Modern building was location of Feast of Tabernacles in Durban, South Africa, 1985
A reader sent me the following about Church of God, a Worldwide Association (COGWA)'s Les McCullough:
FROM COGWA MINISTERIAL SERVICES:

[Monday] afternoon, March 11, 2019, at 1:02 p.m., Leslie McCullough died peacefully with family members at his side.

A private family service will be held Thursday, March 14, in the morning, at the Gladewater cemetery.

The arrangements have been made for Leslie McCullough. Everyone is invited to the memorial service on Thursday, March 14, at 1:30 p.m.

The location is Croley Funeral Home, 401 N. Center St., Gladewater, Texas. There will be a reception following the memorial at the local COGWA church hall, 24345 CR 3107, Gladewater, Texas. Maps to the hall will be available at the funeral home.

Leslie Leroy McCullough

Leslie Leroy McCullough died on Monday, March 11, 2019 at 1:02 p.m. He was 89 years old.

Les was born in Lincoln, Nebraska on Thanksgiving Day, Nov. 28, 1929, to Arthur and Maude (Bascomb) McCullough. The youngest of six children, he and his family moved to Hillsboro, Oregon, in 1935, where he grew up.

Les and Marion (Rothery) were married in Portland, Oregon, on Feb. 29, 1952. In 1957 they moved, along with their daughter, Kimberly, to Pasadena, California, to attend Ambassador College, where he received his BA and later a Master's Degree. Les was ordained as an elder in Worldwide Church of God in 1962. Two more children, Lynn and Michael, were born during this time.

In early 1965, Les and his family moved to Big Sandy, Texas, to take the position as the deputy chancellor at the new Ambassador College campus, a position he held until 1973. From that time on Les and Marion served in various capacities for the church and college, living in California, Canada, Ohio, South Africa, and England, before returning to Texas in 1995.

Les and Marion moved to Ohio in 1998 where Les served as president of United Church of God. Upon his retirement in 2002, they returned once again to East Texas.

Les was an avid outdoorsman who enjoyed hunting. He was preceded in death by his parents, Arthur and Maude McCullough, and siblings Hubert, Herbert, Ida, Vivian, and Doyle.

Les is survived by his wife, Marion; two daughters and their spouses; Kimberly and Ron Mabry, Gladewater, Texas; Lynn and Matthew Gus, Plano, Texas; one son Michael, Minneapolis, Minnesota; and beloved dog Willie.

Cards may be sent to:

Marion McCullough
7105 White Oak Rd
Big Sandy, TX 75755
For a time, Les McCullough was also president of the United Church of God (UCG).
Nearly all of the ministry in COGWA came from the United Church of God. COGWA was a split from the United Church of God (UCG).
Although I did not know him well, back in the old Worldwide Church of God days, I met Les McCullough in South Africa at the Feast of Tabernacles. He was a regional director (or at least held a similar position to that) back then (1985).