TRANSFORMED FROM TRUTH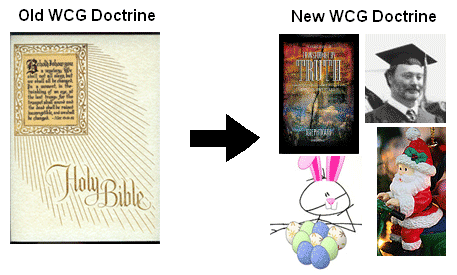 Last night, WCG forwarded the following from its J. Tkach titled "Courageous – or Coward in Christ?":
When Jesus was arrested, those who had so vigorously promised to support him to the end denied him or ran away and watched from a safe distance. But let's not be too critical. Would we have been any different?  We like to hope we would have, but in moments of weakness, there are times when we really don't "stand up and be counted."It might not be a life or death matter. It could be as simple as telling the truth. Or standing by a principle, or resisting a temptation. It might be refusing to go along with the crowd when the crowd is doing something we know is wrong, or it could be failing to tell others of Jesus' goodness when an opportunity presents itself. 
 
No one likes to be thought of as different. But being a follower of Jesus means identifying with Jesus and letting him shape how we think and live. That might mean there are times when we have to be willing to stand up for what we believe, no matter what the consequences. Comments by COGwriter:While the above are interesting sentiments, it would have been nice if WCG would have stuck to the Jesus of the Bible, as opposed to the Christmas/Easter Jesus that the world's churches worship. 
The theme and intent of the COGwriter website is to "contend earnestly for the faith once for all delivered to the saints" (Jude 3).  WCG simply does not have the courage to do that–even though that is what they are telling everyone to do.
Even though the COG message (Gospel of the Kingdom) is one of love and hope, the mainstream churches normally oppose us and also oppose obeying God, keeping His Holy Days, and especially God's plan of salvation which will result in nearly all who ever lived being saved.
Do you understand and practice the doctrines of the Bible?  Do you realize that much of what early Christians believed (and this can be documented from many second and third century writings) is no longer taught or accepted by most who profess Christ? Do you have the courage to believe what the Bible says and to support it?
Do you want to be transformed by the truth of Christ or be transformed from the truth by the world's traditions?
Please read and study your Bible as well as the articles at the History of Early Christianity page.  Do you have the courage to live your life in obedience to the Word of Godor do you uncourageously live according to the traditions of men?