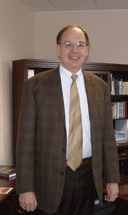 Dr. Douglas Winnail
In his latest update, LCG's Evangelist Dr. D. Winnail had the following:
Transforming Faith: How has your faith influenced or changed your life? The Apostle Paul urged New Testament Christians, "do not be conformed to this world, but be transformed by the renewing of your mind" (Romans 12:1-2). The word "transformed" comes from the Greek word metamorphoo which means a complete and total change—as when a caterpillar undergoes a metamorphosis into a butterfly! Jesus told potential Christians that they must repent (Greek metanao) which involves learning to think differently and turn with sorrow from a past course of action. As we regularly study and meditate on the word of God and ask God to help us change, we will develop the mind of Christ (Philippians 2:5). As we make conscious decisions to think, talk and act as Jesus would—as we crucify the old self—Jesus Christ will be able to live His life in us (Galatians 2:20). This is the transforming faith that enables us to come out of the darkness of this age and be the lights to the world that God is looking for in individuals who are called to become members of His family (Ephesians 5:8-10).
Some articles of possibly related interest may include:
A Short Article on Faith A subject that could fill many books.
The Gospel of the Kingdom of God was the Emphasis of Jesus and the Early Church Did you know that? Do you even know what the gospel of the kingdom is all about? True religion should be based upon the true gospel.
Are You Saved? Do You Love Jesus? What is a True Christian? What is the Gospel? Evangelist Richard Ames answers those important questions.