TRANSFORMED FROM TRUTH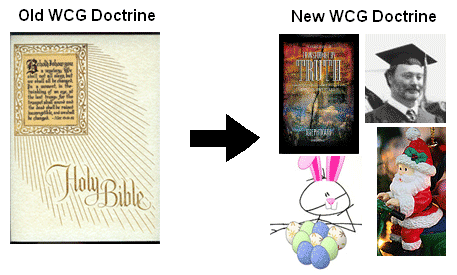 My son Michael thought that the above picture could capture in humor what I believe has happened to the WCG. My wife Joyce coined the expression "Transformed from Truth" many years ago when she first heard of the book improperly titled "Transformed by Truth" by Joseph Tkach (Jr.).
In his September 2007 newsletter, J. Tkach (Jr.) of the Worldwide Church of God (WCG) reported: 
Over the last two decades, our fellowship, the Worldwide Church of God, has experienced remarkable transformations. God has changed us at many levels—in doctrine and theology, in our relationship with God, and in our relationships with one another and with non-member family, friends and neighbors. We are forever grateful for this work of God's grace. To God goes the glory; but I also thank all of you for your faithfulness and sacrifices to be part of this journey of transformation and reformation—from where we were, to where we are (WCG Now), and continuing forward together to where God is taking us (WCG Next).
WCG Now: There are currently about 60,000 of us worldwide; gathered in about 800 congregations and study groups; under the care of about 600 pastors WCG Now is a wonderful testimony to God's transforming grace and love…So let's continue forward—yoked together with the Lord directing. Let's move on together from WCG Now to WCG Next. Please pray about this vision—look for ways to participate in your congregation. Our small, but truly worldwide church is in a unique position to show what God can do through willing and obedient servants.
Comments by COGwriter: 
J. Tkach failed to mention that WCG shrank from about 150,000 before the transformation (which was from biblical truth to human fairy tales).  He specifically failed to mention that WCG was transformed from a hermeneutic of relying on the Bible to one of relying on traditions of mainly Protestant "scholars" for doctrine.
There is no possible way that WCG could have adopted many of the doctrines and practices it now holds from the Bible alone, especially Easter and Christmas.
I continue to pray that those still in WCG will open their eyes and believe the Bible for doctrine and not be part of an organization that places more doctrinal emphasis on the traditions of men.
Several articles of possibly related interest may include:
WCG Announces 35 Beliefs Book  This explains many of their changes.
Comments on the Teachings of Ron Wallen, Philip Neal, Kenneth W., GRUMPS, Jesse Arellano, and others who Profess(ed) that WCG has God's Authority Can one still believe what Herbert W. Armstrong used to teach and still be in WCG? This article addresses this important issue.
Tradition and Scripture: From the Bible and Church Writings Are traditions on equal par with scripture? Many believe that is what Peter, John, and Paul taught. But did they?
Sola Scriptura or Prima Luther? What Did Martin Luther Really Believe About the Bible? Though he is known for his public sola Scriptura teaching, Martin Luther's writings about the Bible suggest he felt that prima Luther was his ultimate authority.
The Similarities and Dissimilarities between Martin Luther and Herbert W. Armstrong This article clearly shows some of the doctrinal differences between in the two. At this time of doctrinal variety and a tendency by many to accept certain aspects of Protestantism, the article should help clarify why the COG is NOT Protestant.