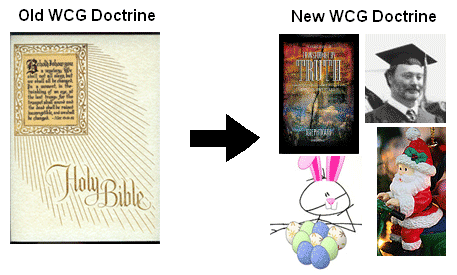 In an email link today, GCI's J. Tkach stated:
You might have noticed that the name of the denomination that sponsors this program has also changed – from Worldwide Church of God to Grace Communion International – and I'd like to take a moment to explain why.

Our church is a changed church, and our new name, Grace Communion International, was chosen for the same reason that Saul's, Jacob's, Abram's and Sarai's names were changed: to reflect a new identity after a profound transformation.

Grace lies at the heart of our values and mission as a transformed church. The gospel is the message of God's grace to humanity revealed in Jesus Christ.

Communion is a word that refers to the spiritual unity and positive relationships in the love of God, the grace and peace of Jesus Christ and the life of the Holy Spirit.

International refers to the worldwide, multicultural character of our denomination. We value and respect one another, and we exist not as a single, national church in any given country, but as a unified body of believers who span the globe, sharing a common history and journey of faith…

I praise God, as I know you do, for all he has done for us, in us and through us. Our new name, Grace Communion International is simply an acknowledgement and reflection of the great love, mercy and power our loving God has displayed in our fellowship.

I'm Joseph Tkach, speaking of LIFE.
The MAIN reason that GCI made the change is that it does not want the world's churches to consider it a cult, and the name change clearly does distance GCI from "Church of God" in the minds of almost everyone.
Of course, I did report on the name change the day it was announced (see WCG Changes Name to GCI!), it is just that J. Tkach wanted to give further clarification as to why it changed, I thought that those interest in the real reason (being accepted by the world, cf. 1 John 2:15) may wish to see it.
Some articles of possible interest may include:
Attending the Church of Choice This article discusses whose choice is important to worship God; should you attend the church of your choice or the church of God's choice?
Unity: Which COG for You? Why so many groups? Why is there lack of unity in the Churches of God? Has it always been this way? What can/should be done about it?
The Churches of Revelation 2 & 3 from 31 A.D. to present: information on all of the seven churches of Revelation 2 & 3.   This is a brief history of the true Church throughout the ages.
There are Many COGs: Why Support the Living Church of God? This is an article for those who wish to more easily sort out the different COGs. It really should be a MUST READ for current and former WCG/GCI members or any interested in supporting the faithful church. It also explains a lot of what the COGs are all about.