TRANSFORMED FROM TRUTH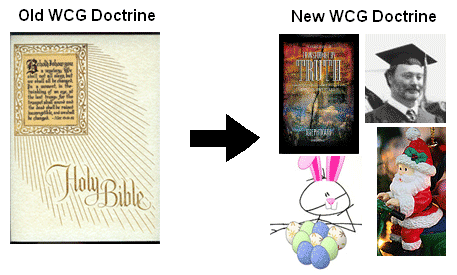 Joseph Tkach, president of the Worldwide Church of God was in the following news story:
Many Evangelical Denominations Have No Megachurches,Survey Finds
Christian Post – Aug 14, 2008
Many evangelical church denominations have no megachurches, a new survey finds.
Evangelical leaders participating in the July survey of the National Association of Evangelicals reported that their denomination has few, if any, large churches.
Moreover, "none" was the top answer from evangelical leaders when asked about the role megachurches play in their denominations.
Joseph Tkach of the Worldwide Church of God said megachurches play no role in his denomination.
"We view them as a modern invention that does not follow the pattern of the early church. And of course, we do not view all of the megachurches as being the same. Some are exceptionally good and some are not," he said.
http://www.christianpost.com/article/20080814/many-evangelical-denominations-have-no-megachurches-survey-finds.htm
Perhaps, Joseph Tkach and the other "evangelicals" should consider that the evangelical movement itself is a fairly modern invention, starting essentially with the dispensationalists on the 19th century.
The true Church of God, which the OLD WCG was part of, has existed throughout history.
Several articles of possibly related interest may include:
The History of Early Christianity Are you aware that what most people believe is not what truly happened to the true Christian church? Do you know where the early church was based? Do you know what were the doctrines of the early church? Is your faith really based upon the truth or compromise?
News Articles Related to Church History This link is to articles on Church history that were once published on the COG News Page.
The Churches of Revelation 2 & 3 Do they matter? Most say they must, but act like they do not. This article contains some history about the Church of God (sometimes referred to as the continuation of Primitive Christianity) over the past 2000 years.
The Philadelphia Church Era was predominant circa 1933 A.D. to 1986 A.D. The old Radio Church of God and old Worldwide Church of God, now basically the Living Church of God.
The Laodicean Church Era was predominant circa 1986 A.D. to present. Non-Philadelphians who mainly descended from the old WCG.