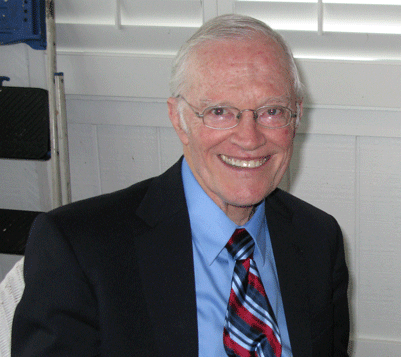 Roderick C. Meredith (Photo by Joyce Thiel)
In his latest co-worker letter, Presiding Evangelist R.C. Meredith of the Living Church of God reported the following:
Matthew 24:14 states: "And this gospel of the kingdom will be preached in all the world as a witness to all the nations, and then the end will come." This Great Commission is being fulfilled as a result of our international telecasts and magazines, our worldwide presence on the Internet, our extensive mailings, radio in foreign countries, and last, but in no way least, by word of mouth. Through these media we are now virtually reaching all nations on earth!

This past year we added over 120,000 new Tomorrow's World magazine subscribers in countries around the world. Our international telecasts were watched by 2.7 million brand new viewers in 2011, and our TomorrowsWorld.org Web site drew 1.4 million new visitors around the world.

Thanks to member and co-worker support, the Tomorrow's World TV programs were carried on 232 TV stations or networks around the world. Eighteen of the TV stations or networks were added just last year. Our TV coverage brought in more than 286,000 responses through free phone calls, letters and the Internet. From all media sources combined, a total of more than 832,000 booklets, reprints, lessons, CDs, DVDs and other published items were sent upon request worldwide—making 2011 our biggest year ever and an increase of 19 percent over all the items sent in 2010. More literature was mailed last year than in our first five years combined! On top of all this, nearly 2 million Tomorrow's World magazine copies were mailed in 2011.

TV coverage in the United States and Canada now reaches more than 105 million homes via over-the-air telecasts, cable and satellite TV—82 percent of all TV homes in North America can watch a Tomorrow's World telecast on TV, plus even more millions could see our telecasts on any day or at any time on our website at www.TomorrowsWorld.org…

Dear brethren and co-workers, as we powerfully preach God's warning message to this world—and tell people about their mounting sins—persecution will come! We need to realize this and exercise the faith and courage to preach God's message anyway—knowing the awesome reward we will have. Our Father in heaven tells us in 1 Peter 4:12-13, "Beloved, do not think it strange concerning the fiery trial which is to try you, as though some strange thing happened to you; but rejoice to the extent that you partake of Christ's sufferings, that when His glory is revealed, you may also be glad with exceeding joy." Later, God inspired Peter to say, "For the time has come for judgment to begin at the house of God; and if it begins with us first, what will be the end of those who do not obey the gospel of God? Now 'If the righteous one is scarcely saved, where will the ungodly and the sinner appear?&r squo; Therefore let those who suffer according to the will of God commit their souls to Him in doing good, as to a faithful Creator" (vv. 17-19).

So each of us must learn to "give" of ourselves in doing God's Work—and become true "Christian Soldiers" to carry His final message to this world. We must put our faith and trust in God who is now intervening in world events. We must make our lives truly "count for something big." Even though trials, tests and persecutions will come, we must "go all out" to serve our Creator. Again, our reward will be truly awesome. The Eternal God tells us about our reward which will come after this terrible time of tribulation and persecution: "Those who are wise shall shine like the brightness of the firmament, and those who turn many to righteousness like the stars forever and ever" (Daniel 12:3).

Are you willing to join with us in "turning many" to genuine righteousness? Are you willing to go all out in this crusade to proclaim God's full message to the world before it is too late? May God help you to have the faith and courage to do this.
FWIW, at COGwriter.com I had 2,999,751 "page views" in 2011.  Considering that some of my "pages" are up to 100 8 1/2 x 11 pages long, that represents a lot of viewing.
We in LCG are serious about trying to fulfill Matthew 24:14 and hope others will catch the vision and join us.  When one realizes our status as a "little flock" (Luke 12:32), we really do reach a lot of people.
Some articles of possibly related interest may include:
Should the Church Still Try to Place its Top Priority on Proclaiming the Gospel or Did Herbert W. Armstrong Change that Priority for the Work? Some say the Church should mainly feed the flock now as that is what Herbert W. Armstrong reportedly said. Is that what he said? Is that what the Bible says? What did Paul and Herbert W. Armstrong expect from evangelists?
Are You Saved? Do You Love Jesus? What is a True Christian? What is the Gospel? Evangelist Richard Ames answers those important questions.
True vs. False Conversion Are you really converted or willing to be? What is true conversion? What is false conversion? What are the dangers of false conversion? Evangelist Roderick Meredith provides information on those important questions.
Getting the Gospel Out is More than a Local Job Discusses Biblical rationale for doing an international, and not just a local, work.
The Gospel of the Kingdom of God was the Emphasis of Jesus and the Early Church Did you know that? Do you even know what the gospel of the kingdom is all about? True religion should be based upon the true gospel.
There are Many COGs: Why Support the Living Church of God? This is an article for those who wish to more easily sort out the different COGs. It really should be a MUST READ for current and former WCG/GCI members or any interested in supporting the faithful church. It also explains a lot of what the COGs are all about.