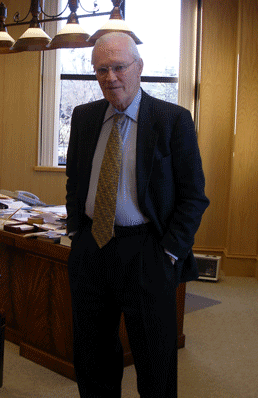 Roderick C. Meredith
In his latest semi-annual letter, LCG's R.C. Meredith reported:
Now for some specific news about our recent activities and growth in this Work: For all of you who are able receive television from the ION and CW-Plus networks, we have great news! These two networks, along with our other TV stations, will enable our Tomorrow's World television coverage to reach into more than 100 million homes, or 88 percent of all U.S. TV households. We are scheduled to begin airing on the CW-Plus Network beginning on Sunday, May 31, at 8:00 am Eastern/Pacific Time, on more than 80 TV stations across the continent. On June 17, Thursday morning at 12:30 am Eastern/Pacific Time, we will begin airing the Tomorrow's World television program on the entire ION Network, which includes 55 of ION's owned and operated TV stations and 200 cable systems. However, because of the worldwide economic slump, in order to make way for more than 140 brand-new TV stations across the United States, we will have to prune some of our existing stations. Adding these two networks is a significant advance for Tomorrow's World television! For the first time we will be able to reach more than 100 million U.S. homes with the precious Gospel of Jesus Christ.




For the first time we will be able to have local, commercial-grade TV stations in the San Francisco Bay Area, Sacramento, Portland, Spokane and Seattle; plus many cities in and around Los Angeles. We will also be able to go on local television in Salt Lake City and Denver—major breakthroughs for the Tomorrow's World program. We will be on new stations in Nevada, Idaho, Montana and Wyoming. Around the Great Lakes area we will be able to cover all of Minneapolis, Milwaukee, the entire south-central area of Michigan, Fort Wayne and Cleveland. Local coverage will extend up to Erie, Syracuse, Buffalo and further into the Northeast states. Down south, we will be able to cover Miami and southern Florida, and virtually all of eastern North and South Carolina with local television. We will have our first local coverage in the city of Philadelphia, and have the capability to directly reach the leaders and their families in Washington, DC. We are very grateful for these God-given blessings in these very tough times.




National viewer statistics indicate that the Tomorrow's World television program has now been viewed at least once by more than 18 million households. Each week—on a regular basis—the Tomorrow's World telecast is reaching upwards of a half-million people in North America, plus many more thousands and tens of thousands in the United Kingdom, Scandinavia, South Africa, Australasia, the Philippines and the Caribbean Islands. Additional millions around the world are now being reached through the Tomorrow's World website. Our ministry is reaching out on Spanish radio throughout Mexico and South America, in French in France and in the French-speaking Caribbean Islands.
LCG has a tremendous impact via electronic media.  An impact disproportionately high considering its relatively small size.  You can click here for the complete letter which also discusses print media outreach as well.
Some articles of possibly related interest may include:
There are Many COGs: Why Support the Living Church of God? This is an article for those who wish to more easily sort out the different COGs. It really should be a MUST READ for current and former WCG members or any interested in supporting the faithful church. It also explains a lot of what the COGs are all about.
Getting the Gospel Out is More than a Local Job Discusses Biblical rationale for doing an international, and not just a local, work.
How Much Did You Cost? Some have complained that the total costs spent to proclaim the gospel as a witness is too high since it does not (in their opinion) result in enough conversions. Is that how God sees it?
The Temple and the Work This article discusses the two temples of the Old Testament and gives insight as to their possible relevance to the situation which has impacted the Church during this past decade or so.
Parable of the Mustard Seed Jesus told many parables. Why? What might this one mean?
Should the Church Still Try to Place its Top Priority on Proclaiming the Gospel or Did Herbert W. Armstrong Change that Priority for the Work? Some say the Church should mainly feed the flock now as that is what Herbert W. Armstrong reportedly said. Is that what he said? Is that what the Bible says? What did Paul and Herbert W. Armstrong expect from evangelists?