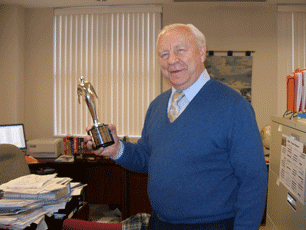 Living Church of God Evangelist Richard Ames with a "Telly" Award for "Tomorrow's World"
Last night, LCG's Richard Ames sent out the following announcement:
Tuesday is the day the Executive Team usually has lunch with Dr. Meredith in his office to discuss Church business and to update him on various projects. Even though he is still recovering from his recent stroke, he was able to come in to the office for the luncheon today and conduct our meeting.
Dr. Meredith was in good spirits and enjoyed hearing what has been going on in his absence, while offering his guidance and comments on the various reports that were presented.
He did ask that we continue to pray for his complete recovery, since his progress is going much slower than he would like. His mental acuity is fine, but he is physically weak, and becomes fatigued easily. He is eager to get back to work and to serve with full vigor at the helm of the Church.
FWIW, I spoke to Dr. Meredith a couple of days ago and other than being a bit tired he seems fine.  It is nice that he was at the office in Charlotte yesterday.  He also plans on attending the Feast of Tabernacles.
Two articles of possibly related interest may include:
Hope of Salvation: How the Living Church of God differ from most Protestants How the Living Church of God differs from mainstream/traditional Protestants, is perhaps the question I am asked most by those without a Church of God background.
There are Many COGs: Why Support the Living Church of God? This is an article for those who wish to easily sort out the different COGs. It really should be a MUST READ for current and former WCG members or any interested in supporting the faithful church. It also explains a lot of what the COGs are all about.