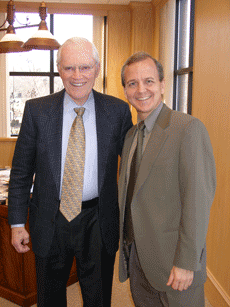 Dr. Meredith and I in his office (January 2008)
On Friday, LCG's presiding evangelist, Dr. Roderick C. Meredith had a mini-stroke (for details, go to the News of the Living Church of God page).  I spoke with him shortly afterwords about it on the telephone and then he got it officially diagnosed.
He will be taking a few weeks off to recover.  He is totally coherent and as far as I have been able to determine is not expected to have any permanent damage from it.
However, in the interim, as expected, he appointed long-time evangelist Richard Ames to fill in his more official duties until he is fully back to the office:
To: HQ Staff & Regional Directors
Subject: Message from dr. meredith
Date: September 23, 2008

Thank you all very much for your prayers and encouragement! I am sure that I will be fit for service in a week or two or three.

However, in the mean time, after consulting with the Council of Elders and Board I am designating Mr. Richard Ames as acting CEO. He should make all necessary decisions in the operation of the office and the Work as a whole—in consultation with Messrs. Winnail, Apartian, Crockett and others. I ask all of you to give him your full support and prayers. As you know, he is already first Vice President and is very experienced in God's Work. So let us all pull together and ask God to use us as a team to do our part in finishing this Work. He will never leave us or forsake us!

Thank you, brethren, for your full cooperation and your continued prayers.

Roderick C. Meredith
Richard Ames and I spoke the day before yesterday and he is doing well.  I also spoke with Dr. Winnail about the above memo this morning.
An article of possibly related interest may be: There are Many COGs: Why Support the Living Church of God?