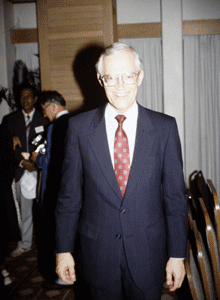 R.C. Meredith at the Feast in Fiji in 1989 
The January 2008 edition of PCG's Philadalphia Trumpet contains the following in an article by Stephen Flurry that states:
…January 1989. As a freshman at Ambassador College, Pasadena, I had given some thought to possibly transferring to the Big Sandy campus for my sophomore year. I knew how my dad felt about the idea. Although he would have supported my decision either way, he had always wanted me to stay at the headquarters campus. Since that is where most of the top ministers in the church were assigned, he felt I could learn more in Pasadena.
During one particular phone conversation about Big Sandy, however, I was surprised to hear him encourage me to apply for the transfer. "Dr. Meredith is over Big Sandy," he told me. "I think he's more conservative than some of the ministers in Pasadena." He was careful not to say much more than that.
I didn't give much thought to his comment at the time. I was just excited that he was happy for me to apply for the transfer…
On Sunday night, October 1, I called my dad to chat about college and church subjects. During our conversation, he told me that his assistant, John Amos, had heard headquarters intended to remove Dr. Meredith from his position as head of the school in Big Sandy. My dad went on to say that he wondered if I should continue on at ac after my sophomore year. That comment shook me more than the Meredith rumor.
Four days later, Mr. Tkach, via telephone hook-up, announced that Dr. Meredith was being "transferred" to Pasadena to "write articles." He was replaced by Dick Thompson. Gary Antion would move in from Pasadena to replace Mr. Thompson as dean of students.
The whole announcement was upsetting.
——————————————————————
Comments by COGwriter
Stephen Flurry wrote a book (Raising the Ruins) that has been running in serial form in PCG's magazine explaining from his perspective what happened to the Worldwide Church of God after Herbert W. Armstrong died and how his father put together the group he named the Philadelphia Church of God.
It is nice that the Flurrys recognized that Dr. Roderick C. Meredith (of the Living Church of God) was one of the more faithful and conservative leaders in the old Worldwide Church of God.