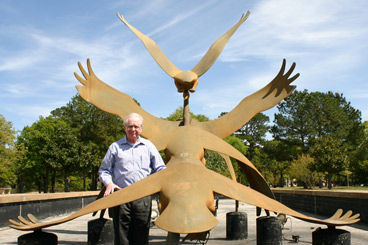 PCG's Gerald Flurry with a Statue Once at Big Sandy
There was a fire in Big Sandy that caused some damage:
21 April 2012

Fire Damages Convention Building In Big Sandy

By EMILY GUEVARA

Staff WriterFaulty electrical wiring was believed to be the cause of a fire at the International ALERT Academy in Big Sandy on Friday, an academy official said.The ALERT Academy crew along with the Big Sandy and Gilmer fire departments responded to the fire, which started before 5 p.m…Tanner said the fire and much of the damage it caused was contained to the area just above the bathroom, which is about 2,000 square feet.  

http://www.tylerpaper.com/apps/pbcs.dll/article?AID=2012120429973
Big Sandy used to be the site of one of three campuses for Ambassador College of the old Worldwide Church of God.  FWIW, I visited it in 1980 to attend the
Feast of Tabernacles
there.
.
It was sold a long time ago and a
trinitarian
group called International ALERT Academy now has the property.
.
Gerald Flurry's 
PCG
has for a long time, focused (in my opinion) on mainly how to physically appear to be like the old WCG which is why I believe it bought the statue shown above a while back.
Some articles of possibly related interest may include the following:
The Feast of Tabernacles: A Time for Christians? Is this pilgrimage holy day still valid? Does it teach anything relevant for today's Christians? What is the Last Great Day? What do these days teach?
The Feast of Tabernacles: Today and in the 1980s Information on COGwriter attended sites in the 1980s.
Binitarian View: One God, Two Beings Before the Beginning Is binitarianism the correct position? What about unitarianism or trinitarianism?
Did the True Church Ever Teach a Trinity? Most act like this is so, but is it?
Teachings Unique to the Philadelphia Church of God Simply calling oneself 'Philadelphia' does not make one so (see Revelation 3:7-9), nor does Gerald Flurry calling himself "that prophet" make it so. This article provides many quotes from this group which claims to be faithful.
What Did the Early Church Teach About Idols and Icons? Did Catholic and Orthodox "saints" endorse or condemn idols and icons for Christians?