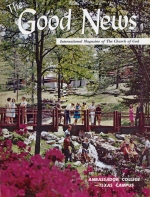 Part of old Big Sandy grounds
A reader tipped me off to the following about the old Ambassador College Big Sandy campus hosting a training exercise for naval cadets:
BIG SANDY — Cadets of the U.S. Naval Sea Cadet Corps Tyler Joint Force Battalion came to the International Alert Academy in Big Sandy last weekend to take part in training events.

Sea cadets ages 10-18 tackled the low-ropes confidence and challenge course to learn teamwork and develop problem-solving skills and self-confidence. Instructors from the academy and USNSCC officers led 21 cadets through team-building exercises, which culminated in a "trust fall" exercise.

"It was an amazing sight to watch these cadets challenge themselves and overcome obstacles," said Lt. Randy Hyde, the unit's commanding officer. "It is good preparation for tackling new endeavors in life."

The training event was part of the group's monthly drill weekend during which cadets in Tyler Joint Force Battalion gain experience in seamanship, etiquette, culinary arts, close order drill, flag presentation, swimming, leadership, community service and scuba diving.  08/31/19 https://tylerpaper.com/news/local/sea-cadets-go-through-training-at-alert-academy/article_11251998-c80a-11e9-9feb-13eaf170a555.html
The old Worldwide Church of God (WCG) was opposed to Christians being in the military, as is the current Continuing Church of God.
In 1980, I attended the Feast of Tabernacles in Big Sandy. I stayed in a small tent in what was called the Piney Woods.
Since the apostasy at WCG, the Big Sandy campus has been used for a variety of gatherings that would have been opposed by the old WCG (e.g. Catholic camp in Big Sandy, PCG buying Bricket Wood, Pasadena demolished for housing and Instead of Feast of Tabernacles, Big Sandy to Host Protestant Camp Next Week).
Some items of possibly related interest may include the following:
Military Service and the Churches of God: Do Real Christians Participate in Carnal Warfare or Encourage Violence? Here are current and historical perspectives on a matter which show the beliefs of the true church on military participation. Is war proper for Christians? A related sermon would be: Christians, Violence, and Military Service.
Christian Soldiers How are Christians to be like soldiers? How are they to be different?
The Feast of Tabernacles: A Time for Christians? Is this pilgrimage holy day still valid? Does it teach anything relevant for today's Christians? What is the Last Great Day? What do these days teach? A related sermon video is Feast of Tabernacles from Israel.
Feast of Tabernacles' Sites for 2019 This is information on the Feast of Tabernacles' sites for the Continuing Church of God in 2018. The Feast in 2018 Services will begin the evening of October 13th and run through (including the Last Great Day) October 21st.
Joyce's Pictures of the Pasadena Campus of Ambassador College and the former Headquarters of the old Worldwide Church of God Here is some pictures of the old campus taken in 2016 for those interested in what it did look like and what remains.