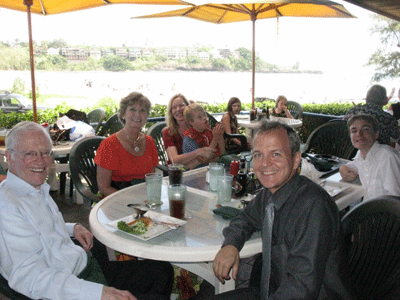 Dr. Meredith,  Mrs. Meredith (orange top), Joyce & David Thiel, Brian Thiel, and Bob Thiel (2010)

Dexter Wakefield of the Living Church of God sent out the following announcement:
Subject: Important Announcement

We are very sad to announce that Mrs. Sheryl Meredith, wife of Dr. Roderick C. Meredith passed away the morning of November 29, 2013 after a long and courageous fight with cancer.  She was at home, surrounded by loving family members.  We will see her again when Christ returns, may that time be soon!

Our thoughts and prayers are with the Meredith family, and our hearts go out to them in this great loss.

Funeral arrangements are planned for Wednesday, December 4 at 2:30 PM at Forest Lawn.  More details will be forthcoming.
We have known Sheryl Meredith for many years and are saddened to hear of the loss.