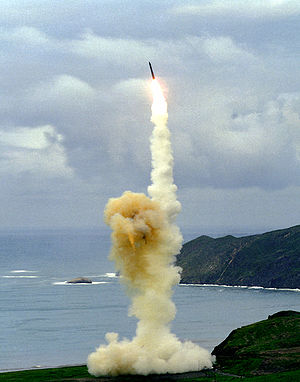 Minuteman launching from Vandenberg

The US test-launched another missile:
In Warning To North Korea, US Releases Video Of Overnight Minuteman III ICBM Launch

April 26, 2017

… overnight the US Air Force conducted a test launch of an unarmed Minuteman III ICBM from Vandenberg Air Force base near Lompoc in California, in what was a clear signal of nuclear deterrence aimed squarely at North Korea. …
This is the statement Vandenberg released shortly after the launch:

On April 26 airmen from F.E. Warren, Offutt And Vandenberg Air Force Bases conducted an operational test launch of an unarmed Minuteman Three missile. Today's test launch used an Intercontinental Ballistic Missile pulled randomly from a silo on F.E. Warren Air Force Base, which was then transported and reassembled at Vandenberg, and launched by crew members of the 625Th strategic operations squadron aboard the U.S. Strategic Command Airborne Command Post Navy E6B Aircraft.

The ICBM was equipped with a test reentry vehicle, and traveled approximately four thousand two hundred miles to a test range near the Kwajalein Atoll in the Marshall Islands.

These ICBM test launches verify the accuracy and reliability of the weapon system, providing valuable data to ensure a safe, secure and effective nuclear deterrent.

It also released the following video of the ICBM launch, which we are confident will be closely watched by everyone in the Kim Jong-Un administration. http://www.zerohedge.com/news/2017-04-26/us-air-force-releases-video-minuteman-iii-icbm-launch
Vandenberg is very near Grover Beach, California.
Here is some information on the history of the Minuteman missile:
Development of the Minuteman began in the mid-1950s as the outgrowth of basic research into solid fuel rocket motors which indicated an ICBM based on solids was possible. …

Minuteman entered service in 1962 as a weapon tasked primarily with the deterrence role, threatening Soviet cities with a counterattack if the US was attacked. … The Minuteman-II entered service in 1965 with a host of upgrades to improve its accuracy and survivability in the face of an anti-ballistic missile (ABM) system the Soviets were known to be developing. Minuteman-III followed in 1970, using three smaller warheads instead of one large one, which made it very difficult to attack by an anti-ballistic missile system which would have to hit all three widely separated warheads to be effective.

Peaking at 1000 missiles in the 1970s, the current US force consists of 450 Minuteman-III missiles in missile silos around Malmstrom AFB, Montana; Minot AFB, North Dakota; and F.E. Warren AFB, Wyoming. By 2018 this will be reduced to 400 armed missiles, with 50 unarmed missiles in reserve, and four non-deployed test launchers to comply with the New START treaty. The Air Force plans to keep the missile in service until at least 2030. (LGM-30 Minuteman. Wikipedia, accessed 02/27/16)
The plan for this missile launch was something I heard on a local radio station. The USA likely believes that the success of this launch, compared to the failure of a North Korean missile launch earlier this month (some believe that the USA somehow sabotaged it) is sending a message to leaders in North Korea that they are foolish to attempt to fight the USA.
The US Senate was given a briefing this afternoon:
April 26, 2017

WASHINGTON — The Trump administration hosted senators for an extraordinary White House briefing Wednesday at a perilous moment with North Korea, marked by the unpredictable nation's nuclear threats and stern talk of military action, if necessary, from the United States.

All 100 senators were invited and transported in buses for the unprecedented, classified briefing. President Donald Trump's secretary of state, secretary of defense, top general, and national intelligence director were to outline for them the North's escalating nuclear capabilities and US response options, officials said. The briefing team was to meet later with House members in the Capitol.

The unusual sessions don't necessarily presage the use of force along one of the world's most heavily militarized frontiers, and some lawmakers questioned whether the cross-Washington procession was largely show, with Trump expected to drop in on the Eisenhower Executive Office Building gathering of lawmakers. http://www.businessinsider.com/white-house-briefs-entire-senate-during-a-scary-moment-of-tension-with-north-korea-2017-4
While North Korea would not 'win' in an all-out war against the USA, North Korea could still harm the USA. World Net Daily posted this last night:
Yet, with a report that the U.S. government sabotaged a recent missile test, many Americans may be tempted to dismiss the threat from Kim Jong-un's Hermit Kingdom.

But that would be a mistake.

Michael Maloof, former senior security policy analyst in the office of the Secretary of Defense and the author of "A Nation Forsaken," warns North Korea already has the capability to launch a nuclear attack on the United States. …

"A recent photo showing Kim Jung-un next to a sphere said to be a nuclear device is the size to orbit," he explained. "It is known that recent nuclear underground tests were in the low kiloton range but high in gamma rays, the type of electromagnetic energy needed to create an electromagnetic pulse to destroy the vulnerable U.S. grid system and all unprotected electronics.

"Now, North Korea has promised weekly missile launches and unless each is shot down upon launch, there is no way to determine whether the payload would be such a satellite which in effect would be a nuclear device. …

That kind of EMP attack could be launched from North Korea itself. Maloof says Pyongyang has also been working on a submarine capable of launching a ballistic missile. …

A successful EMP attack on the United States could knock out the critical, life-sustaining infrastructures that depend on the national grid, including telecommunications, banking and finance, automated control systems, petroleum and natural gas, transportation, food and water delivery and emergency services. Cascading failures of critical infrastructure could also lead to secondary disasters, including cataclysmic failure of nuclear plants. The economic and human costs would be devastating. http://www.wnd.com/2017/04/expert-north-korea-has-emp-attack-capability/#tS4sVegiyHcVR2Ah.99
It is true that North Korea could harm the USA with an EMP attack. This is something that I have warned about for years. Now, we are getting closer to the time it possibly could happen.
Consider that Jesus warned of the following:
 7 But when you hear of wars and rumors of wars, do not be troubled; for such things must happen, but the end is not yet.  8 For nation will rise against nation, and kingdom against kingdom. And there will be earthquakes in various places, and there will be famines and troubles. These are the beginnings of sorrows. (Mark 13:7-8)
We are certainly in a time of wars and rumors of wars. Issues related to North Korea, like an EMP attack, could well cause 'troubles' for those in the USA.
Some items of possibly related interest may include:
Syria, North Korea, and Prophecy On April 7, 2017, 59 US Tomahawk missiles hit a military installation in Syria. While praised by NATO nations, Israel, and Saudi Arabia, this was denounced by Syria, Russia, and North Korea. Is this the start of World War III? Will the Bashar al-Assad regime remain as it is? What about North Korea? What will happen to North Korea? What does the Bible show will happen? Dr. Thiel answers these questions and more. This is a video.
USA in Prophecy: The Strongest Fortresses Can you point to scriptures, like Daniel 11:39, that point to the USA in the 21st century? This article does. A related sermon is titled: Do these 7 prophesies point to the end of the USA?
Korea in Prophecy, Any Witness? Where did the Korean people come from? Does God have a plan for the Koreans? Is Korea mentioned in any prophecies? Will Koreans be among the first in the Kingdom of God? Here is a machine-translated link to that article in Korean: 한국의 언어로 : 한국 예언, 모든 증인에?; here is a link to that article in Mandarin Chinese: 在预言中的韩国:有任何证人吗?.
What is the Gospel? True religion should be based upon the true gospel. What are some of the different gospels and where did they come from? Do you believe the true or a false gospel? Who is preaching the gospel? Here is a version in Korean 복음이란 무엇인가?.
China, Its Biblical Past and Future, Part 1: Genesis and Chinese Characters Where did the Chinese people come from? This article provides information showing that the Chinese peoples must have known about various accounts in the Book of Genesis up until their dispersion after the Tower of Babel. Here is a link to a version of this article in Spanish: ¿Prueban los caracteres chinos la exactitud de la Biblia?
China, Its Biblical Past and Future, Part 2: The Sabbath and Some of God's Witness in China When did Christianity first come to China? And is there early evidence that they observed the seventh day sabbath?
Japan, Its Biblical Past and Future, Part 1: Any Witness? Where did the Japanese people come from? Have they had any witness?
Japan, Its Biblical Past and Future, Part 2: Prophecy Japan in prophecy. What is prophesied for Japan? Will God save the Japanese?
Asia in Prophecy What is Ahead for Asia? Who are the "Kings of the East"? What will happen to nearly all the Chinese, Russians, Indians, and others of Asia? China in prophecy, where? Who has the 200,000,000 man army related to Armageddon? A YouTube video of interest may be Is China THE Threat to the United States of America?
World War III: Steps in Progress Are there surprising actions going on now that are leading to WWIII? Might a nuclear attack be expected? Does the Bible promise protection to all or only some Christians? How can you be part of those that will be protected? A related video would be Is World War III About to Begin? Can You Escape?
Russia and Ukraine: Their Origins and Prophesied Future Russia in prophecy. Where do the Russians come from? What about those in the Ukraine? What is prophesied for Russia and its allies? What will they do to the Europeans that supported the Beast in the end? There is also a video sermon available: Russia in the Bible and in Prophecy and a video sermonette available: Ukraine in Prophecy?
Is Russia the King of the North? Some claim it is. But what does the Bible teach? Here is a link to a video, also titled Is Russia the King of the North?
Ezekiel 38: For Russia & Iran in Our Day? Is Ezekiel 38 about to be fulfilled? A related video is available titled Ezekiel 38: For Russia, Ukraine, & Iran Now? Another could be Russia, Iran, Syria, & the Bible (Code).
When Will the Great Tribulation Begin? 2017, 2018, or 2019? Can the Great Tribulation begin today? What happens before the Great Tribulation in the "beginning of sorrows"? What happens in the Great Tribulation and the Day of the Lord? Is this the time of the Gentiles? When is the earliest that the Great Tribulation can begin? What is the Day of the Lord? Who are the 144,000? Here is a version of the article in the Spanish language: ¿Puede comenzar la Gran Tribulación en 2016 o 2017? ¿Es el Tiempo de los Gentiles? You can also see the English language sermon videos: The Great Tribulation from the Mount of Olives and Can the Great Tribulation begin before 2020? A shorter video is: Will the Great Tribulation Start in 2017?
Donald Trump in Prophecy Prophecy, Donald Trump? Are there prophecies that Donald Trump may fulfill?  Are there any prophecies that he has already helped fulfill?  Could a Donald Trump presidency be apocalyptic?  A related video is titled: Donald: 'Trump of God' or Apocalyptic?
Donald Trump and America's Apocalypse This 188 page book is for people truly interested in prophecies related to Donald Trump and the United States, including learning about several that have already been fulfilled and those that will be fulfilled in the future. The physical book can be purchased at Amazon for $12.99 from the following link: Donald Trump and America's Apocalypse.
Donald Trump and America's Apocalypse-Kindle Edition This electronic version of the 188 page print edition is available for only US$3.99. And you do not need an actual Kindle device to read it. Why? Amazon will allow you to download it to almost any device: Please click HERE to download one of Amazon s Free Reader Apps. After you go to for your free Kindle reader and then go to Donald Trump and America's Apocalypse-Kindle Edition.