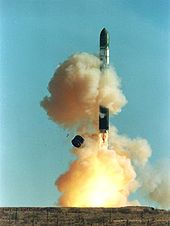 (Photo by ISC Kosmotras)
North Korea is pushing its nuclear agenda despite threats from the USA and others:
May 15, 2017
SEOUL — Just days after being elected, South Korean President Moon Jae-in faced his first North Korean provocation, putting an early test to his stated policy to pursue peaceful dialogue with his defiant nuclear neighbor.

The South Korean leader expressed solidarity with the United States and Japan by condemning North Korea for conducting what is believed to be the successful test of a new two-stage liquid fueled rocket on Sunday capable of flying up to 4,500 kilometers. The North Korean state news agency KCNA on Monday said the test was to verify the capability to carry a "large scale heavy nuclear warhead," and the missile flew 787 kilometers, reaching an altitude of 2,111 kilometers.

President Moon warned Pyongyang that provocations will be met with "stern responses." He also called for the development of the Korean Air and Missile Defense system to be used in addition to, or in lieu of, the controversial U.S. THAAD missile shield that China objects to as a threatening increase of American military capabilities in the region.

Conditional dialogue

As a candidate Moon promised to pursue negotiations and engagement with Pyongyang. But as the new commander in chief of the military, he stressed that "dialogue is possible only when North Korea changes its behavior."

Moon's clarified position on conditional talks seems fundamentally the same as that of U.S. President Donald Trump, and essentially the same as past American and South Korean administrations.

"Seoul and Washington remain on the same page that the ultimate goal, that cannot be compromised, is the dismantlement of North Korea's WMD (weapons of mass destruction) capability and facilities," said political analyst Bong Young-shik with the Yonsei University Institute for North Korean Studies in Seoul.

North Korea, in defiance of international sanctions, has openly declared itself a de facto nuclear state. The Kim Jong Un government considers its continued efforts to develop a nuclear intercontinental ballistic missile (ICBM) capable of reaching the U.S. mainland as essential to its survival. http://www.voanews.com/a/new-south-korean-president-tested-by-latest-north-korean-missile/3851457.html
Russian President Vladimir Putin condemned the launch, but seems to also have sent a message to the USA:
May 15, 2017

Beijing (CNN)Russian President Vladimir Putin has condemned North Korea's latest missile launch as "dangerous" but warned against "intimidating" Pyongyang.

Speaking in China, Putin called for a peaceful solution to the ongoing tensions on the Korean peninsula, Russia's Sputnik news agency reported.

"I would like to confirm that we are categorically against the expansion of the club of nuclear states, including through the Korean Peninsula," Putin told reporters. "We are against it and consider it counterproductive, damaging, dangerous," he said.

But in comments that appeared aimed at the US, he said that "intimidating (North Korea) is unacceptable."

For its part, North Korea said the missile test was in response to the nuclear dangers and threats posed by the US and its followers.

"We will conduct ICBM tests anytime and anywhere in accordance with the decisions made by our central leadership," North Korea's ambassador to China Ji Jae Ryong said at an impromptu press conference at the country's embassy in Beijing Monday. http://www.cnn.com/2017/05/15/europe/north-korea-putin-russia-missile/
Notice also the following:
May 15, 2017

North Korea said on Monday it had successfully conducted a mid- to-long-range missile test and would continue such launches "any time, any place", defying UN Security Council resolutions and warnings from the United States.

North Korea, which regularly threatens to destroy the United States in a sea of flames, has accused Washington of pushing the Korean peninsula to the brink of nuclear war with recent military drills with South Korea and Japan. http://www.reuters.com/article/us-northkorea-missiles-idUSKCN18A12B

May 15, 2017

Last night, North Korea said the missile had the capacity to carry a "large scale heavy nuclear warhead," but then again, North Korea says a lot of things, many of which aren't true.

What struck me as especially interesting, at least as far as domestic politics is concerned, was the written statement from Donald Trump's White House.

"With the missile impacting so close to Russian soil – in fact, closer to Russia than to Japan – [Trump] cannot imagine that Russia is pleased," the White House statement said.

As White House reactions to North Korean misconduct go, this is a pretty odd statement. The missile launch really didn't have much to do with Russia, but Trump nevertheless appears eager to rope them in – as if the White House is looking for some country that might be willing to help solve a problem Trump doesn't know how to address.

It was therefore of great interest when Russia said it was largely unconcerned.

Hours after President Trump's comment, Russia's Defense Ministry said the North Korean missile posed "no danger" to Russia because it flew at a "significant distance" from the coast, Interfax said, citing a ministry statement.
The USA is considering both a diplomatic and military "solution" to North Korea. The continued missile tests by North Korea are apt to push Donald Trump to the point of intervention. As far as MSNBC's characterization of Donald Trump's statement as odd, the reality is that he wants to keep the North Koreans guessing.
North Korean politicians have often been playing a dangerous game with their country and their people, and hopefully they will realize, sooner than later, that a military conflict is not in their interests.
North Korea is one of relatively few small nations to have nuclear weapons and often brags about them and their potential use.
The Bible says:
16 Destruction and misery are in their ways;
17 And the way of peace they have not known."
18 "There is no fear of God before their eyes." (Romans 3:16-18)
Sadly, that is the case with North Korea. It will take the return of Jesus and the Kingdom of God to truly bring peace.
While North Korea is not prophesied to take over the USA (Europe is per Daniel 11:39, etc.), as I wrote in the past, it certainly is possible that it may decide to actually launch one or more missiles at the USA in the future (or take other "terroristic actions; cf. Leviticus 26:26).
North Korea, sadly, is certainly capable of terrorism. It has threatened the USA and its White House in past years (see North Korea threatens the White House), and has been increasing threats against the USA and the region as the USA has taken steps to try to pressure North Korea.
North Korean leaders should realize that Donald Trump's actions in Syria and Afghanistan this year show that he is not against taking military action.
If North Korea does take certain steps to sufficiently aggravate the USA into a full military conflict, it needs to realize that it likely will no longer exist as it is. At some point in time, however, I believe that both Koreas will be reunited based upon certain verses in Revelation, yet whether this will be because of a war involving the USA or something else, that is not clear.
The Koreans are Asians and occupy the "land of the sunrise" (Revelation 16:2) and I believe that they are part of the kings of the east that the Book of Revelation discusses having a role in the end time (Revelation 9:16). For years I have written that I expect that they will reunify. The unification of North and South Korea is consistent with biblical prophecy. But North Korea may take unusual actions before then, and it may regret doing so.
Whether this reunification will be because of a war involving the USA, South Korea, or something else (such as waiting until Revelation 9:16; & 16:2), is not clear. But the situation in Korea will change.
As Jesus said, "And what I say to you, I say to all: Watch!" (Mark 13:37)
Some items of possibly related interest may include:
Syria, North Korea, and Prophecy On April 7, 2017, 59 US Tomahawk missiles hit a military installation in Syria. While praised by NATO nations, Israel, and Saudi Arabia, this was denounced by Syria, Russia, and North Korea. Is this the start of World War III? Will the Bashar al-Assad regime remain as it is? What about North Korea? What will happen to North Korea? What does the Bible show will happen? Dr. Thiel answers these questions and more. This is a video.
USA in Prophecy: The Strongest Fortresses Can you point to scriptures, like Daniel 11:39, that point to the USA in the 21st century? This article does. A related sermon is titled: Do these 7 prophesies point to the end of the USA?
Korea in Prophecy, Any Witness? Where did the Korean people come from? Does God have a plan for the Koreans? Is Korea mentioned in any prophecies? Will Koreans be among the first in the Kingdom of God? Here is a machine-translated link to that article in Korean: 한국의 언어로 : 한국 예언, 모든 증인에?; here is a link to that article in Mandarin Chinese: 在预言中的韩国:有任何证人吗?.
What is the Gospel? True religion should be based upon the true gospel. What are some of the different gospels and where did they come from? Do you believe the true or a false gospel? Who is preaching the gospel? Here is a version in Korean 복음이란 무엇인가?.
China, Its Biblical Past and Future, Part 1: Genesis and Chinese Characters Where did the Chinese people come from? This article provides information showing that the Chinese peoples must have known about various accounts in the Book of Genesis up until their dispersion after the Tower of Babel. Here is a link to a version of this article in Spanish: ¿Prueban los caracteres chinos la exactitud de la Biblia?
China, Its Biblical Past and Future, Part 2: The Sabbath and Some of God's Witness in China When did Christianity first come to China? And is there early evidence that they observed the seventh day sabbath?
Japan, Its Biblical Past and Future, Part 1: Any Witness? Where did the Japanese people come from? Have they had any witness?
Japan, Its Biblical Past and Future, Part 2: Prophecy Japan in prophecy. What is prophesied for Japan? Will God save the Japanese?
Asia in Prophecy What is Ahead for Asia? Who are the "Kings of the East"? What will happen to nearly all the Chinese, Russians, Indians, and others of Asia? China in prophecy, where? Who has the 200,000,000 man army related to Armageddon? A YouTube video of interest may be Is China THE Threat to the United States of America?
World War III: Steps in Progress Are there surprising actions going on now that are leading to WWIII? Might a nuclear attack be expected? Does the Bible promise protection to all or only some Christians? How can you be part of those that will be protected? A related video would be Is World War III About to Begin? Can You Escape?
Russia and Ukraine: Their Origins and Prophesied Future Russia in prophecy. Where do the Russians come from? What about those in the Ukraine? What is prophesied for Russia and its allies? What will they do to the Europeans that supported the Beast in the end? There is also a video sermon available: Russia in the Bible and in Prophecy and a video sermonette available: Ukraine in Prophecy?
Is Russia the King of the North? Some claim it is. But what does the Bible teach? Here is a link to a video, also titled Is Russia the King of the North?
Ezekiel 38: For Russia & Iran in Our Day? Is Ezekiel 38 about to be fulfilled? A related video is available titled Ezekiel 38: For Russia, Ukraine, & Iran Now? Another could be Russia, Iran, Syria, & the Bible (Code).
When Will the Great Tribulation Begin? 2017, 2018, or 2019? Can the Great Tribulation begin today? What happens before the Great Tribulation in the "beginning of sorrows"? What happens in the Great Tribulation and the Day of the Lord? Is this the time of the Gentiles? When is the earliest that the Great Tribulation can begin? What is the Day of the Lord? Who are the 144,000? Here is a version of the article in the Spanish language: ¿Puede comenzar la Gran Tribulación en 2016 o 2017? ¿Es el Tiempo de los Gentiles? You can also see the English language sermon videos: The Great Tribulation from the Mount of Olives and Can the Great Tribulation begin before 2020? A shorter video is: Will the Great Tribulation Start in 2017?
Donald Trump in Prophecy Prophecy, Donald Trump? Are there prophecies that Donald Trump may fulfill?  Are there any prophecies that he has already helped fulfill?  Could a Donald Trump presidency be apocalyptic?  A related video is titled: Donald: 'Trump of God' or Apocalyptic?
Trump Presidency Magic 8 Ball or Bible Prophecy? BBC reported that one might as well use a 'Magic Eight-Ball' to try to predict what will happen in the remaining time of Donald Trump's presidency. What is a 'Magic Eight-Ball'? Dr. Thiel not only explains that, but also briefly goes over 10 biblically-based warnings he wrote would happen if Donald Trump were elected that have already began to come to pass. He also goes over something he wrote back in 2008 that the Trump presidency is also helping lead to fulfillment. Should you trust Bible prophecy or not? Dr. Thiel says that Bible prophecy can be trusted, despite the view of skeptics and others that either overlook or despise the Bible. This is a video.
Donald Trump and America's Apocalypse This 188 page book is for people truly interested in prophecies related to Donald Trump and the United States, including learning about several that have already been fulfilled and those that will be fulfilled in the future. The physical book can be purchased at Amazon for $12.99 from the following link: Donald Trump and America's Apocalypse.
Donald Trump and America's Apocalypse-Kindle Edition This electronic version of the 188 page print edition is available for only US$3.99. And you do not need an actual Kindle device to read it. Why? Amazon will allow you to download it to almost any device: Please click HERE to download one of Amazon s Free Reader Apps. After you go to for your free Kindle reader and then go to Donald Trump and America's Apocalypse-Kindle Edition.