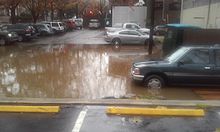 'El Niño' flooding in Atlanta (PonchoKitty)

CBS and Voice of America and Bloomberg are reporting about weird weather in places including the Americas and the UK:
December 28, 2015

Dozens dead in 3-headed hit of weird weather

GARLAND, Texas —At least 11 people died and dozens were injured in strong tornadoes that swept through the Dallas area and caused substantial damage this weekend, while 13 people died in flooding in the Midwest.It was the latest in a succession of powerful weather events the last few days across the country, from heavy snow in New Mexico, west Texas and the Oklahoma Panhandle to flooding in parts of the Plains and Midwest.

Mother Nature doesn't appear to be backing off either. Early Monday, officials in Mountain Grove, Mo., about 60 miles east of Springfield, ordered an evacuation as a dam on Lily Lake breached following heavy rains. http://www.cbsnews.com/news/dozens-dead-in-3-headed-hit-of-weird-weather/

December 28, 2015

Severe Weather Batters Americas

Violent weekend weather battered large swaths of the southern and central United States, leaving at least 43 people dead.

Tornadoes killed at least 11 people in Texas as other areas of the country braced for potentially crippling winter storms and flash flooding.

One of several tornadoes that struck in and near the city of Dallas late Saturday carried winds of more than 320 kilometers an hour, leaving at least eight people dead. Three others died nearby, as a residential building in a northern suburb was destroyed and vehicles were blown from a highway overpass.

Authorities say scores of others were injured in the region, just days after tornadoes killed at least 19 people in the country's southeast. …

As recovery efforts expanded Sunday, forecasters issued severe weather advisories for large parts of the southern and central United States, including blizzard warnings for parts of New Mexico, northern Texas, Oklahoma and Kansas.

New Mexico Governor Susana Martinez placed her entire jurisdiction under a state of emergency, as residents braced for as much as 60 centimeters of snow.

Additionally, flash flood warnings extended from Texas and New Mexico to the north central state of Indiana.  Flooding has killed at least 13 people in nearby states Missouri and Illinois.

California fires

In California, more than 600 firefighters battled a sprawling brush fire that has burned about 500 hectares in a state that has faced severe drought conditions for the past four years.  …

Floods wreak havoc in South America

In South America, emergency officials say as many as 150,000 people in the border areas of Paraguay, Uruguay, Brazil and Argentina have fled their homes ahead of severe flooding from torrential summer rains linked to the El Nino phenomenon. …

Paraguay's President Horacio Cartes declared a state of emergency in the capital and several nearby regions.

Another 20,000 people in nearby northern Argentina also were forced to flee, while officials in Uruguay said 9,000 people near swollen rivers had suffered the same fate.

Civil defense authorities in the nearby southeastern Brazilian state of Rio Grande do Sol said at least 7,000 residents had evacuated.  http://www.voanews.com/content/severe-weather-batters-americas/3121068.html

December 28, 2015

U.K. Seeks to Fix Flood Barrier as Thousands Flee Rising Waters

The U.K. is moving to fix a barrier on the Foss river in York as unprecedented rainfall has forced thousands of residents to evacuate because of rising flood waters.

British Prime Minister David Cameron said additional military resources are being deployed across the north of England, amid forecasts for more rain on Wednesday.

Several rivers burst their banks and flooded dozens of communities as well as parts of the city centers of York, Leeds and Manchester. Britain's Environment Agency said there were 24 severe flood warnings, which indicate a "danger to life," across England, according to a statement on Sunday.  http://www.bloomberg.com/news/articles/2015-12-28/u-k-seeks-to-fix-flood-barrier-as-thousands-flee-rising-waters
While humans often seem to think otherwise, God is in charge and controls the weather. Notice the following:
The Bible makes plain who is in control of the weather! "Fire and hail, snow and clouds; stormy wind, fulfilling His word" (Ps . 148:8 , RAV).

God intervenes in weather to work out his purposes among nations…

Plagues of disastrous weather are a warning to humanity. Weather for the most part operates according to natural laws. Damaging weather patterns sometimes develop. God simply may not choose to intervene to stop them because of nations' various sins and idolatry.

The Bible reveals God also directly intervenes to cause weather plagues to warn certain nations. "I have smitten you with blasting and mildew . .. yet have ye not returned unto me, saith the Lord" (Amos 4:9). He, in his great purpose, may also allow Satan-the god of this world (II Cor. 4:4)-to have a role in producing calamitous weather, for man's ultimate learning (see Job, chapter 1). (Schroeder D. CHAOTIC WEATHER Return of the dust bowl? Plain Truth. 1984, pp. 19-20)
As the above shows, the Bible teaches that God uses weather to warn people and to get their attention, especially if they have left Him.  Jesus prophesied 'troubles' in these end times (Mark 13:8).
As regular readers of this page are aware, I have repeatedly warned of weather problems coming. Back in 2009, in my book, 2012 and the Rise of the Secret Sect, I wrote that the following was about to happen:
| | |
| --- | --- |
| Odd weather patterns result in food shortages and natural disasters. | Matthew 24:7 |
| | |
| --- | --- |
| The world is actually in a berserk transition, as the real age of peace is not yet here. It may be a period of chaos. It is the beginning of sorrows. | Matthew 24:8 |
Record heat and odd weather problems should serve as a wake-up call.
In the Americas, the phenomena known as El Niño is being blamed. But that begs the question as to what causes the El Niño phenomena.
Weather problems, including flooding and tornadoes, were prophesied to come as the result of sin:
13 Therefore thus says the Lord God: "I will cause a stormy wind to break forth in My fury; and there shall be a flooding rain in My anger, and great hailstones in fury to consume it. 14 So I will break down the wall you have plastered with untempered mortar, and bring it down to the ground, so that its foundation will be uncovered; it will fall, and you shall be consumed in the midst of it. Then you shall know that I am the Lord. (Ezekiel 13:13-14)

3 The Lord is slow to anger and great in power,
And will not at all acquit the wicked.

The Lord has His way
In the whirlwind and in the storm,
And the clouds are the dust of His feet. (Nahum 1:3)
The Bible is clear that God controls the weather and various calamities, but wants people to heed His prophets:
6… If there is calamity in a city, will not the Lord have done it?

7 Surely the Lord God does nothing, Unless He reveals His secret to His servants the prophets. (Amos 3:6-7)
The Bible tells of weather-related blessings for obedience and weather-related curses for disobedience. Weather is not as random as many people seem to want to believe.
The Bible shows:
30 God…commands all men everywhere to repent (Acts 17:30)
And weather-problems are one way that God uses to urge people to repent (cf. Haggai 2:17; Amos 4:7-12).
Weird, severe, and odd weather patterns are part of the warning messages that God gives. Are you paying attention to those messages?
Some items of interest may include the following:
Weather Blessings and Sorrows Are weather problems a warning? What should be done? What does the Bible teach about weather? What about floods, droughts, heat, earthquakes, tornadoes, and solar storms? Here is a related YouTube video Does God Use Weather? A related item in the Spanish language would be Bendiciones y maldiciones del clima.
Just What Do You Mean — Repentance? Do you know what repentance is? Have you truly repented? Repented of what? Herbert W. Armstrong wrote this as a booklet on this important subject.
When You Sin: Do You Really Repent? This is an article by Charles F. Hunting. A related sermon is Confess to God and truly repent.
Do Christians Sin? This is an article by Herbert W. Armstrong.
The Bible, Christians, and the Environment How should Christians view the environment? Does the Bible give any clues? What are some of the effects of air, water, and land pollution? Is environmental pollution a factor in autism and death? Do pollutants seem to double the autism risk? What will Jesus do? A YouTube video is available titled Air Pollution, Autism, and Prophecy.
Cross-dressing and other assaults against your children. What should you do? Is there an agenda to turn your children and/or grandchildren away from biblical morality and towards practices promoted by homosexuals? What does the Bible teach about cross-dressing? What should parents do? If there is an agenda, what has been going on? There are also two YouTube videos related to this, titled Transgender 'Woe to those who call evil good' and Cross dressing and Other Assaults Against Your Children.
The Bible Condemns Homosexuality "Same-sex marriage" for "gays" and lesbians is becoming more acceptable to many. What does the Bible teach about homosexuality? Can homosexuals change? A related video sermon is titled: What Does the Bible Really Teach about Homosexuality?
Pornography: A scourge on society Is pornography harmless fun? Does the Bible teach anything about it? What are the views of some involved with it? Here is a link to a YouTube video Pornography: Harmless Fun or a Scourge on Society?
Mexico, Central America, South America, Brazil, and the Caribbean in Prophecy [Español: México, América central, Suramérica, Brasil y el Caribe en la profecía] [Português: México, América Central, Ámérica do Sul, e Brasil na profecia] What will happen to those of Latin America? Will they have prosperity? Will they cooperate with Europe? Will they suffer in the future? What role might the various Caribbean nations/territories play?
Does God Have a 6,000 Year Plan? What Year Does the 6,000 Years End? Was a 6000 year time allowed for humans to rule followed by a literal thousand year reign of Christ on Earth taught by the early Christians? Does God have 7,000 year plan? What year may the six thousand years of human rule end? When will Jesus return? 2023 or 20xx? There is also a video titled The 6000 Year Plan: Is the end of humanity's reign almost up? Here is a link to the article in Spanish: ¿Tiene Dios un plan de 6,000 años?
When Will the Great Tribulation Begin? 2016, 2017, or 2018? Can the Great Tribulation begin today? What happens before the Great Tribulation in the "beginning of sorrows"? What happens in the Great Tribulation and the Day of the Lord? Is this the time of the Gentiles? When is the earliest that the Great Tribulation can begin? What is the Day of the Lord? Who are the 144,000? Here is a version of the article in the Spanish language: ¿Puede comenzar la Gran Tribulación en 2016 o 2017? ¿Es el Tiempo de los Gentiles? You can also see the English language sermon video: The Great Tribulation from the Mount of Olives. A shorter video is: Can the Great Tribulation Start in 2016?
Anglo – America in Prophecy & the Lost Tribes of Israel Are the Americans, Canadians, English, Scottish, Welsh, Australians, Anglo-Saxon (non-Dutch) Southern Africans, and New Zealanders descendants of Joseph? Where are the lost ten-tribes of Israel? Who are the lost tribes of Israel? What will happen to Jerusalem and the Jews in Israel? Will God punish the U.S.A., Canada, United Kingdom, and other Anglo-Saxon nations? Why might God allow them to be punished first? Here is a link to the Spanish version of this article: Anglo-América & las Tribus Perdidas de Israel. Information is also in the YouTube sermons titled Where are the Ten Lost Tribes? Why does it matter? and British are the Covenant People. A short YouTube of prophetic interest may be Barack Obama and the State of the Apocalypse.
Will the Anglo-Saxon Nations be Divided and Have People Taken as Slaves? Will the lands of the United States, United Kingdom, Canada, Australia, and New Zealand be divided? What about Jerusalem? What does Bible prophecy teach? Are there non-biblical prophecies that support this idea? Who will divide those lands? Who will end up with the lands and the people? Here is a link to a video titled Will the USA and other Anglo-nations be Divided and Their People Made Slaves? Here is a related item in the Spanish language ¿Serán divididas las naciones anglosajonas?