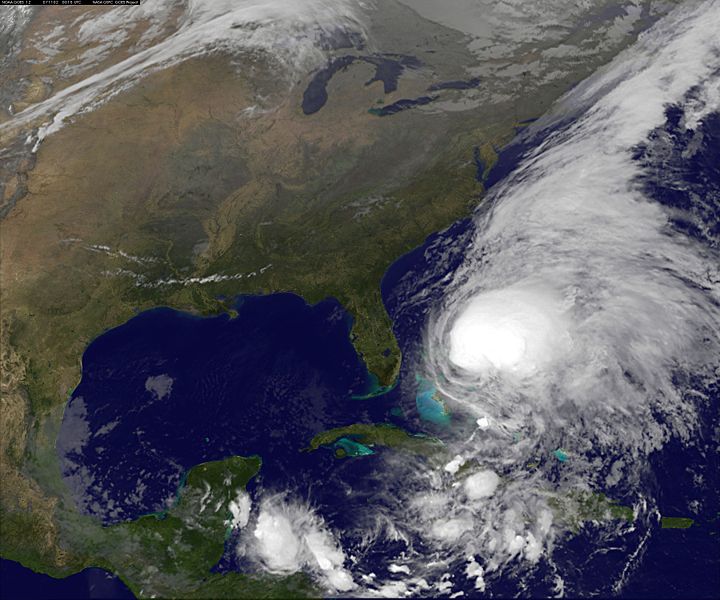 Hurricane Noel Near Peak Intensity in 2007
The BBC reported:
Wednesday, 6 February 2008, 14:27 GMT…

Severe flooding caused by weeks of heavy rain is now known to have left 48 people dead and some 40,000 families homeless, authorities in Bolivia say.

Two rivers in one of the worst-hit provinces, Beni, have broken their banks and are threatening to cut off the main city in the region, Trinidad.

The government has declared a state of emergency and launched relief efforts.
Meanwhile in Eduador AP reported:
QUITO, Ecuador (Feb. 6) – Ecuador's Tungurahua volcano shot columns of ash miles into the air on Wednesday, as officials ordered the evacuation of 3,000 villagers living near its slopes.

Some 1,000 villagers from the western flanks of the 16,575-foot volcano fled their homes for shelters at dawn, said Roberto Rodriguez, director of Civil Defense. He said 11 families who refused to leave, fearing looters, were removed by force.

"We've taken all of the precautions possible," President Rafael Correa told reporters on Wednesday, adding that a state of emergency already in place in the area will be extended for 60 days.

Juan Salazar, the mayor of the nearby village of Penipe, said 3,000 people needed to be evacuated — a figure that included the 1,000 villagers who had already fled. (http://news.aol.com/story/_a/thousands-told-to-flee-erupting-volcano/20080206153409990001). 
A few hours ago, Marketplace reported: 
People line up to receive food donations in Cite Soleil, a slum of Port-au-Prince in Haiti, after devastating floods brought by Tropical Storm Noel. (http://marketplace.publicradio.org/display/web/2008/02/06/global_fast_creating_economies_in_haiti) 
Thus problems related to weather can be serious and last a fairly long time. 
AOL news reported:
LAFAYETTE, Tenn. (Feb. 6) – Residents in five Southern states tried to salvage what they could Wednesday from homes reduced to piles of debris, a day after the deadliest cluster of tornadoes in nearly a decade tore through the region, snapping trees and crumpling homes. At least 50 people were dead.  (http://news.bbc.co.uk/2/hi/americas/7230652.stm)
Weather disasters are increasing and are prophesied to get worse.
LCG has long had a booklet of possibly related interest titled "Who Controls the Weather? " that is available for those interested in more on this subject.