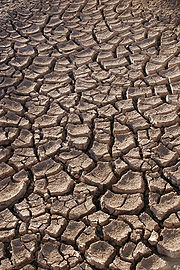 Unusual weather has caused disasters in many places this year.   In today's, TW News & Prophecy E-Zine, the Living Church of God (LCG) reports:
Rain and flooding.

January witnessed devastating floods across Australia. Colombia has been and is currently experiencing "some of the heaviest rains" in its history–with hundreds dying, more than 140,000 homes damaged or destroyed, and more than three million affected (Seattle Times, April 29, 2011)! The central U.S. is flooding too.

One recent headline reads: "Forecast: Almost half of the USA at risk for spring flooding" (USA Today, March 18, 2011). As a result of snow melt and powerful spring storms, the U.S. Army Corps of Engineers recently "blew a hole in a Mississippi River levee in a bid to save several towns in Illinois and Kentucky…." One government official estimated that this action will "cause $1 billion in property damage" as the river floods over a hundred thousand acres of farm land and destroys hundreds of homes (Reuters, May 3, 2011). Officials still expect a flood surge not seen since 1927 (Associated Press, May 3, 2011). More than 12 million people live along the Mississippi–the backbone of commerce for the central U.S. And, the region is responsible for more than $7 billion of agriculture and forest products (www.visitbemidji.com, May 4, 2011).

Forecasters predict continued "extreme" global weather conditions for this year, with major flooding and severe rains in some regions, while other regions continue in intense drought (Guardian.co.uk, February 4, 2011).

God predicted long ago that one of the signs of the end of the age would be droughts in some cities while other cities experience severe rains and flooding (Amos 4:7-9). In addition, because of Israel's sins, God promises plagues of blight, mildew and devastating hail (Haggai 2:17).

Texas fires roaring.

While Australia, Colombia, and the American Midwest are suffering from catastrophic flooding, much of the state of Texas is experiencing some of its driest conditions in history. Additionally, vast portions of the state are ablaze! Since the fire season began in November 2010, more than 9,100 fires have been responded to, 2.5 million acres have burned, and hundreds of homes have been destroyed (Reuters, April 20, 2011; Texas Forest Service, May 4, 2011).

Aside from the devastation to real estate, tens of millions of dollars in damage has been experienced by Texas agriculture–crops and cattle (Statesman.com, May 4, 2011). Many of the homes burned so far have been very large–and would be considered small "palaces" by many around the globe, and even in the U.S. Forecasts predict the dry conditions will continue across much of Texas for the foreseeable future.

God promised that, due to the sins of the Israelite-descended nations and their rejection of Him, He would "send fire upon his cities, and it shall devour his palaces" (Hosea 8:14). Watching destruction and suffering is sobering and sad. Yet God predicted this destruction as long as humanity continues to reject Him (Hosea 7:13-16).

If you received this E-Zine from a friend and would like to begin receiving your own copy click here to sign up for free.
Texas has had major drought conditions (see Drought Affecting USA Wheat and Beef Supplies and Droughts Affecting Russia and Parts of USA).
LCG has long had a booklet of possibly related interest titled "Who Controls the Weather? " that is available for those interested in more on the weather and Bible prophecy.
While Jesus foretold on a time of natural disasters as part of "the beginning of sorrows", the Book of Revelation (16:8-11) tells of a time of even greater disturbances during "the Day of the Lord". These will go beyond what normally have occurred in the past century. World events are aligning towards the fulfillment of biblical prophecies.

Now there is good news as ultimately, God's kingdom will come and those issues will be gone (Revelation 7:16). But a terrible hour of trial is coming first (Revelation 3:10).
Some articles of possibly related interest may include:
The Gospel of the Kingdom of God was the Emphasis of Jesus and the Early Church Did you know that? Do you even know what the gospel of the kingdom is all about? True religion should be based upon the true gospel.
Can the Great Tribulation Begin in 2010, 2011, or 2012? Can the Great Tribulation begin today? What happens before in the "beginning of sorrows"? What happens in the Great Tribulation and the Day of the Lord? When is the earliest that the Great Tribulation can begin? What is the Day of the Lord?
Physical Preparation Scriptures for Christians. We all know the Bible prophecies famines. Should we do something?
Mexico, Central America, South America, and Brazil in Prophecy [Español: México, America Central, Suramérica, y el Brasil en profecíal] [Português: México, América Central, Ámérica do Sul, e Brasil na profecia] What will happen to those of Latin America? Will they have prosperity? Will they cooperate with Europe? Will they suffer in the future? What rule might the various Caribbean nations/territories play?
Anglo – America in Prophecy & the Lost Tribes of Israel Are the Americans, Canadians, British, Scottish, Welsh, Australians, Anglo-Southern Africans, and New Zealanders descendants of Joseph? Where are the lost ten-tribes of Israel? Who are the lost tribes of Israel? What will happen to the Jews in Israel? Will God punish the U.S.A., Canada, United Kingdom, and other Anglo nations? Why might God allow them to be punished first?
Will the Anglo-Nations be Divided and Have People Taken as Slaves? Will the lands of the United States, United Kingdom, Canada, Australia, and New Zealand be divided? What does Bible prophecy teach? Are there non-biblical prophecies that support this idea? Who will divide those lands? Who will end up with the lands and the people?