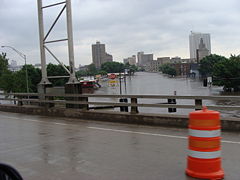 Flooding in Iowa Affected More Than Urban Housing–Is Texas Next?

AOL had this news item:
Hurricane Dolly's Edge Hits Texas
BROWNSVILLE, Texas (July 23) — Hurricane Dolly's leading edge arrived on the Gulf Coast early Wednesday, packing heavy rain and powerful winds that could strengthen before the center of the storm hits towns straddling the Texas-Mexico border later in the day.
The Category 1 hurricane was expected to dump up to 15 inches of rain, threatening flooding that could breach levees in the heavily populated Rio Grande valley…
National Weather Service radar indicated a tornado 18 miles northeast of the Harlingen Valley Airport on Wednesday morning. A tornado watch was in effect for several counties in the area until 10 a.m. CDT Wednesday.
Cities and counties in the Rio Grande valley were preparing Tuesday night as officials feared heavy rains could cause massive flooding and levee breaks.
Texas officials urged residents to move away from the Rio Grande levees because if Dolly continues to follow the same path as 1967's Hurricane Beulah, "the levees are not going to hold that much water," said Cameron County Emergency Management Coordinator Johnny Cavazos.
There was intermittent light rain late Tuesday in Brownsville, and Cavazos said he expected outer bands to move over the area overnight. Charles Hoskins, deputy emergency management officer for Cameron County, said there were nearly 2,000 people in six shelters in the county.
In Hidalgo County, a little bit farther inland, six shelters holding about 900 people were open, said Cari Lambrecht, a county spokeswoman. She said people living in low-lying areas were encouraged to come to shelters.
A later story (near noon PDT today) stated:
Hurricane Dolly Lashes Texas Coast
BROWNSVILLE, Texas (July 23) — Forecasters say Hurricane Dolly has made landfall near South Padre Island in Texas. Dolly is a Category 2 storm with top sustained winds near 100 mph.
The storm has forced thousands of people on both sides of the Texas-Mexico border into shelters. Heavy rains and high winds from the storm have collapsed an apartment roof, blown over signs and cut power to thousands of customers…
Forecasters warned of up to 15 inches of rain that could produce flooding and breach levees in the heavily populated Rio Grande Valley. Thunderstorms were attributed to Dolly as far away as Houston, 400 miles up the Texas coastline.
The USA has had a lot of flooding and levy problems this year.
LCG has long had a booklet of possibly related interest titled "Who Controls the Weather? " that is available for those interested in more on the weather and Bible prophecy.
Now there is good news as ultimately, God's kingdom will come.
Some articles of possibly related interest may include:
The Gospel of the Kingdom of God was the Emphasis of Jesus and the Early Church Did you know that? Do you even know what the gospel of the kingdom is all about? True religion should be based upon the true gospel.
Universal Offer of Salvation: There Are Hundreds of Verses in the Bible Supporting the Doctrine of True Apocatastasis Do you believe what the Bible actually teaches on this? Will all good things be restored? Does God's plan of salvation take rebellion and spiritual blindness into account?
Did The Early Church Teach Millenarianism? Was the millennium (sometimes called chiliasm) taught by early Christians? Who condemned it. Will Jesus literally reign for 1000 years on the earth? Is this time near?
Does God Have a 6,000 Year Plan? What Year Does the 6,000 Years End? Was a 6000 year time allowed for humans to rule followed by a literal thousand year reign of Christ on Earth taught by the early Christians? When does the six thousand years of human rule end?