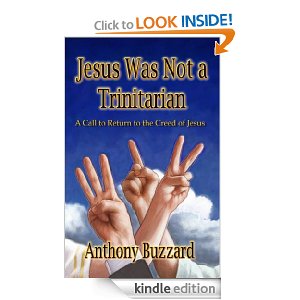 Note: Click to Look Inside Feature Not Enabled on Photo
Last week, I was sent a link to a then free Kindle 2012 edition Anthony Buzzard's book, Jesus Was Not a Trinitarian.
While Anthony Buzzard's book title is correct that Jesus was not a trinitarian, unlike Anthony Buzzard, Jesus was also not unitarian.  Anthony Buzzard holds to a unitarian view of the Godhead, which essentially means he denies the deity of Jesus.  Anthony Buzzard graduated from, and taught at, the old Ambassador College of the Radio, then Worldwide, Church of God.
I would like to address some of the statements in his book.
Let's begin with the following that Anthony Buzzard wrote:
Two Is Not One

At the simplest level, the unwarranted promotion of Jesus to the status of the One God created confusion. Two cannot be made into one.  (Buzzard, Anthony (2012-04-15). Jesus Was Not a Trinitarian (Kindle Locations 894-895). Restoration Fellowship. Kindle Edition.)
At various times in his book he makes some version of that argument.
But this conclusion is not true according to Jesus.  Two can be one and the Bible shows that they can be so in God's eyes.  Notice what Jesus taught:
30 I and My Father are one. (John 10:30)

4 Have you not read that He who made them at the beginning 'made them male and female,'  5 and said, 'For this reason a man shall leave his father and mother and be joined to his wife, and the two shall become one flesh'?  6 So then, they are no longer two but one flesh.  (Matthew 19:4-6)

10 And all Mine are Yours, and Yours are Mine, and I am glorified in them.  11 Now I am no longer in the world, but these are in the world, and I come to You. Holy Father, keep through Your name those whom You have given Me, that they may be one as We are. (John 17:10-11)

20 "I do not pray for these alone, but also for those who will believe in Me through their word;  21 that they all may be one, as You, Father, are in Me, and I in You; that they also may be one in Us, that the world may believe that You sent Me.  22 And the glory which You gave Me I have given them, that they may be one just as We are one:  23 I in them, and You in Me; that they may be made perfect in one, and that the world may know that You have sent Me, and have loved them as You have loved Me.  (John 17:20-23)
Thus, the Bible disagrees with Anthony Buzzards assertion here.
He also wrote:
Bible writers never mean a triune God when they say "God." Since the words "God," "Lord God," and LORD appear over twelve thousand times, they had about twelve thousand opportunities to make that equation "God = God in three Persons," but they never did. They constantly say that God is a single Person and in the New Testament they equate that divine Individual with the Father of Jesus, who is everywhere said to be the Father's Son.
(Kindle Locations 1467-1471).
The first sentence above is true, but the end of the second one, not so much.  While Jesus is the Father's Son, that is not the term used "everywhere" in the Bible.  Jesus is sometimes referred to something other than the Father's Son in the New Testament. The term "God" is used related to Jesus as well (cf. John 1:1, 20:28; Hebrews 1:8).  In the Book of Revelation, it appears the term "Lord God" is used of Jesus eight times (NKJV search).
Anthony Buzzard also wrote:
While "God" in the New Testament describes the Father over 1300 times, the same word "God" is used of Jesus on two occasions for certain in the New Testament.

There are a few verses where Jesus may be referred to as "God," but because of grammatical ambiguity this cannot be maintained with certainty. (Kindle Locations 1477-1479)

We may say with certainty that Jesus is called "God" twice, in Hebrews 1: 8   and John 20: 28. The few other passages cannot be produced as firm evidence. (Kindle Locations 5335-5336)
First of all, it is more than two times that the same Greek word is translated as God and related to Jesus in the New Testament.  It appears that terms such as "kingdom of God" and "Lord God Almighty" are not counted as possibly being related to Jesus by Anthony Buzzard (I will address the alleged "grammatical ambiguity" later).
Second of all, one of the biggest problems that I have had with unitarians and the New Testament is that they tend to not believe what the Bible actually teaches and discount certain passages etc.  And Anthony Buzzard has started to do that here.
Anthony Buzzard correctly wrote:
Theological writings frequently tell us that the right definition of Jesus and his relationship to God was discovered only after centuries of painful intellectual struggle. The Bible however seems much more straightforward. It says nothing about a "mystery of the Trinity." This came much later. (Kindle Locations 4025-4027)
But I would add that although it took until the Council of Constantinople of 381 to get the Greco-Roman world to force the adoption of the trinity on who they could, the reality is that even the majority of Greco-Romans prior to around 360 A.D. held more of a binitarian, not trinitarian view of the Godhead.  This is a documented fact.
He also wrote:
We have seen that the personal God of Israel and the Hebrew Bible is known by various titles. He is first of all the God (Elohim) who created the heavens and earth, an activity in which He was entirely unaccompanied.(Kindle Locations 4876-4877)
Yet, the above statement is in severe biblical error.  First of all, the term Elohim is plural in the Hebrew scriptures.  And second of all, Jesus was involved in the entire creation:
8 To me, who am less than the least of all the saints, this grace was given, that I should preach among the Gentiles the unsearchable riches of Christ, 9 and to make all see what is the fellowship of the mystery, which from the beginning of the ages has been hidden in God who created all things through Jesus Christ;  10 to the intent that now the manifold wisdom of God might be made known by the church to the principalities and powers in the heavenly places, (Ephesians 3:8-10)
Thus, for Anthony Buzzard to claim that God the Father created everything entirely "unaccompanied" is in error.
Anthony Buzzard also wrote:
Why if Jesus is God did he isolate his Father as the only one who is absolutely good? (Kindle Locations 7191-7192)
Let's look at the verse he was referring to:
17 So He said to him,  "Why do you call Me good? No one is good but One, that is, God.  (Matthew 19:17
There are a few possibilities, and I will offer up two.  The first is that the "him" who asked the question was not a true disciple and basically only using the term as it was culturally used as a sign of respect that Jesus felt was inappropriate.  He never said that he called Jesus "good" because he believed that Jesus was God or the Son of God.  And the second, is that Jesus was not "fully God" at this stage as He emptied Himself of His divinity to become human (Philippians 2:7).  There may be other reasons, but for Anthony Buzzard to conclude that Jesus was teaching that He had no Divinity based upon that is an improper conclusion.
Anthony Buzzard's book contained the following citation from the Bulletin of the John Rylands Library:
"When [first-century Christians] assigned Jesus such honorific titles as Christ, Son of Man, Son of God and Lord, these were ways of saying not that he was God but that he did God's work." (Kindle Locations 7437-7439)
But the Apostle John was a first century Christian and he clearly did (John 1:1) and quoted the Apostle Thomas doing the same (John 20:28).  Furthermore, spiritual descendants of John, such as Polycarp of Smyra who knew John as well as Ignatius, clearly taught that Jesus was God.  Notice:
But may the God and Father of our Lord Jesus Christ, and Jesus Christ Himself, who is the Son of God, and our everlasting High Priest, build you up in faith and truth, and in all meekness, gentleness, patience, long-suffering, forbearance, and purity; and may He bestow on you a lot and portion among His saints, and on us with you, and on all that are under heaven, who shall believe in our Lord and God Jesus Christ, and in His Father, who "raised Him from the dead (Polycarp. Letter to the Philippians. From Ante-Nicene Fathers, Volume 1as edited by Alexander Roberts & James Donaldson. American Edition, 1885. Chapter 12 modified by B. Thiel to correct omission in translation).

…God appeared in human form to bring newness of eternal life (Ignatius. Letter the Ephesians, 19,3. In Holmes: The Apostolic Fathers: Greek Texts and English Translations. Baker Books, Grand Rapids (MI), 2004, p. 149).
Thus, early followers of Jesus did refer to Him as God.
Anthony Buzzard also took exception to passages such as John 1:1, 20:28, etc.  Although throughout his book he cites a lot of theologians of various persuasions, the reality is that the Bible does teach the deity of Jesus and that deity was understood by His original apostles and their faithful successors.
Although unitarians attempt to discredit various translations of certain passages of the New Testament (Anthony Buzzard also referred to some as having "grammatical ambiguity"), the reality is that those who would have best understood what the New Testament was teaching would have been those who knew the original Apostles and/or their spiritual descendants in the late first century/early second century.
And those writers DID understand that the Bible taught that Jesus was God.
Some articles of possibly related interest may include:
Jesus: The Son of God and Saviour Who was Jesus? Why did He come to earth? What message did He bring? Is there evidence outside the Bible that He existed? Here is a YouTube sermon titled Jesus: Son of God and Saviour.
Jesus is God, But Became Flesh Was Jesus fully human and fully God or what?
Virgin Birth: Does the Bible Teach It? What does the Bible teach? What is claimed in The Da Vinci Code?
Did Early Christians Think the Holy Spirit Was A Separate Person in a Trinity? Or did they have a different view?
What is the Holy Spirit? This is an article by Rod Reynolds.
Did the True Church Ever Teach a Trinity? Most act like this is so, but is it?
Was Unitarianism the Teaching of the Bible or Early Church? Many, including Jehovah's Witnesses, claim it was, but was it?
Binitarianism: One God, Two Beings Before the Beginning This is a shorter article than the Binitarian View article, but has a little more information on binitarianism.
Is Matthew 28:19 in the Bible? Some have claimed that Matthew 28:19 has added words as part of a trinitarian plot. Is that true or sometimes a unitarian assertion?