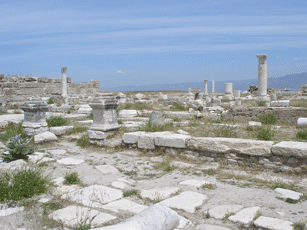 Ancient Laodicea

The United Church of God (UCG) just posted the following from its president, Dennis Luker:
In a July 29 teleconference, the Council of Elders chose Aaron Dean as its next treasurer and Financial Services operation manager. Mr. Dean, 58, will assume his new duties at the end of the Council of Elders meetings scheduled for August 9-11…Mr. Dean currently lives in Gladewater, Texas, and will relocate to the Cincinnati area in the coming months.
Aaron Dean was once the personal aid of the late Herbert W. Armstrong and held one or more vice-president titles in the 1980s for WCG organizations.
Although he has been on UCG's Council of Elders for many years, he was censured a couple of years ago for speaking to an non-UCG group and some tried to oust him from the board back then, but he survived (see United Church of God Council Censures Elder Aaron Dean and UCG Keeps Aaron Dean on Council and Votes to Rescind Texas Move).
Aaron Dean being selected as treasurer for UCG was a surprise to me as historically, he has often not been part of the majority on UCG's Council.  Also, he has long been the only UCG Council member NOT on UCG's payroll.  If this position is full-time (and it seems to be), then he will apparently go on UCG's payroll.
On other UCG related news, Abigail Cartwright, who has a website related to UCG's various problems, made the following announcement of a new organization which she says is not a church:
As one of the organizers of the newly formed International Ambassador Outreach ("IAO") I am pleased to make this introductory post. Newly formed as a nonprofit 501c3, International Ambassador Outreach has been created to support our international Christian family…Please note a key feature of IAO is that it is "not a church, nor will it become one…

Our Board views the most pressing current need to be our Latin American brothers and sisters who have recently suffered significant budget cuts that will undoubtedly affect their ability to pay for church hall rentals, member assistance, scholarships, assistance in enabling members to attend the Feast, and other basic needs.
John Carmack, a UCG supporter, wrote about this and included the following:
I want to bring this up because there seems to be a misconception amongst a few (or, at least one) that somehow Latin America has huge assets that UCG might be missing out on because of this split.  The fact is that due to circumstances beyond their control, most of them are quite poor.  There are no huge assets there.  The US administration has heavily subsidized the Latin America region for some time.
It's a pretty good bet that none of the Latin American members are leaving for the money, to keep the money or to walk away with any "assets".  That's pure nonsense.
Frankly, both sides have a lot to lose in this particular disagreement.
Anyway, as I am not part of this, I will provide no opinion about the positions of "both sides" of this split in UCG.  I will say, however, that I was aware that Latin America was subsidized by UCG in the USA and felt that those who left would have financial issues.  And that seems to likely be the case.
The only thing to add is that because of UCG's rejection of the governance its top leaders publicly embraced before forming UCG, that UCG has had many governmental problems and this past four months simply highlights them for all to see.
Some articles of possibly related interest may include:
Polycarp, Herbert W. Armstrong, and Roderick C. Meredith on Church Government What form of governance did the early church have? Was it hierarchical? Which form of governance would one expect to have in the Philadelphia remnant? The people decide and/or committee forms, odd dictatorships, or the same type that the Philadelphia era itself had?
Unity: Which COG for You? Why so many groups? Why is there lack of unity in the Churches of God? Has it always been this way? What can/should be done about it?
Differences between the Living Church of God and United Church of God This article provides quotes information from the two largest groups which had their origins in WCG as well as commentary.
There are Many COGs: Why Support the Living Church of God? This is an article for those who wish to more easily sort out the different COGs. It really should be a MUST READ for current and former WCG/GCI members or any interested in supporting the faithful church. It also explains a lot of what the COGs are all about.
Should the Church Still Try to Place its Top Priority on Proclaiming the Gospel or Did Herbert W. Armstrong Change that Priority for the Work? Some say the Church should mainly feed the flock now as that is what Herbert W. Armstrong reportedly said. Is that what he said? Is that what the Bible says? What did Paul and Herbert W. Armstrong expect from evangelists?
The Laodicean Church Era has been predominant circa 1986 A.D. to present. These are non-Philadelphians who mainly descended from the old WCG.