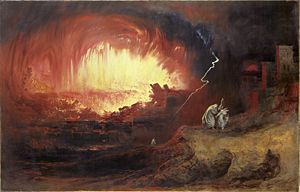 Destruction of Sodom and Gomorrah
In a move that I have long expected, former US President Bill Clinton has come out against a bill he signed into law known as the Defense of Marriage Act (DOMA):
March 8, 2013

It's not every day you see an ex-president ask the Supreme Court to strike down a law he signed.

That's what Bill Clinton is doing with the Defense of Marriage Act, which defines marriage as between a man and a woman — and which the high court will rule on this year in a landmark moment for the gay marriage movement.

The justices must decide whether the Defense of Marriage Act "is consistent with the principles of a nation that honors freedom, equality and justice above all, and is therefore constitutional," Clinton writes in The Washington Post.

He adds: "As the president who signed the act into law, I have come to believe that DOMA is contrary to those principles and, in fact, incompatible with our Constitution."  http://www.usatoday.com/story/theoval/2013/03/08/bill-clinton-supreme-court-defense-of-marriage-act/1972793/

March 8, 2013

Still, how was it that Bill Clinton, the first President to champion gay rights, put his name on one of the most discriminatory anti-gay statutes in American history?
Let me state that throughout recorded human history, marriage has been considered an arrangement/covenant between a man and a woman.  The Defense of Marriage Act was not "discriminatory" as the writer for the New Yorker so directly claims.
I believe that Bill Clinton signed DOMA for political reasons, and thus I also felt he would change his position when the political climate was better for him to do so.  And, it is possible that for many reasons, including the fact that he would like his wife Hillary to be president, he came out against DOMA now.
The Obama Administration has also come out against DOMA and has filed various documents with the US Supreme Court to try to encourage it to declare the law of the land unconstitutional (see Obama Administration pleads that the Supreme Court should overturn DOMA and California's anti-homosexual marriage law and Obama Administration urges Supreme Court to overturn Defense of Marriage Act).
The Bible defends marriage and only defines it as between a man and a woman (cf. Genesis 2:24; Matthew 19:5-10). It repeatedly condemns homosexual acts.
There were other societies that have had their own issues of openly advocating sin relationships that many of their residents seemed to view as acceptable. Notice what happened in a couple of such towns between three thousand and four thousand years ago:
24 Then the Lord rained brimstone and fire on Sodom and Gomorrah, from the Lord out of the heavens. 25 So He overthrew those cities, all the plain, all the inhabitants of the cities, and what grew on the ground. (Genesis 19:24-25)
And why did it happen?
7 as Sodom and Gomorrah, and the cities around them in a similar manner to these, having given themselves over to sexual immorality and gone after strange flesh, are set forth as an example, suffering the vengeance of eternal fire. (Jude 7)
Why mention this in the 21st century? Because God turned:
6…the cities of Sodom and Gomorrah into ashes, condemned them to destruction, making them an example to those who afterward would live ungodly (2 Peter 2:6,
NKJV)
National repentance is the only real long-term hope for the Anglo-peoples (and it seems to be too late for that).  Leaders in the USA are ignoring the examples in the Bible.  But that is not a surprise either as the Bible also warns"
12…Those who lead you cause you to err, And destroy the way of your paths. (Isaiah 3:12)

16 For the leaders of this people cause them to err, And those who are led by them are destroyed (Isaiah 9:16).
Keeping the Ten Commandments reflects love. Breaking them and/or condoning those that do is evil. This should be clear to those who believe the God of the Bible. Children should be raised by God-fearing heterosexual couples–for God wants godly offspring:
4…Because the Lord has been witness Between you and the wife of your youth…Yet she is your companion
And your wife by covenant. 15 But did He not make them one, Having a remnant of the Spirit? And why one?
He seeks godly offspring. Therefore take heed to your spirit, And let none deal treacherously with the wife of his youth. (Malachi 2:14-15)
Same-sex unions are not endorsed in the Bible and were not what God intended humans to be in to raise children.
The USA is setting itself up for complete ruin. Sodom and Gomorrah were destroyed as examples (Jude 7; 2 Peter 2:6). The currently militarily strong USA will not be spared (Daniel 11:39).
Watch (Mark 13, Matthew 24).
Some articles of possibly related interest may include:
The Bible Condemns Homosexuality "Same-sex marriage" for "gays" and lesbians is becoming more acceptable to many. What does the Bible teach about homosexuality? Can homosexuals change?
God Created Marriage Some falsely claim that God did not create marriage and that fornication is fine. What does the Bible really teach?
Why Marriage? Soon Obsolete? This is a booklet from Herbert Armstrong on this important topic.
Here's the Plain Truth About OLD TESTAMENT POLYGAMY by Herbert Armstrong.
Love, Marriage, and Sex It is important to get them in the right order.
Five Rules for Effective Parenting Do you know that there are five simple rules that can make you a more effective parent? There is also a 12 1/2 minute YouTube video on this, also titled Five Rules for Effective Parenting.
What Did Jesus Teach About the Ten Commandments? This article quotes what Jesus actually said about them (His words are in red).
The Ten Commandments Reflect Love, Breaking them is Evil Some feel that the ten commandments are a burden. Is that what Jesus, Paul, Peter, James, and John taught?
Was the Commandment to Love the Only Command? Some have stated that John's writings teach this, but is that what the Bible really says?
The Ten Commandments and the Early Church Did Jesus and the Early Church keep the ten commandments? What order were they in? Here are quotes from the Bible and early writings.y biblical and non-biblical prophecies, from around the world, that seem to discuss Barack Obama. Did Nostradamus predict Barack Obama dealing with the Antichrist? Might Barack Obama set the stage for the kings of the North and South as at least one Shiite prophecy suggests? This is the longest and most complete article at the COGwriter website on Barack Obama prophecies. Read it and decide for yourself if President Obama seems to be fulfilling various prophecies.
Will the Anglo-Nations be Divided? Will the lands of the United States, United Kingdom, Canada, Australia, and New Zealand be divided? What does Bible prophecy teach? Are there non-biblical prophecies that support this idea? Who will divide those lands? Who will end up with the lands and the people?
Anglo – America in Prophecy & the Lost Tribes of Israel Are the Americans, Canadians, British, Scottish, Welsh, Australians, Anglo-Southern Africans, and New Zealanders descendants of Joseph? Where are the lost ten-tribes of Israel? Who are the lost tribes of Israel? What will happen to the Jews in Israel? Will God punish the U.S.A., Canada, United Kingdom, and other Anglo nations? Why might God allow them to be punished first?
Canada in Prophecy: What Does Bible Prophecy, Catholic Prophecy, and other Predictions Suggest About the Future of Canada? There are prophecies that suggest involvement with Canada. And many are not positive about its future.
Who is the King of the West? Why is there no End-Time King of the West in Bible Prophecy? Is the United States the King of the West?
Barack Obama, Prophecy, and the Destruction of the United States-Second Edition for Second Obama Term This is a 160 page book for people truly interested in prophecies related to Barack Obama and the United States, including learning about many that have already been fulfilled (which the book documents in detail) and those that will be fulfilled in the future. It also has a chapter about a Republican choice. This book is available to order at www.barackobamaprophecy.com. The physical book can also be purchased at Amazon from the following link: Barack Obama, Prophecy, and the Destruction of the United States: Is Barack Obama Fulfilling Biblical, Islamic Catholic, Kenyan, and other America-Related Prophecies? What About Republican Leaders? Second Edition for Second Obama Term.
Barack Obama, Prophecy, and the Destruction of the United States-Second Term-Amazon Kindle edition. This electronic version is available for only US$2.99. And you do not need an actual Kindle device to read it. Why? Amazon will allow you to download it to almost any device: Please click HERE to download one of Amazon s Free Reader Apps. After you go to for your free Kindle reader and then go to Barack Obama, Prophecy, and the Destruction of the United States-Second Term-Amazon Kindle edition.