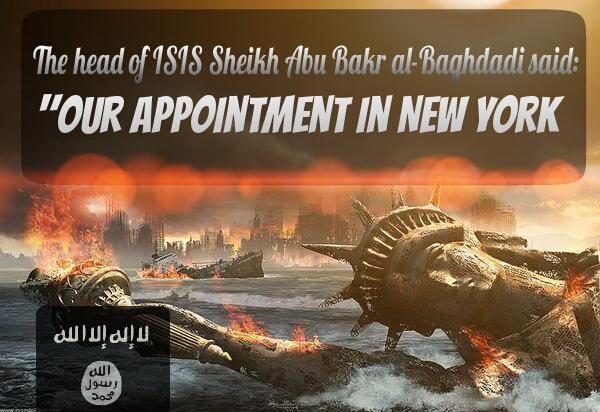 Islamic State supporters are sending a message of destruction.

The Islamic State (also known as ISIL or ISIS) distributed a question and answer pamphlet about non-Muslim females, with many of the answers horrifying:
December 13, 2014

Perhaps you were wondering if all the terrible tales of sex slavery by ISIS could be true? After all, they claim to be a very religious group. Unfortunately, new evidence reveals the situation is indeed as grim, if not grimmer, than the reports.

The 27 questions and answers of the pamphlet translated by MEMRI reveal a systematic look into sexual slavery, answering a variety of questions, such as if one can sleep with two sisters , buying and selling slaves and covering up the slave during prayer.

Harrowing personal accounts from female escapees of ISIS's sexual slavery have been flowing into the media over the last few months. This pamphlet's publishing implies that questions concerning sexual slavery were becoming frequent following ISIS's rise. Unfortunately, this confirms reports of thousands of Yazidi woman and other minorities being taken into sexual slavery by the terrorist group. http://www.jpost.com/Middle-East/ISIS-published-female-sex-slave-handbook-384510

December 13, 2014
(CNN)— Can you take non-Muslim women and children captive? Yes, says ISIS.

Can you have sex with them, even prepubescent girls? Yes, according to the Islamist extremist group.

Can you sell them or give them as gifts to others? The answer is yes, once again.

People in Mosul — the Iraqi city now under control of the group calling itself the Islamic State — got these and other messages loud and clear after sunset prayers Friday, when armed men handed out a color-printed pamphlet "Question and Answers on Female Slaves and their Freedom," three residents told CNN.

"People started gathering in small groups chattering about this (document)," said one of the men, whom CNN didn't name for security reasons. "Most are shocked, but (we) cannot do much about it." …

Its militants have justified their actions — like the beheadings of journalists and aid workers — in God's name.

Even then, it is rare to see its rationale laid out as plainly as in "Question and Answers on Female Slaves and their Freedom."

In the document, for instance, it is explained that capturing women is permissible if they are "nonbelievers." It adds, "Female slaves are the women that Muslims took from their enemies."

Much of the pamphlet talks about ISIS' policy on having sexual intercourse with a female slave, something that the group cites the Quran to justify. …

As to girls: "It is permissible to have intercourse with the female slave who hasn't reached puberty if she is fit for intercourse," the document reads. "However, if she is not fit for intercourse, he (the owner ) can only enjoy her without intercourse."

The Q&A is clear that, young and old, the captors have full control of their captives.

As such, the ISIS document claims, "It is permissible to buy, sell or give as a gift female captives and slaves, for they are merely property."  http://www.cnn.com/2014/12/12/world/meast/isis-justification-female-slaves/
The Islamic State continues, despite U.S. and other efforts to try to thwart it.
In my view, it is likely that the Islamic State believes that the pamphlet will assist in its recruiting drive to get more terrorists.  It mainly is recruiting males, and males that want to kill and terrorize.  Hence, the Islamic State probably feels that appealing to potential rapists will assist them.
The Bible tells of a time of even more terror.  And that terror will NOT be limited to the Middle East nor Africa.  Notice the following prophecies:
14 'But if you do not obey Me, and do not observe all these commandments, 15 and if you despise My statutes, or if your soul abhors My judgments, so that you do not perform all My commandments, but break My covenant, 16 I also will do this to you: I will even appoint terror over you, wasting disease and fever which shall consume the eyes and cause sorrow of heart. And you shall sow your seed in vain, for your enemies shall eat it. 17 I will set My face against you, and you shall be defeated by your enemies. Those who hate you shall reign over you, and you shall flee when no one pursues you. (Leviticus 26:14-17)

25 The sword shall destroy outside; There shall be terror within (Deuteronomy 32:25)

12 "Cry and wail, son of man; For it will be against My people, Against all the princes of Israel. Terrors including the sword will be against My people; Therefore strike your thigh. (Ezekiel 21:12)

12 Behold, these are the ungodly,Who are always at ease; They increase in riches…19 Oh, how they are brought to desolation, as in a moment! They are utterly consumed with terrors. (Psalms 73:12,19)

25 Because you disdained all my counsel, And would have none of my rebuke, 26 I also will laugh at your calamity; I will mock when your terror comes, 27 When your terror comes like a storm, And your destruction comes like a whirlwind, When distress and anguish come upon you. (Proverbs 1:25-27)

5 Also they are afraid of height, And of terrors in the way (Ecclesiastes 12:5).
Jihadist gains in various parts of the world are a prelude to more terrorism and change. A confederation against the USA, its Anglo-Saxon allies, and Israel involving Arab and European forces is coming. And I have long believed that terrorism will have to be part of this based not only upon the "terror" prophecies, but those that discuss an arrangement between what is now mainly Islamic dominated lands and Europe in Psalm 83. While the current Islamic State will not lead as it wishes, it very well may be involved in major terrorist actions around the world.
How a 'religious' organization can engage in rape and selling women into sexual slavery is not at at justifiable–but now the Islamic State believes it has justified such atrocities. The female captives are in my prayers.
Additionally, we all need to pray, as Jesus said, 'Thy kingdom come' (Matthew 6:10, KJV).
Of course, the Islamic State terrorizes more than females and also takes military actions.  Notice, for example, the following:
December 13, 2014

Iraqi officials say Islamic State militants have shot down an Iraqi military helicopter, killing the two pilots onboard.

Media reported on Saturday the attack happened in the Shi'ite holy city of Samarra, about 95 kilometers north of Baghdad.  http://www.voanews.com/content/islamic-state-militants-shoot-down-iraqi-helicopter/2557674.html
Because of actions by groups such as the Islamic State, many in the West as well as in many of the Islam-dominated countries will decide that a coalition of nations in North Africa and the Middle East is what is needed for 'peace.'  But this, according to the Bible, will not truly bring peace (Daniel 11:40-43), though it may well lead to a temporary peace (Daniel 9:27; see also The 'Peace Deal' of Daniel 9:27).
Some items of possibly related interest may include:
Iraq, the King of the South, Armageddon, and Prophecy What will happen to Iraq? Is it the prophesied Mystery Babylon? What is Armageddon and how does that have to do with Iraq? Here is a related video Iraq, Armageddon, & Prophecy.
The Prophesied 'Islamic' Confederation Where is an Islamic caliphate prophesied? Will one happen? Should you be concerned about it? Here is a link to a related video video: Will an Arabic Calphiphate Destroy the West?
The Arab and Islamic World In the Bible, History, and Prophecy The Bible discusses the origins of the Arab world and discusses the Middle East in prophecy. What is ahead for the Middle East and those who follow Islam? What about the Imam Mahdi? What lies ahead for Turkey, Iran, and the other non-Arabic Muslims? An item of possibly related interest in the Spanish language would be: Líderes iraníes condenan la hipocresía de Occidente y declaran que ahora es tiempo para prepararse para el Armagedón, la guerra, y el Imán Mahdi.
The 'Peace Deal' of Daniel 9:27 This prophecy could give up to 3 1/2 years advance notice of the coming Great Tribulation. Will most ignore or misunderstand its fulfillment? Here is a link to a related sermon video Daniel 9:27 and the Start of the Great Tribulation.
How Will Middle East Peace be Brought About? Can humans bring peace to the Middle East? Here is a link to a related video: Middle East Peace? When?
Is the Future King of the South Rising Up? Some no longer believe there needs to be a future King of the South. Might Egypt, Islam, Iran, Arabs, or Ethiopia be involved? Might this King be called the Mahdi or Caliph? What does the Bible say? A YouTube video of related interest may be: The Future King of the South is Rising. The Muslim Brotherhood and the Rise of the King of the South The Bible tells of the formation of a power of nations that are in the Middle East and North Africa that are part of the final "King of the South" (Daniel 11:40-43) The Muslim Brotherhood wishes to have an Islamic empire with basically the same nations. This YouTube video explains what to expect from such a confederation.
Great Tribulation begin today? What happens before the Great Tribulation in the "beginning of sorrows"? What happens in the Great Tribulation and the Day of the Lord? Is this the time of the Gentiles? When is the earliest that the Great Tribulation can begin? What is the Day of the Lord? Who are the 144,000? Here is a version of the article in the Spanish language: ¿Puede comenzar la Gran Tribulación en 2014 o 2015? ¿Es el Tiempo de los Gentiles? You can also see the English language sermon video: The Great Tribulation from the Mount of Olives.
Can the Great Tribulation Begin in 2015?  When will the Great Tribulation begin? Can it begin in 2015 as some have indicated? What are the biblical requirements that precede the Great Tribulation? What did Jesus teach would happen prior to the Great Tribulation. Are there definite clues in the Book of Daniel that Christians should look out for? Is there a King of the North or a King of the South yet? Where does the 'prince' of Daniel 9:26-27 come from? What about 'blood moons'? Dr. Thiel videoed this on the Mount of Olives where Jesus specifically discussed events leading up to the Great Tribulation in Matthew 24.
World War III: Steps in Progress Are there surprising actions going on now that are leading to WWIII? Might a nuclear attack be expected? Does the Bible promise protection to all or only some Christians? How can you be part of those that will be protected? A related video would be Is World War III About to Begin? Can You Escape?
Wars, rumors of wars, and the Apocalypse Jesus foretold a time before the end where there would be wars and rumors of wars. The Apocalypse (the Book of Revelation) warns of the red horseman of war. Now, even secular writers, like Larry Edelson, are worried that wars and rumors of war are the most menacing problem that now haunts the earth? Are they right? What is the solution? This is a sermonette-length video.
The Gospel of the Kingdom of God was the Emphasis of Jesus and the Early Church Did you know that? Do you even know what the gospel of the kingdom is all about? You can also see a YouTube video sermon The Gospel of the Kingdom.
Prophecy Obama: Prophecies of Barack Obama? Reasons why Barack Obama is apocalyptic and reasons why Barack Obama is not the Antichrist. This article includes many biblical and non-biblical prophecies, from around the world, that seem to discuss Barack Obama. Did Nostradamus predict Barack Obama dealing with the Antichrist?  Might Barack Obama set the stage for the kings of the North and South as at least one Shiite prophecy suggests?  Read it and decide for yourself if President Obama seems to be fulfilling various prophecies. Watch also the YouTube Barack Obama and the State of the Apocalypse.
Just What Do You Mean the Kingdom of God? A booklet that was written by Herbert Armstrong answers questions about the Kingdom.
Women and the New Testament Church What roles did women play in the ministry of Jesus and the apostles? Did Jesus and the Apostle Paul violate Jewish traditions regarding their dealings with women? Do women have any biblical limitations on their role in the Church? Were there female prophets? Do women have any special responsibilities in terms of how they dress? What does the New Testament really teach about women? Here is a related sermon titled: New Testament Women.