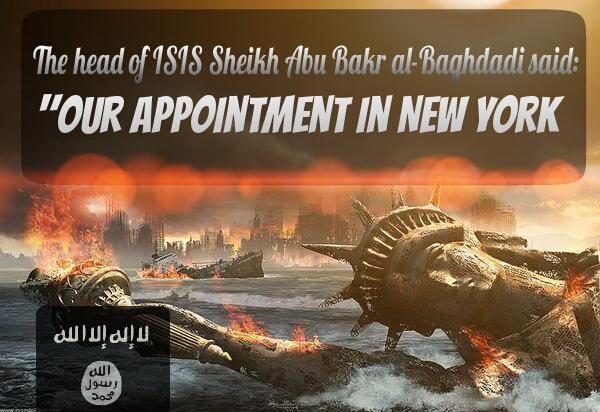 Islamic State supporters are sending a message of destruction.

The United Nations has issued a report stating that tens of thousands of Jihadists are flocking to join the Islamic State (also known as ISIL or ISIS):
October 31, 2014
Jihadists from around the world flock to fight with Isil: UN
It is horrifying that tens of thousands want to join a terrorist organization, but sadly terrorism has long been expected.
Notice the following prophecies:
14 'But if you do not obey Me, and do not observe all these commandments, 15 and if you despise My statutes, or if your soul abhors My judgments, so that you do not perform all My commandments, but break My covenant, 16 I also will do this to you: I will even appoint terror over you, wasting disease and fever which shall consume the eyes and cause sorrow of heart. And you shall sow your seed in vain, for your enemies shall eat it. 17 I will set My face against you, and you shall be defeated by your enemies. Those who hate you shall reign over you, and you shall flee when no one pursues you. (Leviticus 26:14-17)

25 The sword shall destroy outside; There shall be terror within (Deuteronomy 32:25)

12 "Cry and wail, son of man; For it will be against My people, Against all the princes of Israel. Terrors including the sword will be against My people; Therefore strike your thigh. (Ezekiel 21:12)

12 Behold, these are the ungodly,Who are always at ease; They increase in riches…19 Oh, how they are brought to desolation, as in a moment! They are utterly consumed with terrors. (Psalms 73:12,19)

25 Because you disdained all my counsel, And would have none of my rebuke, 26 I also will laugh at your calamity; I will mock when your terror comes, 27 When your terror comes like a storm, And your destruction comes like a whirlwind, When distress and anguish come upon you. (Proverbs 1:25-27)

5 Also they are afraid of height, And of terrors in the way (Ecclesiastes 12:5).
Jihadist gains in various parts of the world are a prelude to more terrorism and change. A confederation against the USA, its Anglo-Saxon allies, and Israel involving Arab and European forces is coming. And I have long believed that terrorism will have to be part of this based not only upon the "terror" prophecies, but those that discuss an arrangement between what is now mainly Islamic dominated lands and Europe in Psalm 83.  While the current Islamic State will not lead as it wishes, it very well may be involved in major terrorist actions around the world.
It has already terrorized many in Iraq and Syria.  And its approach to captured females is horrifying.  Notice the following:
The Islamic State militant group, also known as ISIS or ISIL, has captured hundreds of women and girls over the last few months. The very few who have been able to escape tell stories of rape, forced marriage, and sexual slavery.
How a 'religious' organization can engage in rape and selling women into sexual slavery is not at at justifiable.  Not that many of Islamic State's actions are at all justifiable, it is just that anyone who claims to be religious and claims some form of morality can in no way be justified in forcing females into rape or sexual slavery.
And what about the USA fighting the Islamic State?  Some in the USA military have concerns:
October 31, 2014

The Pentagon brass placed in charge of implementing Obama's war against ISIS are getting fed up with the short leash the White House put them on.

Top military leaders in the Pentagon and in the field are growing increasingly frustrated by the tight constraints the White House has placed on the plans to fight ISIS and train a new Syrian rebel army.

As the American-led battle against ISIS stretches into its fourth month, the generals and Pentagon officials leading the air campaign and preparing to train Syrian rebels are working under strict White House orders to keep the war contained within policy limits. The National Security Council has given precise instructions on which rebels can be engaged, who can be trained, and what exactly those fighters will do when they return to Syria. Most of the rebels to be trained by the U.S. will never be sent to fight against ISIS. …

The New York Times reported Wednesday that Defense Secretary Chuck Hagel himself is among the critics of Obama's strategy in Syria. Hagel wrote a memo last week to National Security Advisor Susan Rice warning that Obama's Syria strategy was unclear about U.S. intentions with respect to Syrian President Bashar al Assad, undermining the plan.

Hagel stood by the memo Thursday. "We owe the president and we owe the National Security Council our best thinking on this. And it has to be honest and it has to be direct," he told reporters.  http://www.thedailybeast.com/articles/2014/10/31/military-upset-with-white-house-micromanagement-of-isis-war.html
We all need to pray, as Jesus said, 'Thy kingdom come' (Matthew 6:10, KJV).
Some items of possibly related interest may include:
Iraq, the King of the South, Armageddon, and Prophecy What will happen to Iraq? Is it the prophesied Mystery Babylon? What is Armageddon and how does that have to do with Iraq? Here is a related video Iraq, Armageddon, & Prophecy.
The Prophesied 'Islamic' Confederation Where is an Islamic caliphate prophesied? Will one happen? Should you be concerned about it? Here is a link to a related video video: Will an Arabic Calphiphate Destroy the West?
The Arab and Islamic World In the Bible, History, and Prophecy The Bible discusses the origins of the Arab world and discusses the Middle East in prophecy. What is ahead for the Middle East and those who follow Islam? What about the Imam Mahdi? What lies ahead for Turkey, Iran, and the other non-Arabic Muslims? An item of possibly related interest in the Spanish language would be: Líderes iraníes condenan la hipocresía de Occidente y declaran que ahora es tiempo para prepararse para el Armagedón, la guerra, y el Imán Mahdi.
The 'Peace Deal' of Daniel 9:27 This prophecy could give up to 3 1/2 years advance notice of the coming Great Tribulation. Will most ignore or misunderstand its fulfillment? Here is a link to a related sermon video Daniel 9:27 and the Start of the Great Tribulation.
Is the Future King of the South Rising Up? Some no longer believe there needs to be a future King of the South. Might Egypt, Islam, Iran, Arabs, or Ethiopia be involved? Might this King be called the Mahdi or Caliph? What does the Bible say? A YouTube video of related interest may be: The Future King of the South is Rising. The Muslim Brotherhood and the Rise of the King of the South The Bible tells of the formation of a power of nations that are in the Middle East and North Africa that are part of the final "King of the South" (Daniel 11:40-43) The Muslim Brotherhood wishes to have an Islamic empire with basically the same nations. This YouTube video explains what to expect from such a confederation.
When Will the Great Tribulation Begin? 2014, 2015, or 2016? Can the Great Tribulation begin today? What happens before the Great Tribulation in the "beginning of sorrows"? What happens in the Great Tribulation and the Day of the Lord? Is this the time of the Gentiles? When is the earliest that the Great Tribulation can begin? What is the Day of the Lord? Who are the 144,000? Here is a version of the article in the Spanish language: ¿Puede comenzar la Gran Tribulación en 2013 o 2014? ¿Es el Tiempo de los Gentiles? You can also see the English language sermon video: The Great Tribulation from the Mount of Olives.
World War III: Steps in Progress Are there surprising actions going on now that are leading to WWIII? Might a nuclear attack be expected? Does the Bible promise protection to all or only some Christians? How can you be part of those that will be protected? A related video would be Is World War III About to Begin? Can You Escape?
Wars, rumors of wars, and the Apocalypse Jesus foretold a time before the end where there would be wars and rumors of wars. The Apocalypse (the Book of Revelation) warns of the red horseman of war. Now, even secular writers, like Larry Edelson, are worried that wars and rumors of war are the most menacing problem that now haunts the earth? Are they right? What is the solution? This is a sermonette-length video.
The Gospel of the Kingdom of God was the Emphasis of Jesus and the Early Church Did you know that? Do you even know what the gospel of the kingdom is all about? You can also see a YouTube video sermon The Gospel of the Kingdom.
Just What Do You Mean the Kingdom of God? A booklet that was written by Herbert Armstrong answers questions about the Kingdom.
Women and the New Testament Church What roles did women play in the ministry of Jesus and the apostles? Did Jesus and the Apostle Paul violate Jewish traditions regarding their dealings with women? Do women have any biblical limitations on their role in the Church? Were there female prophets? Do women have any special responsibilities in terms of how they dress? What does the New Testament really teach about women? Here is a related sermon titled: New Testament Women.
Barack Obama, Prophecy, and the Destruction of the United States-Second Edition for Second Obama Term This is a 160 page book for people truly interested in prophecies related to Barack Obama and the United States, including learning about many that have already been fulfilled (which the book documents in detail) and those that will be fulfilled in the future. It also has a chapter about a Republican choice. This book is available to order at www.barackobamaprophecy.com. The physical book can also be purchased at Amazon from the following link: Barack Obama, Prophecy, and the Destruction of the United States: Is Barack Obama Fulfilling Biblical, Islamic Catholic, Kenyan, and other America-Related Prophecies? What About Republican Leaders? Second Edition for Second Obama Term.
Barack Obama, Prophecy, and the Destruction of the United States-Second Term-Amazon Kindle edition. This electronic version is available for only US$2.99. And you do not need an actual Kindle device to read it. Why? Amazon will allow you to download it to almost any device: Please click HERE to download one of Amazon s Free Reader Apps. After you go to for your free Kindle reader and then go to Barack Obama, Prophecy, and the Destruction of the United States-Second Term-Amazon Kindle edition.