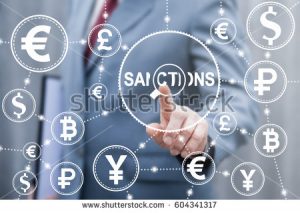 The Associated Press reported the following:
China accuses US of 'bullying' with new 'illegal' sanctions
February 27, 2023

BEIJING (AP) — China on Monday accused the U.S. of "outright bullying and double standards" in leveling what it called "illegal" sanctions on Chinese companies as part of U.S. actions against Russia's Wagner Group and related companies and individuals.

The entities were targeted for their role in the war in Ukraine and mercenary activities, including human rights abuses, in Africa.

The sanctions "have no basis in international law or authorization from the Security Council, and are typical illegal unilateral sanctions and long-arm jurisdiction," Foreign Ministry spokesperson Mao Ning said at a daily briefing.

The punitive measures were "seriously harming China's interests" and China "strongly rejects and deplores that and has lodged solemn complaints with the U.S. side," Mao said.

"While the U.S. has intensified its efforts to send weapons to one of the parties to the conflict, resulting in an endless war, it has frequently spread false information about China's supply of weapons to Russia, taking the opportunity to sanction Chinese companies for no reason," she said. "This is outright bullying and double standards." https://apnews.com/article/politics-china-bd45b29ce3431b4ccb18b044e8a34bc6
Yes, China is right that the USA has double standards and uses bullying.
On March 3, 2022, I posted the following:
Just like most roads go two ways, sanctions have affects on those who impose them and those they are imposed upon. …

Other nations are looking at what is happening to Russia and also will take steps.

Steps that will tend to reduce their dependency on USA dollars. And some will look to gold.

Yes, the USA is harming its position as economic leader of the world by what it is now doing.

The USA will be harmed by its sanctions.

Now the Europeans will be hurt as well. …

There are many unintended consequences of sanctions. …

And the affect of sanctions on Russia look to contribute to more inflation. (Thiel B. WP: Why the enormous scale of financial pain being inflicted on Russia worries some in the West' ZH: Zoltan Pozsar Warns Russian Sanctions Threaten Dollar's Reserve Status. COGwriter, March 3, 2022)
And yes, months after that was posted the USA experienced its highest inflation in 40 years (see AP: US inflation hit a new 40-year high last month of 8.6%; COGwriter: Much more food price inflation is coming), the Eurozone had its highest inflation (see 'Record eurozone inflation,' Baltics over 20%, and Bernie Sanders expresses doubts about Inflation Reduction Act (though he voted for it)), and the UK food inflation hit a record high (see 'UK Food Inflation Hits Record High …' 'Food – inflation, security and the gathering storm').
For years, I have warned about risks associated with USA sanctions.
We even put out the following video on August 12, 2018:
Russian Prime Minister Dmitry Medvedev said new US sanctions would be a declaration of economic war. Iran, North Korea, China, Europe, and Turkey are also upset about USA sanctions and tariffs. A Turk asserted "Somebody must find a solution and stop the USA." The BRICS nations see US sanctions and tariffs as helpful to their objectives to trade without the USA. Are "unintended consequences" of USA policies threatening the current Anglo-American world order and leading to a New World Order? What has 'Lord' Jacob Rothschild and Russian President Vladimir Putin stated? Does Bible prophecy show that a confederation of Turks, Arabs, and Europeans pose a real threat to the USA and UK? Is the final time of the Gentiles coming? Will it be worse than people imagine? Dr. Thiel addresses these issues and more.

Here is a link to our video:

US Sanctions and Tariffs leading to New World Order?
Both the Trump and Biden Administrations have been inclined to impose sanctions. This has contributed to inflation.
But the sanction has also been leading many nations, including China, to try to get around them and USA influence.
Notice headlines from some COGwriter news posts from this month and last month:
The USA has been pushing countries away from its currency.
USA sanctions are pushing the Gentile nations to come up with something that the USA will not like.
The Russians have called US actions hypocritical. China basically did the same thing today.
The Bible tells of destruction coming to "an hypocritical nation" (Isaiah 10:6, KJV).
The USA does not seem to realize that it is undermining its position as the world's primary reserve currency through its sanctions and other policies.
This is an unintended consequence of US sanctions policies.
The Bible points to the end coming to the USA (cf. Daniel 11:39) and economic mishandling will be a factor (cf. Habakkuk 2:6-8).
Some items of possibly related interest may include:
The End of US Dollar Dominance Is the USA losing its economic status? What about the petro-gold-yuan? A related video is also available: US Dollar being challenged by Gold-Petro-Yuan.
The Plain Truth About Gold in Prophecy. How Should a Christian View Gold? What do economists and the Bible teach about gold? Gold and silver may drop in value. Inflation/deflation? What do Christians need to know about gold and silver? Two videos of related interest may be: Germany, Gold, and the US Dollar and Silver, Science, and Scripture.
Does God Have a 6,000 Year Plan? What Year Does the 6,000 Years End? Was a 6000 year time allowed for humans to rule followed by a literal thousand year reign of Christ on Earth taught by the early Christians? Does God have 7,000 year plan? What year may the six thousand years of human rule end? When will Jesus return? 2031 or 20xx? There is also a video titled 6000 Years: When will God's Kingdom Come? Here is a link to the article in Spanish: ¿Tiene Dios un plan de 6,000 años?
Might the U.S.A. Be Gone by 2028? Are there prophetic reasons to believe that the USA will not last two complete presidential terms? Yes. There is a tradition attributed to the Hebrew prophet Elijah that humanity had 6,000 years to live before being replaced by God's Kingdom. There are scriptures, writings in the Talmud, early Christian teachings that support this. Also, even certain Hindu writings support it. Here is a link to a related video: Is the USA prophesied to be destroyed by 2028? In Spanish: Seran los Estados Unidos Destruidos en el 2028?
Asia in Prophecy What is Ahead for Asia? Who are the "Kings of the East"? What will happen to nearly all the Chinese, Russians, Indians, and others of Asia? China in prophecy, where? Who has the 200,000,000 man army related to Armageddon? Here is a link to a related sermon: Asia in Prophecy. Two YouTube video are Is China THE Threat to the United States of America? and China: A King of the East.
Russia and Ukraine: Their Origins and Prophesied Future Russia in prophecy. Where do the Russians come from? What about those in the Ukraine? What is prophesied for Russia and its allies? What will they do to the Europeans that supported the Beast in the end? There is also a video sermon available: Russia in the Bible and in Prophecy as are two video sermonettes Russia, Ukraine, Babylonian Europe, and Prophecy and Ukraine in Prophecy?
Is Russia the King of the North? Some claim it is. But what does the Bible teach? Here is a link to a video, also titled Is Russia the King of the North?
Ezekiel 38: For Russia & Iran in Our Day? Is Ezekiel 38 about to be fulfilled? Are we close to the battle with Gog and Magog? Four related videos are available: Ezekiel 38 Gog and Magog War: Is it Soon?, Ezekiel 38: For Russia, Ukraine, & Iran Now?, Russia, Iran, Syria, & the Bible (Code), and Gog, Magog, Vladimir Putin, and Ezekiel 38?
Lost Tribes and Prophecies: What will happen to Australia, the British Isles, Canada, Europe, New Zealand and the United States of America? Where did those people come from? Can you totally rely on DNA? What about other peoples? Do you really know what will happen to Europe and the English-speaking peoples? What about Africa, Asia, South America, and the Islands? This free online book provides scriptural, scientific, historical references, and commentary to address those matters. Here are links to related sermons: Lost tribes, the Bible, and DNA; Lost tribes, prophecies, and identifications; 11 Tribes, 144,000, and Multitudes; Israel, Jeremiah, Tea Tephi, and British Royalty; Gentile European Beast; Royal Succession, Samaria, and Prophecies; Asia, Islands, Latin America, Africa, and Armageddon;  When Will the End of the Age Come?;  Rise of the Prophesied King of the North; Christian Persecution from the Beast; WWIII and the Coming New World Order; and Woes, WWIV, and the Good News of the Kingdom of God.
When Will the Great Tribulation Begin? 2023, 2024, or 2025? Can the Great Tribulation begin today? What happens before the Great Tribulation in the "beginning of sorrows"? What happens in the Great Tribulation and the Day of the Lord? Is this the time of the Gentiles? When is the earliest that the Great Tribulation can begin? What is the Day of the Lord? Who are the 144,000? Here is a version of the article in the Spanish language: ¿Puede la Gran Tribulación comenzar en el 2020 o 2021? ¿Es el Tiempo de los Gentiles? A related video is: Great Tribulation: 2026 or 2027? A shorter video is: Can the Great Tribulation start in 2022 or 2023? Notice also: Can Jesus return in 2023 or 2024? Here is a video in the Spanish language: Es El 2021 el año  de La Gran Tribulación o el Grande Reseteo Financiero.
Biden-Harris: Prophecies and Destruction Can the USA survive two full presidential terms? In what ways are Joe Biden and Kamala Harris apocalyptic? This book has hundreds of prophecies and scriptures to provide details. A Kindle version is also available and you do not need an actual Kindle device to read it. Why? Amazon will allow you to download it to almost any device: Please click HERE to download one of Amazon s Free Reader Apps. After you go to your free Kindle reader app (or if you already have one or a Kindle), you can go to: Biden-Harris: Prophecies and Destruction (Kindle) to get the book in seconds.