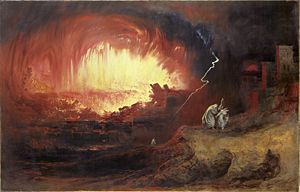 The Destruction of Sodom and Gomorrah
A county judge in Arkansas has decided to attempt to overturn a law against homosexual marriage:
May 10, 2014

EUREKA SPRINGS, Ark. (AP) — About 10 gay couples lined up Saturday morning outside of a county courthouse in northwest Arkansas, one day after a judge ruled that the state's same-sex marriage ban was unconstitutional.

It isn't clear whether any same-sex marriage licenses will be issued Saturday, because couples must find a clerk willing to do so.

Pulaski County Circuit Judge Chris Piazza ruled Friday that Arkansas' 2004 voter-approved amendment to the state constitution violates the rights of gay couples. He didn't put his ruling on hold as some judges in other states have done.  http://www.seattlepi.com/news/us/article/Gay-couples-in-Arkansas-line-up-outside-courthouse-5467956.php
A county judge in Arkansas struck down his state's constitutional bans on gay marriage, saying in a ruling Friday night that they did not advance "any conceivable legitimate state interest."
In finding the ban unconstitutional, Pulaski County Circuit Judge Christopher Piazza cited the series of federal court rulings, including those in Utah and Virginia, that have been issued since the U.S. Supreme Court struck down portions of the federal Defense of Marriage Act. That landmark ruling has led to a spate of lawsuits in about a dozen states seeking to topple bans on same-sex marriage…
Piazza said the measures illegally "narrowed the definition of equality."

"The exclusion of a minority for no rational reason is a dangerous precedent," he wrote.  http://www.latimes.com/nation/nationnow/la-na-arkansas-gay-marriage-ban-struck-down-20140509-story.html
One would think that a county judge could not overturn a state law, but the trend in the USA is for judges at nearly all levels to attempt to legalize homosexual marriages. The USA is becoming more of a judgocracy than a democracy.
But the two points I wish to discuss are his comment about a 'dangerous precedent' and that homosexual marriage bans do not have "any conceivable legitimate state interest."
The Bible teaches that homosexuality is a dangerous.  Encouraging the homosexual agenda is a 'dangerous precedent' that the Bible warns against:
9 The look on their countenance witnesses against them, And they declare their sin as Sodom; They do not hide it. Woe to their soul! For they have brought evil upon themselves. (Isaiah 3:9)

13 The fear of the Lord is to hate evil; Pride and arrogance and the evil way And the perverse mouth I hate. (Proverbs 8:13)

18 Pride goes before destruction, And a haughty spirit before a fall. (Proverbs 16:18)

7 as Sodom and Gomorrah, and the cities around them in a similar manner to these, having given themselves over to sexual immorality and gone after strange flesh, are set forth as an example, suffering the vengeance of eternal fire. (Jude 7)

6…the cities of Sodom and Gomorrah into ashes, condemned them to destruction, making them an example to those who afterward would live ungodly (2 Peter 2:6)
So the Bible shows that Sodom was destroyed for many things including its pride and the committing of abominations. Homosexuality is an abomination. Sodom and Gomorrah were turned into ashes making them an example–but many leaders in the UK, USA, Scotland, Canada, New Zealand, and elsewhere do not wish to consider the ramifications of what they are doing. Much of the 'extreme weather' that has been going on lately appears related to the increasing acceptance of the homosexual agenda (cf. Amos 4:7-12).
The survival of many in Arkansas and the United States is at risk!  To claim that there is not "any conceivable legitimate state interest," apparently means that the judge in Arkansas does not believe the fact that the Bible warns about this is at all 'conceivable.'  This is arrogance of a grand scale, and this judge personally needs repentance now.  Certainly he can read English–and certainly he has access to a Bible.
The Bible specifically warns against accepting and condoning practices such as homosexuality and lesbianism:
18 For the wrath of God is revealed from heaven against all ungodliness and unrighteousness of men, who suppress the truth in unrighteousness…

24 Therefore God also gave them up to uncleanness, in the lusts of their hearts, to dishonor their bodies among themselves, 25 who exchanged the truth of God for the lie, and worshiped and served the creature rather than the Creator, who is blessed forever. Amen.

26 For this reason God gave them up to vile passions. For even their women exchanged the natural use for what is against nature. 27 Likewise also the men, leaving the natural use of the woman, burned in their lust for one another, men with men committing what is shameful, and receiving in themselves the penalty of their error which was due.

28 And even as they did not like to retain God in their knowledge, God gave them over to a debased mind, to do those things which are not fitting; 29 being filled with all unrighteousness, sexual immorality, wickedness, covetousness, maliciousness; full of envy, murder, strife, deceit, evil-mindedness; they are whisperers, 30 backbiters, haters of God, violent, proud, boasters, inventors of evil things, disobedient to parents, 31 undiscerning, untrustworthy, unloving, unforgiving, unmerciful; 32 who, knowing the righteous judgment of God, that those who practice such things are deserving of death, not only do the same but also approve of those who practice them. (Romans 1:18,24-32)
The promotion of sexual immorality, including the 'gay' agenda, will end in destruction.  Ignoring the warnings in the Bible has meant that countries like the USA and UK have also been adding debt that will also contribute to their destruction (Habakkuk 2:6-8; see also yesterday's post Marketwatch speculates why USA interest rates will remain low–is a disaster truly in the making?).
No one should be ignoring the warnings of the Bible.  No one should be pushing the homosexual agenda.  Yet, many in the West foolishly are–and this will be to their peril.
Some items of possibly related interest may include:
The Bible Condemns Homosexuality "Same-sex marriage" for "gays" and lesbians is becoming more acceptable to many. What does the Bible teach about homosexuality? Can homosexuals change?
Cross-dressing and other assaults against your children. What should you do? Is there an agenda to turn your children and/or grandchildren away from biblical morality and towards practices promoted by homosexuals? What does the Bible teach about cross-dressing? What should parents do? If there is an agenda, what has been going on? There is also a YouTube video on this, titled Cross dressing and Other Assaults Against Your Children.
Weather Blessings and Sorrows Are weather problems a warning? What should be done? What does the Bible teach about weather? What about floods, droughts, heat, earthquakes, tornadoes, and solar storms? Here is a related YouTube video Does God Use Weather? A related item in the Spanish language would be Bendiciones y maldiciones del clima.
Love, Marriage, and Sex It is important to get them in the right order.
Pornography: A scourge on society Is pornography harmless fun? Does the Bible teach anything about it? What are the views of some involved with it? Here is a link to a YouTube video Pornography: Harmless Fun or a Scourge on Society?
British and American Moral Decay Public nudity is becoming more prevalent in the Anglo-Saxon lands. What are some of the consequences?
Can those in the USA/UK see the Handwriting on the Wall? Is everything fine in the USA/UK or is it like the days of Noah? Can we learn from the handwriting that appeared on a wall thousands of years ago? Here is a link to a related YouTube video Can you see the 'Handwriting on the Wall'?
Anglo – America in Prophecy & the Lost Tribes of Israel Are the Americans, Canadians, English, Scottish, Welsh, Australians, Anglo-Saxon (non-Dutch) Southern Africans, and New Zealanders descendants of Joseph? Where are the lost ten-tribes of Israel? Who are the lost tribes of Israel? What will happen to Jerusalem and the Jews in Israel? Will God punish the U.S.A., Canada, United Kingdom, and other Anglo-Saxon nations? Why might God allow them to be punished first? Here is a link to the Spanish version of this article: Anglo-América & las Tribus Perdidas de Israel. Information is also in the YouTube sermons titled Where are the Ten Lost Tribes? Why does it matter? and British are the Covenant People. A short YouTube of prophetic interest may be Barack Obama and the State of the Apocalypse.
Will the Anglo-Saxon Nations be Divided and Have People Taken as Slaves? Will the lands of the United States, United Kingdom, Canada, Australia, and New Zealand be divided? What about Jerusalem? What does Bible prophecy teach? Are there non-biblical prophecies that support this idea? Who will divide those lands? Who will end up with the lands and the people? Here is a link to a video titled Will the USA and other Anglo-nations be Divided and Their People Made Slaves? Here is a related item in the Spanish language ¿Serán divididas las naciones anglosajonas?
British are the Covenant People What do 'British' and 'Britain' mean in Hebrew? Are the descendants of the Anglo-Saxons people of the covenant? Does the British royal family connect to the throne of David? What does the Bible teach? What does history show us? Is there any DNA evidence related to British-Israelism? When did Christianity make it to the British Isles? Could Jeremiah have made it to the British Isles? What type of Christians made it to the British Isles? Did the last King of England believe in British Israelism?
When Will the Great Tribulation Begin? 2014, 2015, or 2016? Can the Great Tribulation begin today? What happens before the Great Tribulation in the "beginning of sorrows"? What happens in the Great Tribulation and the Day of the Lord? Is this the time of the Gentiles? When is the earliest that the Great Tribulation can begin? What is the Day of the Lord? Who are the 144,000? Here is a version of the article in the Spanish language: ¿Puede comenzar la Gran Tribulación en 2013 o 2014? ¿Es el Tiempo de los Gentiles? You can also see the English language sermon video: The Great Tribulation from the Mount of Olives.
Prophecies of Barack Obama? Reasons why Barack Obama is apocalyptic and reasons why Barack Obama is not the Antichrist. This article includes many biblical and non-biblical prophecies, from around the world, that seem to discuss Barack Obama. Did Nostradamus predict Barack Obama dealing with the Antichrist? Might Barack Obama set the stage for the kings of the North and South as at least one Shiite prophecy suggests? Read it and decide for yourself if President Obama seems to be fulfilling various prophecies. Watch also the YouTube Barack Obama and the State of the Apocalypse.