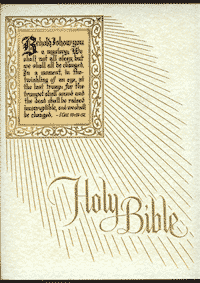 A federal judge ruled that California's ban on homosexual marriage was "unconstitutional" today (see Federal judge strikes down California's ban on same-sex marriage).
Last month, a US judge ruled that the 1996 "Defense of Marriage act" was "unconstitutional" (see Gay Marriage Ban Declared Unconstitutional).
While God is clear about His views about "gay relationships", US judges have taken a different position lately.
As far as being "unconstitutional", I will simply mention that when most states were admitted in to the USA, none allowed "same-sex marriage".  Hence the idea of their banning being "unconstitutional" is certainly a 21st century concept–not one originally embraced in the US Constitution.
The Prophet Isaiah wrote:
20 Woe to those who call evil good, and good evil (Isaiah 5:20)
We live in perilous times (2 Timothy 3:1-9).
Some items of possibly related interest may include:
What Did Jesus Teach About the Ten Commandments? This article quotes what Jesus actually said about them (His words are in red).
The Ten Commandments Reflect Love, Breaking them is Evil Some feel that the ten commandments are a burden. Is that what Jesus, Paul, Peter, James, and John taught?
Was the Commandment to Love the Only Command? Some have stated that John's writings teach this, but is that what the Bible really says?
The Ten Commandments and the Early Church Did Jesus and the Early Church keep the ten commandments? What order were they in? Here are quotes from the Bible and early writings.Prophecies of Barack Obama? Eight reasons why Barack Obama is apocalyptic and eight reasons why Barack Obama is not the Antichrist. This article includes many biblical and non-biblical prophecies, from around the world, that seem to discuss Barack Obama. Did Nostradamus predict Barack Obama dealing with the Antichrist?  Might Barack Obama set the stage for the kings of the North and South as at least one Shiite prophecy suggests?  This is the longest and most complete article on this page on Barack Obama prophecies. Read it and decide for yourself if President Obama seems to be fulfilling various prophecies.
Barack Obama, Prophecy, and the Destruction of the United States Some claim that Barack Obama is the prophesied "son of Kenya", based up an early 20th century writing.
Anglo – America in Prophecy & the Lost Tribes of Israel Are the Americans, Canadians, British, Scottish, Welsh, Australians, Anglo-Southern Africans, and New Zealanders descendants of Joseph? Where are the lost ten-tribes of Israel? Who are the lost tribes of Israel? Will God punish the U.S.A., Canada, United Kingdom, and other Anglo nations? Why might God allow them to be punished first?