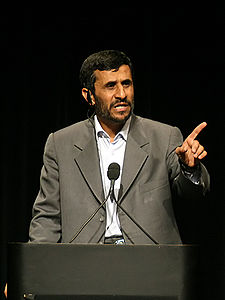 Mahmoud Ahmadinejad
Australia has nuclear concerns about Iran:
Nuclear war: our fear of Iran

Sydney Morning Herald – Dec 13, 2010

AUSTRALIAN intelligence agencies fear that Israel may launch military strikes against Iran and Tehran's pursuit of nuclear capabilities could draw the US and Australia into a potential nuclear war in the Middle East.

Australia's peak intelligence agency has also privately undercut the hardline stance towards Tehran of the US, Israeli and Australian governments, saying its nuclear program is intended to deter attack and it is a mistake to regard Iran as a rogue state…

The warnings about the dangers of nuclear conflict in the Middle East are given in a secret US embassy cable obtained by WikiLeaks and provided exclusively to The Age. They reflect views obtained by US intelligence liaison officers in Canberra from Australian intelligence agencies.

An earlier cable, sent in July 2008, records that former prime minister Kevin Rudd was "deeply worried" that Iranian President Mahmoud Ahmadinejad's intransigence concerning Tehran's nuclear program meant that the window for a diplomatic solution was closing and that "Israel may feel forced to use 'non-diplomatic' means".

Last week Mr Rudd called on Israel to sign the nuclear non-proliferation treaty as part of a broader effort to establish the Middle East as a nuclear-weapon-free zone. http://www.smh.com.au/national/nuclear-war-our-fear-of-iran-20101212-18u0q.html
As I have written before, Iran's Ahmadinejad Does Not Want Peace.
While Mahmoud Ahmadinejad has demonstrated a willingness to risk nuclear war, and various Protestant commentators believe that Iran is supposed to fulfill certain prophecies in the near future, the reality is that Iran is likely to be sidelined if it is involved in an attack with Israel.
Australia, however, is right to have nuclear concerns.  Not that it will be dragged into an Iranian war, but that possibily because of such a war, Islamic terrorists with nuclear devices (including likely what are known as "dirty bombs") Australia will be brought into a future conflict which will include an attack by a future European power on the United States.  And thus, by extension, its Anglo-allies (like the UK, Canada, and Australia).
Australia will end up with worse problems that many of its leadership currently expects.
Some prophetic articles of possibly related interest may include:
Anglo – America in Prophecy & the Lost Tribes of Israel Are the Americans, Canadians, British, Scottish, Welsh, Australians, Anglo-Southern Africans, and New Zealanders descendants of Joseph? Where are the lost ten-tribes of Israel? Who are the lost tribes of Israel? Will God punish the U.S.A., Canada, United Kingdom, and other Anglo nations? Why might God allow them to be punished first?
Will the Anglo-Nations be Divided? Will the lands of the United States, United Kingdom, Canada, Australia, and New Zealand be divided? What does Bible prophecy teach? Are there non-biblical prophecies that support this idea? Who will divide those lands? Who will end up with the lands and the people?
Can the Great Tribulation Begin in 2010, 2011, or 2012? Can the Great Tribulation begin today? When is the earliest that the Great Tribulation can begin? What is the Day of the Lord?
Europa, the Beast, and Revelation Where did Europe get its name? What might Europe have to do with the Book of Revelation? What about "the Beast"? Is an emerging European power "the daughter of Babylon"? What is ahead for Europe?