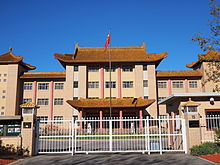 Chinese Embassy in Canberra, Australia (Nick-D)

Business Insider (BI) reported the following:
Australia has enraged China after backing Trump's call for an investigation into how the coronavirus pandemic started

April 29, 2020

Australian Prime Minister Scott Morrison has enraged China after backing calls for a global investigation into the origins of the coronavirus outbreak.

Morrison on Wednesday defended his calls for an investigation into how the pandemic started, describing it a "very reasonable and sensible course of action."

"This is a virus that has taken more than 200,000 lives across the world," Morrison told reporters in Australia's capital, Canberra. "It has shut down the global economy. The implications and impacts of this are extraordinary."

He added: "Now, it would seem entirely reasonable and sensible that the world would want to have an independent assessment of how this all occurred, so we can learn the lessons and prevent it from happening again." …

China's ambassador to Australia, Jingye Cheng, over the weekend warned Morrison's government that Beijing might sever the strong trading ties between the two countries if it pushed ahead with its investigations. …

Hu Xijin, editor of state-run media outlet Global Times, wrote on Chinese blogging website Weibo: "After the epidemic, we need to have more risk awareness when doing business with Australia and also when we send our children to study there.

"Australia is always there, making trouble. It is a bit like chewing gum stuck on the sole of China's shoes. Sometimes you have to find a stone to rub it off." https://www.businessinsider.com/coronavirus-australia-wants-investigation-into-china-role-in-pandemic-2020-4
Fox News (FN) reported the following:
China lashes out at US, claims country is 'lying through their teeth' on coronavirus; threatens Australia

China's foreign ministry on Tuesday accused the United States of "lying through their teeth" and suggested the country mind its own business as the war of words between the world's two biggest economic powers escalated.

"We advise American politicians to reflect on their own problems and try their best to control the [coronavirus] epidemic as soon as possible instead of continuing to play tricks to deflect blame," spokesman Geng Shuang said.

The comments came on the heels of President Trump suggesting in a press conference on Monday that the U.S. would be seeking "substantial" compensation for China's handling of the global pandemic. …

When asked about a recent editorial in the German newspaper Bild that printed a mockup of a $162 billion bill to China for economic damages, Trump replied, "Germany's looking at things, and we're looking at things, and we're talking about a lot more money than Germany's talking about."

Trump, who has been criticized for downplaying the virus despite early warnings, has largely led the charge against China.

Australia has also been on the receiving end of Beijing's spiral. China's ambassador to Australia warned on Monday that the government's call for an independent international inquiry into the origins of the pandemic could lead to a Chinese boycott of Australian products.

"Maybe the ordinary people will say, 'Why should we drink Australian wine? Eat Australian beef?'" Ambassador Chen Jingye threatened, The Australian Financial Review reported.

Australian's foreign minister Marise Payne hit back, dismissing China's attempt at "economic coercion."

That didn't sit well with China, which prompted Hu Xijin, editor-in-chief of the Global Times, to tweet: "Let me give a 'coercion' to Australia. As its attitude toward China becomes worse and worse, Chinese companies will definitely reduce economic cooperation with Australia, and the number of Chinese students & visitors going to Australia will also decrease. Time will prove it all." https://www.foxnews.com/world/china-lashes-out-us-australia-coronavirus
The 'political motivations' are a reference to USA pressures.
Notice also:
"That's Something China Can't Tolerate": Tensions Erupt As China Slams Australia's "Irresponsible Comments"

It all started in late February when we reported that a political row had erupted between China and Australia, with Beijing cracking down on imports of coal from Australia, cutting off the country's miners from their biggest export market and threatening the island nation's economy at a time when it and its fellow "Five Eyes" members who have sided with the US by blocking or banning Huawei's 5G network technology.

In the weeks that followed, while Beijing disputed such a draconian export crackdown, China was overtly targeting Australian coal imports with increased restrictions – what Beijing claims were quality checks – that delayed their passage through northern ports. Given Australia has the highest level of income dependency on China of any developed nation as 30.6% of all Australian export income came from China last year, equivalent to US$87 billion (twice the trade volume with Japan, Australia's next biggest trading partner), and Australia's coal industry is deeply dependent on its exports to China, which account for 3.7% of Australia's GDP, this prompted much speculation that Beijing is punishing coal companies as retribution for political acts by Canberra, one of Washington's closest allies. …

"You can't earn Chinese money and then politically make irresponsible comments about China and become unfriendly," said Cui Pijiang, director of the China Coking Industry Association. "I'm afraid … this is something the Chinese government can't tolerate."

As noted above, since the Huawei scandal erupted in January the Chinese government has denied any ban on Australian coal, and instead blamed the slowdown in unloading of Australian coal at Chinese ports on tougher environmental inspections. But Cui's comments in a speech at the Global Coking Coal Summit in Beijing, to an audience that included Australian embassy officials, and representatives from BHP, was a rare public articulation that political factors are at least partly behind Australian coal facing extended inspections.

"Although businesses can conduct effective, friendly and reasonable cooperation between the two countries, the political factors have to be considered," he said adding that politics and the economy are always indispensable to each other. …

And with Australian purchase set to collapse – should the nation continue to antagonize Beijing with its pro-US bias – Chinese traders are wasting no time, and one of them is understood to have booked three Colombian cargoes for June arrival, adding up to nearly 500,000 mt, S&P sources.

"There is 1 million mt of Colombian coal on its way to China," said one market source.

Meanwhile, there is a lot of Australian coal also on its way to China, the only problem is that due to the escalating diplomatic scandal, it just can't depart: one market source estimated that about 4 million mt of Australian thermal coal was waiting to enter Chinese ports in May and June. …

"It is baffling how the country concerned could whip up 'security threats' posed by other countries or companies … while engaging in acts that endanger cyber security themselves," said Chinese foreign ministry spokesman Lu Kang, sending a clear message to Australia: if you continue to side with the US on the Huawei – or any other issue – you can keep your coal. https://www.zerohedge.com/news/2019-04-12/thats-something-china-cant-tolerate-tensions-erupt-china-slams-australias
In the past we have seen Chinese newspapers containing military threats and warnings to Australia:
'Paper cat' Australia will learn its lesson

July 30, 2016

Around the announcement of the arbitration tribunal over the South China Sea, Australia was one of the most delirious countries. Canberra immediately supported the arbitration result and claimed China "must" abide by it, and also signed a joint declaration with the US and Japan. Australia has inked a free trade agreement with China, its biggest trading partner, which makes its move of disturbing the South China Sea waters surprising to many.

Australia is a unique country with an inglorious history. It was at first an offshore prison of the UK and then became its colony, a source of raw materials, overseas market and land of investment. This country was established through uncivilized means, in a process filled with the tears of the aboriginals. …

Australia calls itself a principled country, while its utilitarianism has been sizzling. It lauds Sino-Australian relations when China's economic support is needed, but when it needs to please Washington, it demonstrates willingness of doing anything in a show of allegiance.

Analysts say that besides trying to please the US, it also intends to suppress China so as to gain a bargaining chip for economic interests. China must take revenge and let it know it's wrong. Australia's power means nothing compared to the security of China. If Australia steps into the South China Sea waters, it will be an ideal target for China to warn and strike.

Australia is not even a "paper tiger," it's only a "paper cat" at best. At a time when its former caretaker country the UK is dedicated to developing relations with China, and almost the whole of Europe takes a neutral position, Australia has unexpectedly made itself a pioneer of hurting China's interest with a fiercer attitude than countries directly involved in the South China Sea dispute. But this paper cat won't last. http://www.globaltimes.cn/content/997320.shtml
So, China is indicating that Australia is basically illegitimate (established through uncivilized means) and that its power basically means nothing to China. Furthermore, China must take revenge and let it know it's wrong.
And basically how?
Well, according to that article, If Australia steps into the South China Sea waters, it will be an ideal target for China to warn and strike.
Additionally, economic threats were also alluded to. And we are now seeing that as well.
This is not a surprise.
Back in 2009, in my book 2012 and the Rise of the Secret Sect, I wrote that China may take over Australia. Since I wrote that, my belief in that outcome has increased.
On June 24, 2010, the day it was announced that she became Prime Minister of Australia, I warned that I felt that Julia Gillard would take steps to fulfill prophecies that also could get the Chinese interested in taking over Australia (see Australia Now Has a Female Prime Minister: Prophetic Ramifications?).
And that happened.
On November 10, 2011, I posted the following:
The USA is getting concerned about China enough to station troops in Australia …

Relying more on a declining military power is not the answer for Australia. And even if the presence is not huge, just having US troops 'permanently' stationed in Australia shows more reliance by Australia on the USA's military. …

The Australians themselves have had various concerns about China, but while they seem to feel that allowing the USA in the country in a bigger way will protect them, I have a different view. The presence of US troops in China may be used as part of its possible future justification for taking the land of Australia. The Chinese may claim something to the effect that Australia is really a military pawn/representative of the USA and thus, since the USA owes them money, taking over Australia will help settle that debt.

China is rising up and the USA is declining militarily relative to it and Europe right now. This does not bode well for the USA nor its allies like Australia. The implication for Australia is more than profound–the implications are disastrous.

The Bible suggests that the land of the Anglo-descended peoples will be conquered and divided (Daniel 11:39; Lamentations 4:16; Joel 3:2-3; Amos 7:17; Ezekiel 5:1-2,12; 6:8; Ezekiel 22:13-15; )

Without national repentance, the Australia is doomed. Period. (Thiel B. Obama Putting 'Permanent' Troops in Australia Because of China, But… November 10, 2011)
About a week later, the Chinese fulfilled the prediction I made on June 24, 2010:
November 17, 2011

A Marine Base for Australia Irritates China

DARWIN, Australia — Fresh from announcing an expanded American military presence in Australia, a plan that has angered China, President Obama came to this remote northern town that will be the base of operations…

The Global Times, a state-run news organization known for its nationalist and bellicose commentaries, issued a stronger reaction in an editorial, saying that Australia should be cautious about allowing the United States to use bases there to "harm China" and that it risked getting "caught in the cross-fire." http://www.nytimes.com/2011/11/18/world/asia/obama-addresses-troops-at-final-stop-in-australia.html
Related to the above, on November 11, 2011, I posted the following:
China is rising up and the USA is declining militarily relative to it and Europe right now. This does not bode well for the USA nor its allies like Australia. The implication for Australia is more than profound–the implications are disastrous. …

Without national repentance, the Australia is doomed. Period. So is the USA. Details are in the Bible and are more specifically explained in my book 2012 and the Rise of the Secret Sect.

Many do not wish to accept that, either here in the USA, over in New Zealand, or in Australia, but it is the truth. These nations will be taken over, and it may be that China will control part of the land. (Thiel B. Australia accepts US troops, China not pleased. November 11, 2011)
I basically wrote the warnings about Australia, because Global Times was correct that it was originally established by the United Kingdom and became a British colony. Because of biblical prophecies to the B'rit ish, the 'covenant people' (for some details, watch British are the Covenant People ), I was aware that certain prophecies that show blessings and cursings to the descendants of Joseph's son Ephraim would impact Australia (see also Anglo – America in Prophecy & the Lost Tribes of Israel).
Notice something from last Summer:
China could overwhelm US military in Asia in hours, Australian report says

August 20, 2019

Hong Kong (CNN)The US military is no longer the primary force in Asia, and missiles from China's rapidly improving military could overwhelm its bases in hours, according to a new report.

The study by the United States Study Center, at the University of Sydney, in Australia, warned that America's defense strategy in the Indo-Pacific region "is in the throes of an unprecedented crisis" and could struggle to defend its allies against China.

That means Australia, Japan and other US partners need to build up and refocus their forces in the region, and consider increased cooperation with the US, to ensure their security, the study claimed.

The report highlights areas where China's military is making huge strides in comparison to the US and its Asian allies and partners. Chief among those is in missiles. …

The report, for example, suggested that Australia increase its production of conventionally powered submarines, which are ideal for operations close to coastlines or in areas like the South China Sea.

It also encouraged "collective defense" through software that enables communications between allies.

Working together

Increased cooperation between the US and its allies is already happening.

The US and Australia recently completed their biennial Talisman Sabre exercises in northern Australia, which this year also included a bulked-up Japan Self-Defense Force contingent performing two amphibious landings.

The Australian report said more of the same is needed, and farther afield from Australia. https://www.cnn.com/2019/08/20/asia/australia-china-us-military-report-intl-hnk/index.html
Notice one Chinese prophecy might hint that it involves dividing Australia and New Zealand with Europe. It states:
Population mouth takes territories south of the Yangtze river. The capital is moved again. The two divide up the territories, of which each maintains and defends (Pui-Hua R. Ancient Chinese Prophecies Till the End of the World. AuthorHouse, Bloomington (IN), 2008, p. 164).
This may be related to a deal that perhaps the Chinese will make in the future with Europe (there are some ancient Chinese prophecies that discuss arrangements with some from the West), as opposed to military conquest. It also may not be related to the taking of Australia or New Zealand, but perhaps might be. China is now heavily invested in Australia and may argue that it has rights to the land.
Scripturally, Asians seem to be involved with the dividing up and selling of people in the future (Ezekiel 27:12-14). Since Australia and New Zealand are the closest of the Anglo-Saxon descended nations to Asia, they seem to be possible candidates to be taken over by the Asians.
Furthermore, notice the following Catholic prophecy:
American Catholic Prophecy (c. early 20th century): The yellow hordes of the Rising Sun and the middle kingdom will pour out their wrath on the people of the island kingdom which had gathered riches through trade (Dupont, Catholic Prophecy: The Coming Chastisement. TAN Books, Rockford (IL), 1973, p. 78).
Australia and New Zealand are island nations that have gained riches through trade. Since the USA owes Japan (the "land of the rising sun") and China (the "middle kingdom") massive amounts of money, it may be since Australia and New Zealand will be allies of the USA and UK, that Europe will give Australia over to China (and/or others in Asia) and New Zealand over to Japan (and/or others in Asia) to help satisfy the USA/UK debt. Both China and Japan have longed for more land and the proximity of the island nations of Australia and New Zealand to the Asian powers seems to make this a likely scenario. The fact that Australia has about 78% as much land as China and New Zealand about 71% of the land of Japan make them interesting candidates for takeover. The Bible tells of a takeover with lands being divided in Daniel 11:39.
Events are aligning for various curses, like Australia losing its sovereignty and land (cf. Lamentations 4:16; Joel 3:2-3; Amos 7:17; Ezekiel 5:1-2,12; 6:8; Ezekiel 22:13-15). And the published Chinese threats are proof of that.
Let's now look at Isaiah 11:
11 It shall come to pass in that day
That the Lord shall set His hand again the second time
To recover the remnant of His people who are left,
From Assyria and Egypt,
From Pathros and Cush,
From Elam and Shinar,
From Hamath and the islands of the sea.

12 He will set up a banner for the nations,
And will assemble the outcasts of Israel,
And gather together the dispersed of Judah
From the four corners of the earth.
13 Also the envy of Ephraim shall depart,
And the adversaries of Judah shall be cut off;
Ephraim shall not envy Judah,
And Judah shall not harass Ephraim. (Isaiah 11:11-13)
The "islands of the sea" in Isaiah 11 seems to suggest that people will be in various islands. This likely includes some left in Australia and New Zealand, but also may include Asian lands such as Japan and Indonesia.
The following from Ezekiel and Isaiah seem to suggest that the Asians will end up with peoples, which would probably include Anglo-Saxon-Celtic descended ones:
13 Javan, Tubal, and Meshech were your traders. They bartered human lives and vessels of bronze for your merchandise. 14 Those from the house of Togarmah traded for your wares with horses, steeds, and mules. (Ezekiel 27:13-14)

9 That You may say to the prisoners, 'Go forth,' To those who are in darkness, 'Show yourselves.' "They shall feed along the roads, And their pastures shall be on all desolate heights. 10 They shall neither hunger nor thirst, Neither heat nor sun shall strike them; For He who has mercy on them will lead them, Even by the springs of water He will guide them. 11 I will make each of My mountains a road, And My highways shall be elevated. 12 Surely these shall come from afar; Look! Those from the north and the west, And these from the land of Sinim. (Isaiah 49:9-12)
Tubal and Meshech are related to Russia (see Russia: Its Origins and Prophesied Future) (Meshech with Moscow and Tubal possibly with Siberia). Javan was the son of Japheth, from whom the Oriental/Mongoloid race developed (but some have identified the Greeks as Javan). Others have considered that the Japanese could have descended from one or more of Javan's sons like Elishah and perhaps Tarshish (see Japan, Its Biblical Past and Future, Part 1: Any Witness?). Islamic and other scholars have somewhat suggested that Javan may be related to China (see China, Its Biblical Past and Future, Part 1: Genesis and Chinese Characters). Some believe that Sinim refers to China and/or others in Asia.
Those in New Zealand and Australia are descended from Ephraim, and are subject to biblically-prophesied captivity.
The trade deals that New Zealand and Australia have made with China and other Asian nations will not protect them.
A while back, the Continuing Church of God put together the following video on our Bible News Prophecy YouTube channel:
The Chinese paper 'Global Times' has carried threats in 2011 and 2016 suggesting the China would militarily intervene against Australia. It has declared that Australia is a 'paper cat,' that China will get revenge against it, and that Australia would be no more. Is this possible? Are there biblical and other reasons to think that this threat is real? Dr. Thiel answers these questions and brings up the fact that he has been warning about this threat since last decade.
Here is a link to our video: Are Chinese threats against Australia for real?
The Continuing Church of God, later, also put together this sermon on our ContinuingCOG channel:
Who are the ancestors of the British peoples who went to Australia and New Zealand? Are there biblical and even non-biblical prophecies that point to the nations of Australia and New Zealand? If so, what do they teach? Have any been fulfilled? What are some of the blessings and cursings the Bible tells of? Does prophecy help explain the wealth of Australia and New Zealand? Will future prophecies still be fulfilled? Does Isaiah 49:12 refer to Australia or New Zealand? What about the Five Eyes? Are there any Catholic or Chinese prophecies that point to Australia and New Zealand? What about the Cook Islands and Australia's external territories? How will the Great Tribulation affect Australia and New Zealand? Will military alliances fail? Are Australians and New Zealanders prophesied to be slaves? Is China a real threat? What about Japan?
China has been upset with Australia and its relationship with the US (see also 'Pence Unveils Plan For US-Australian Pacific Base, Spiking Tensions With China').
Should Australia and New Zealand consider that China has ambitions to control their territories?
Yes.
In the future, according to biblical prophecies, it is clear that Australia and New Zealand will lose their sovereignty. China remains the power that I think is most likely to dominate Australia, and it (or Japan) may end up dominating New Zealand.
If those in Australia and New Zealand think that the USA will be able to stop this forever, they are mistaken. The USA itself will also be taken over one day per Daniel 11:39 (see also USA in Prophecy: The Strongest Fortresses).
Although I personally was unaware of it until July 14, 2016, in February 1963, the old Radio Church of God earlier warned of a threat from Asia in general, and China in particular, to Australia:
Simply because of her geographical situation, Australia is a land of opportunity. Yes, OPPORTUNITY- opportunity for the teeming masses of Asia! …

lndonesia is only ONE of Australia's worries!

Still further to the north lies the sprawling mainland of Red China. Standing on the Baok of China, like a sentinel on the alert, is the booming, highly industrialized nation of Japan with its progressive millions!

Australia is in trouble-and doesn't know it! (Armstrong GT. Australia's Deadly Peril! Plain Truth, February 1963, p. 9)

What if Britain Enters the Common Market? …

Faced with this potential effecr of the Common Market-Australia has been FORCED to look hopefully toward ASIA for new and expanded outlets for its produce! …

Australia, like all of Israel, is headed toward captivity! …

Just as ancient Israel made the mistake of seeking to the Gentile nations for her protection, making pacts and treaties, instead of trusting in God-so is modern-day Israel guilty of the same sin! Australia at the present time is linked with Gentile nations as a member of SEATO, the Southeast Asian Treaty Organization. She like other nations of Israel, is looking to Gentile nations for protection from her potential enemies.

This practice God condemns. …

While the United States and Great Britain are faced with the prophesied revival of the "beast," a union of ten powerful nations in Europe, forming the rebuilding of the ancient Roman Empire, Australia may well be taken over by an entirely different enemy! Australia, trying to populate and industrialize to stave off Communism, may become the SLAVES OF COMMUNISTS! And -make no mistake about it-aggression is actually BEING PLANNED against Australia! (Armstrong GT. Australia's Deadly Peril! Plain Truth, February 1963, pp. 42-44)
Well, Britain did enter the old Common Market and as the 1963 article indicated, Australia has become more and more dependent upon Asian markets. Furthermore, as the 1963 article suggested, Australia is becoming vulnerable for captivity from China.
Anyway, I expect problems in Australia and its eventual loss of sovereignty. I also expect New Zealand to lose its sovereignty. Though it is likely that the USA and UK will lose theirs first (Canada too, will lose its sovereignty).
Some biblical and Chinese prophecies that could point to Australia and New Zealand are in the article Will the Anglo-Saxon-Celtic Nations be Divided and Have People Taken as Slaves?
Some items of possibly related interest may include:
Australia and New Zealand in Prophecy Do biblical prophecies help explain the wealth blessings for Australia and New Zealand? Might cursings from disobedience come in the 21st century? Here is a link to a related sermon: Australia and New Zealand: Origins and Prophecy.
Anglo – America in Prophecy & the Lost Tribes of Israel Are the Americans, Canadians, English, Scottish, Welsh, Australians, Anglo-Saxon (non-Dutch) Southern Africans, and New Zealanders descendants of Joseph? Where are the lost ten-tribes of Israel? Who are the lost tribes of Israel? What will happen to Jerusalem and the Jews in Israel? Will God punish the U.S.A., Canada, United Kingdom, and other Anglo-Saxon nations? Why might God allow them to be punished first? Here is a link to the Spanish version of this article: Anglo-América & las Tribus Perdidas de Israel. Information is also in the YouTube sermons titled Where are the Ten Lost Tribes? Why does it matter? and British are the Covenant People. A short YouTube of prophetic interest may be: Are Chinese threats against Australia for real?
Will the Anglo-Saxon-Celtic Nations be Divided and Have People Taken as Slaves? Will the lands of the United States, United Kingdom, Canada, Australia, and New Zealand be divided? What about Jerusalem? What does Bible prophecy teach? Are there non-biblical prophecies that support this idea? Who will divide those lands? Who will end up with the lands and the people? Here is a link to a video titled Will the USA and other Anglo-nations be Divided and Their People Made Slaves? Here is a related item in the Spanish language ¿Serán divididas las naciones anglosajonas?
British are the Covenant People What do 'British' and 'Britain' mean in Hebrew? Are the descendants of the Anglo-Saxons people of the covenant? Does the British royal family connect to the throne of David? What does the Bible teach? What does history show us? Is there any DNA evidence related to British-Israelism? When did Christianity make it to the British Isles? Could Jeremiah have made it to the British Isles? What type of Christians made it to the British Isles? Did the last King of England believe in British Israelism?
Canada in Prophecy: What Does Bible Prophecy, Catholic Prophecy, and other Predictions Suggest About the Future of Canada? There are prophecies that suggest involvement with Canada. And many are not positive about its future. A sermon of related interest is also available: Canada in Prophecy.
USA in Prophecy: The Strongest Fortresses Can you point to scriptures, like Daniel 11:39, that point to the USA in the 21st century? This article does. Two related sermon are available: Identifying the USA and its Destruction in Prophecy and Do these 7 prophesies point to the end of the USA?
Who is the King of the West? Why is there no Final End-Time King of the West in Bible Prophecy? Is the United States the King of the West? Here is a version in the Spanish language: ¿Quién es el Rey del Occidente? ¿Por qué no hay un Rey del Occidente en la profecía del tiempo del fin? A related sermon is also available: The Bible, the USA, and the King of the West.
Who is the King of the North? Is there one? Do biblical and Roman Catholic prophecies for the Great Monarch point to the same leader? Should he be followed? Who will be the King of the North discussed in Daniel 11? Is a nuclear attack prophesied to happen to the English-speaking peoples of the United States, Great Britain, Canada, Australia, and New Zealand? When do the 1335 days, 1290 days, and 1260 days (the time, times, and half a time) of Daniel 12 begin? When does the Bible show that economic collapse will affect the United States? In the Spanish language check out ¿Quién es el Rey del Norte? Here are links to two related videos: The King of the North is Alive: What to Look Out For and The Future King of the North.
The Great Monarch: Biblical and Catholic Prophecies Is the 'Great Monarch' of Catholic prophecies endorsed or condemned by the Bible? Two sermons of related interest are also available: Great Monarch: Messiah or False Christ? and Great Monarch in 50+ Beast Prophecies.
Does God Have a 6,000 Year Plan? What Year Does the 6,000 Years End? Was a 6000 year time allowed for humans to rule followed by a literal thousand year reign of Christ on Earth taught by the early Christians? Does God have 7,000 year plan? What year may the six thousand years of human rule end? When will Jesus return? 2027 or 20xx? There is also a video titled 6000 Years: When will God's Kingdom Come? Here is a link to the article in Spanish: ¿Tiene Dios un plan de 6,000 años?
When Will the Great Tribulation Begin? 2020, 2021, or 2022? Can the Great Tribulation begin today? What happens before the Great Tribulation in the "beginning of sorrows"? What happens in the Great Tribulation and the Day of the Lord? Is this the time of the Gentiles? When is the earliest that the Great Tribulation can begin? What is the Day of the Lord? Who are the 144,000? Here is a version of the article in the Spanish language: ¿Puede la Gran Tribulación comenzar en el 2020 o 2021? ¿Es el Tiempo de los Gentiles? You can also see the English language sermon videos: The Great Tribulation from the Mount of Olives and Can the Great Tribulation begin before 2020? A shorter and newer video is: Could the Great Tribulation Begin in 2020?
The Times of the Gentiles Has there been more than one time of the Gentiles? Are we in it now or in the time of Anglo-America? What will the final time of the Gentiles be like? A related sermon is available and is titled: The Times of the Gentiles.
Armageddon Who is involved and when will this gathering happen? Here is also a video from Dr. Thiel, from Tel Megiddo in Israel: Armageddon. Other videos include: Armageddon Will it come on Trump's watch?, Iraq, Armageddon, & Prophecy, Freemasonry, Armageddon, and Rome, Is China paving roads to Armageddon?, and Jordan, Petra, and Armageddon.
China, Its Biblical Past and Future, Part 1: Genesis and Chinese Characters Where did the Chinese people come from? This article provides information showing that the Chinese peoples must have known about various accounts in the Book of Genesis up until their dispersion after the Tower of Babel. Here is a link to a version of this article in Spanish: ¿Prueban los caracteres chinos la exactitud de la Biblia?
China, Its Biblical Past and Future, Part 2: The Sabbath and Some of God's Witness in China When did Christianity first come to China? And is there early evidence that they observed the seventh day sabbath?
Asia in Prophecy What is Ahead for Asia? Who are the "Kings of the East"? What will happen to nearly all the Chinese, Russians, Indians, and others of Asia? China in prophecy, where? Who has the 200,000,000 man army related to Armageddon? A YouTube video of interest may be Is China THE Threat to the United States of America?