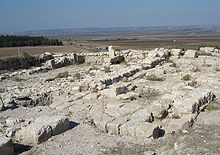 Valley of Megiddo from the hill of Megiddo
(Photo by Bob Thiel)

Breaking Israel News (BIN) reported the following:
Trump to Sign Executive Order Declaring Jewish People a 'Nation' Just as Written in Genesis

December 11, 2019

Once again, President Trump is attaching himself to the words of the Bible by passing an executive order which explicitly enacts God's promise to Abraham; the Jews are a nation. One prominent American Israeli rabbi noted the sole Biblical character who referred to Judaism as a religion; Haman.

President Trump announced that he will be signing an executive order on Wednesday intended to withhold federal funding as a means of forcing universities to cope with growing anti-Semitism on campus. First reported in the New York Times, the order will effectively define Judaism as a race or nationality and not just a religion.

The order empowers the Education Department as described in Title VI of the Civil Rights Act of 1964 which allows the department to withhold funding from any college or educational program that discriminates "on the ground of race, color, or national origin." Religion was not included among the protected categories, so Mr. Trump's order will have the effect of embracing an argument that Jews are a people or a race with a collective national origin in the Middle East.

The new executive order will be based on the State Department's definition of anti-Semitism …

The NYT article noted that "critics complained that such a policy could be used to stifle free speech and legitimate opposition to Israel's policies toward Palestinians in the name of fighting anti-Semitism."

Former Likud Member of Knesset Rabbi Yehudah Glick who was born in the U.S. noted that the Presidential executive order would align U.S. higher education with a Biblical fact.

"Judaism is a nationality," Rabbi Glick said. "This should be absolutely clear now that we are back to normal and have returned to our homeland and have our own language. That is the simple definition of nationality." https://www.breakingisraelnews.com/141446/trump-sign-executive-order-declaring-jewish-people-nation-just-written-genesis/
So, this move may additionally inflame/upset the Palestinians.
However, it looks to be helpful for Jews in the USA and likely will please evangelicals in the USA.
Donald Trump has a lot of support from evangelicals:
George Yancey wrote an op-ed column in CP on March 7 saying, "…I must admit that I fail to fully comprehend why there is continual evangelical support of Trump," noting that he finds the pattern vexing.

Yancey said, "Evangelicals have been his biggest supporters in his policies and seem to be the most loyal to him. They have ignored his immoralities and shortcomings in ways they clearly would not have done for Democrats. It is a blind loyalty that he is unworthy to receive."

The Pew analysis found that around seven-in-ten white evangelical Protestants, or 69 percent of them, say they approve of the way Trump is handling his job as president, the Center's latest polling found in January 2019. …

Around half of white Catholics have approved of Trump in these surveys, including 44percent in January.

Religiously unaffiliated Americans consistently express among the lowest levels of approval of Trump's performance.

These range from 17 percent to 27 percent across the polls the Center has conducted since the president assumed office.

Most black Protestants and nonwhite Catholics also have disapproved of the way the president handles his job. 03/24/19 https://www.ecumenicalnews.com/article/debate-rages-as-pew-finds-evangelical-support-for-trump-remains-high-with-other-christian-groups-less-sympathetic/60661.htm
Various ones, including many evangelicals, consider the move of the US Embassy to Jerusalem as prophetic. Some consider him an end time 'Cyrus the Great.' Some even have called him 'the trump of God' (see Donald Trump reportedly a 'Cyrus' preparing the way for a new Jewish temple).
The Continuing Church of God has the following video on our Bible News Prophecy YouTube channel:
BBC asked, "Why do US evangelicals support Trump's Jerusalem policy?" BBC provided quotes from some believing it has to do with the 'last days' while others say that is not the reason. Hal Lindsey's book, 'The Late Great Planet Earth' is one of the sources pointed to. In this video, Dr. Thiel addresses scriptures related to Jerusalem as well as prophetic ones. He goes over the common 'fig tree' interpretation, belief about a 'Third Temple,' and statements about animal sacrifices. He explains biblical statements on those subjects as well as the views of certain modern Jewish organizations.
Here is a link to our video: Evangelical support for Donald Trump's Jerusalem policy.
Various Protestants and some others (including some Jews) have attempted to claim that Donald Trump is a modern day Cyrus and/or the "trump of God" (see Donald 'Trump of God,' Cyrus, or Apocalyptic?).
But unlike Cyrus, Donald Trump was not prophesied by name to get a Jewish temple rebuilt.
As far as Jerusalem, Cyrus and Donald Trump go, we also have a video:
On December 6, 2017, US President Donald Trump fulfilled a campaign promise related to the recognition of Jerusalem as Israel's capital. This brought anger, protests, and rockets from some Palestinians. It also brought condemnation from European allies–it has been claimed to be disruptive and even catastrophic. The Palestinian President (Mahmoud Abbas) said that this pronouncement eliminated the USA as being a fair mediator for a peace deal. Others have claimed that Donald Trump is an end time Cyrus and his pronouncement will lead to a Third Temple in Jerusalem. Is there ever going to be a peace deal? If so, will Europeans be part of it? Is Donald Trump a 'Cyrus.' Do the Jews require a Third Temple for sacrifices? Dr. Thiel answers those questions and more.
Here is a link to our video: Jerusalem, Donald Trump, and Prophecy.
Building something like the first or second Jewish temples would be a massive project.
Donald Trump is not a modern day Cyrus–though with various coins and comments from others, he may be thinking that he is.
But he is apocalyptic, in the sense, that he is taking steps that will lead to the fulfillment of prophecies in the Book of Revelation.
But some aspects, like Armageddon, will not happen as soon as some think. Related to that, we put together the following video on our Bible News Prophecy YouTube channel:
A news article had the following: "Armageddon: Will it come on Trump's watch?" It then answered that question, but without referring to the Bible. What is Armageddon? What does the Bible teach about it? If US President Donald Trump serves two consecutive terms, can the prophesied gathering at Armageddon take place while he is in office? When is the earliest year that Armageddon can occur? What are some of the events that have to happen prior to the start of Armageddon? Whether or not he can be around for Armageddon, what are some of the ways that US President Donald Trump is apocalyptic? Dr. Thiel addresses these issues and does explain the earliest time when Armageddon can occur. A written article of related interest is available titled " Armageddon: Will it come on Trump's watch? Is 2019 going to be the year of the Armageddon?"
Here is a link to the sermonette video: Armageddon Will it come on Trump's watch?
As far as the Jews being a nation, the New Testament calls the then Roman province of Judah, "the nation of the Jews" (Acts 10:22). Plus, the Apostle Paul called the Jews a nation in Acts 26:4 and 28:19.
Thus, Donald Trump's recognition is consistent with scripture.
But that does not mean it will not upset various ones.
Some items of possibly related interest may include:
When Will the Great Tribulation Begin? 2020, 2021, or 2022? Can the Great Tribulation begin today? What happens before the Great Tribulation in the "beginning of sorrows"? What happens in the Great Tribulation and the Day of the Lord? Is this the time of the Gentiles? When is the earliest that the Great Tribulation can begin? What is the Day of the Lord? Who are the 144,000? Here is a version of the article in the Spanish language: ¿Puede comenzar la Gran Tribulación en 2018 o 2019? ¿Es el Tiempo de los Gentiles? You can also see the English language sermon videos: The Great Tribulation from the Mount of Olives and Can the Great Tribulation begin before 2020? A shorter and newer video is: Could the Great Tribulation Begin in 2020?
The Times of the Gentiles Has there been more than one time of the Gentiles? Are we in it now or in the time of Anglo-America? What will the final time of the Gentiles be like? A related sermon is available and is titled: The Times of the Gentiles.
Armageddon Who is involved and when will this gathering happen? Here is also a video from Dr. Thiel, from Tel Megiddo in Israel: Armageddon. Other videos include: Armageddon Will it come on Trump's watch?, Iraq, Armageddon, & Prophecy, Freemasonry, Armageddon, and Rome, Is China paving roads to Armageddon?, and Jordan, Petra, and Armageddon.
The 'Peace Deal' of Daniel 9:27 This prophecy could give up to 3 1/2 years advance notice of the coming Great Tribulation. Will most ignore or misunderstand its fulfillment? Here is a link to a related sermon video Daniel 9:27 and the Start of the Great Tribulation.
Gaza and the Palestinians in Bible Prophecy What does the Bible teach about Gaza and the fate of the Palestinians? Here is a link to a related video: Gaza and Palestine in Prophecy.
Europa, the Beast, and Revelation Where did Europe get its name? What might Europe have to do with the Book of Revelation? What about "the Beast"? Is an emerging European power "the daughter of Babylon"? What is ahead for Europe? Here is a link to a video titled: Can You Prove that the Beast to Come is European?
European Technology and the Beast of Revelation Will the coming European Beast power would use and develop technology that will result in the taking over of the USA and its Anglo-Saxon allies? Is this possible? What does the Bible teach? Here is a related YouTube video: Military Technology and the Beast of Revelation.
Might German Baron Karl-Theodor zu Guttenberg become the King of the North? Is the former German Defense Minister (who is also the former German Minister for Economics and Technology) one to watch? What do Catholic, Byzantine, and biblical prophecies suggest? A video of related interest would be: Karl-Theodor zu Guttenberg and Europe's Future.
Germany's Assyrian Roots Throughout History Are the Germanic peoples descended from Asshur of the Bible? Have there been real Christians in Germanic history? What about the "Holy Roman Empire"? There is also a You-Tube video sermon on this titled Germany's Biblical Origins.
Germany in Biblical and Catholic Prophecy Does Assyria in the Bible equate to an end time power inhabiting the area of the old Roman Empire? What does prophecy say Germany will do and what does it say will happen to most of the German people?
Who is the King of the North? Is there one? Do biblical and Roman Catholic prophecies for the Great Monarch point to the same leader? Should he be followed? Who will be the King of the North discussed in Daniel 11? Is a nuclear attack prophesied to happen to the English-speaking peoples of the United States, Great Britain, Canada, Australia, and New Zealand? When do the 1335 days, 1290 days, and 1260 days (the time, times, and half a time) of Daniel 12 begin? When does the Bible show that economic collapse will affect the United States? Here is a link to a video titled: The Future King of the North.
Will the Interfaith Movement Lead to Peace or Sudden Destruction? Is the interfaith movement going to lead to lasting peace or is it warned against? A video sermon of related interest is: Will the Interfaith Movement lead to World War III? and a video sermon is also available: Do You Know That Babylon is Forming?
Can You Prove that the Beast to Come is European? The Book of Revelation tells of a beast power that will rise up. Some think that this must be Russia or could be Islamic, while others say that this power is European. The Book of Daniel tells of the rise of an end time King of the North that some think must be referring to a Russian leader, while others say that this power is European. How can you be sure? This YouTube video has all the scriptural proofs that you should need to prove that this power must be a European one.
The Eurasian Union, the Kings of the East, and Bible Prophecy Is there a Eurasian union that will be formed? Is one being formed right now? Are any leaders working on that in the 21st century? Does the Bible teach that there will be a Eurasian union? If some type of Eurasian union is formed, who might it benefit and who will it destroy? A related video would be Is The Eurasian Union Rising?
Anglo – America in Prophecy & the Lost Tribes of Israel Are the Americans, Canadians, English, Scottish, Welsh, Australians, Anglo-Saxon (non-Dutch) Southern Africans, and New Zealanders descendants of Joseph? Where are the lost ten-tribes of Israel? Who are the lost tribes of Israel? What will happen to Jerusalem and the Jews in Israel? Will God punish the U.S.A., Canada, United Kingdom, and other Anglo-Saxon nations? Why might God allow them to be punished first? Here is a link to the Spanish version of this article: Anglo-América & las Tribus Perdidas de Israel. Information is also in the YouTube sermons titled Where are the Ten Lost Tribes? Why does it matter? and British are the Covenant People. A short YouTube of prophetic interest may be: Are Chinese threats against Australia for real?
Will the Anglo-Saxon-Celtic Nations be Divided and Have People Taken as Slaves? Will the lands of the United States, United Kingdom, Canada, Australia, and New Zealand be divided? What about Jerusalem? What does Bible prophecy teach? Are there non-biblical prophecies that support this idea? Who will divide those lands? Who will end up with the lands and the people? Here is a link to a video titled Will the USA and other Anglo-nations be Divided and Their People Made Slaves? Here is a related item in the Spanish language ¿Serán divididas las naciones anglosajonas?
British are the Covenant People What do 'British' and 'Britain' mean in Hebrew? Are the descendants of the Anglo-Saxons people of the covenant? Does the British royal family connect to the throne of David? What does the Bible teach? What does history show us? Is there any DNA evidence related to British-Israelism? When did Christianity make it to the British Isles? Could Jeremiah have made it to the British Isles? What type of Christians made it to the British Isles? Did the last King of England believe in British Israelism?
Canada in Prophecy: What Does Bible Prophecy, Catholic Prophecy, and other Predictions Suggest About the Future of Canada? There are prophecies that suggest involvement with Canada. And many are not positive about its future. A sermon of related interest is also available: Canada in Prophecy.
Australia and New Zealand in Prophecy Do biblical prophecies help explain the wealth blessings for Australia and New Zealand? Might cursings from disobedience come in the 21st century? Here is a link to a related sermon: Australia and New Zealand: Origins and Prophecy.
Donald Trump in Prophecy Prophecy, Donald Trump? Are there prophecies that Donald Trump may fulfill?  Are there any prophecies that he has already helped fulfill?  Is a Donald Trump presidency proving to be apocalyptic?  Two related videos are available: Donald: 'Trump of God' or Apocalyptic? and Donald Trump's Prophetic Presidency.
Trump Presidency Magic 8 Ball or Bible Prophecy? BBC reported that one might as well use a 'Magic Eight-Ball' to try to predict what will happen in the remaining time of Donald Trump's presidency. What is a 'Magic Eight-Ball'? Dr. Thiel not only explains that, but also briefly goes over 10 biblically-based warnings he wrote would happen if Donald Trump were elected that have already began to come to pass. He also goes over something he wrote back in 2008 that the Trump presidency is also helping lead to fulfillment. Should you trust Bible prophecy or not? Dr. Thiel says that Bible prophecy can be trusted, despite the view of skeptics and others that either overlook or despise the Bible. This is a video.
Donald Trump and America's Apocalypse This 188 page book is for people truly interested in prophecies related to Donald Trump and the United States, including learning about several that have already been fulfilled and those that will be fulfilled in the future. The physical book can be purchased at Amazon for $12.99 from the following link: Donald Trump and America's Apocalypse.
Donald Trump and America's Apocalypse-Kindle Edition This electronic version of the 188 page print edition is available for only US$3.99. And you do not need an actual Kindle device to read it. Why? Amazon will allow you to download it to almost any device: Please click HERE to download one of Amazon s Free Reader Apps. After you go to for your free Kindle reader and then go to Donald Trump and America's Apocalypse-Kindle Edition.