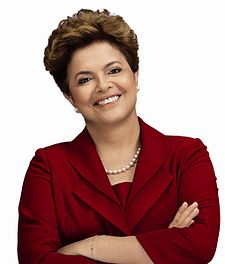 Dilma Rousseff
Brazil elected Dilma Rousseff as its president:
…President-elect Dilma Rousseff pledged to control inflation and rein in government spending.

Rousseff, who was hand-picked by incumbent President Luiz Inacio Lula da Silva to become his successor, won a run-off vote on Sunday. In her victory speech, she highlighted the need to maintain solid macroeconomic management, improve the quality of budget spending and stimulate private investment.  http://www.reuters.com/article/idUSN0125915320101101
As the above states, Dilma Rousseff was hand-picked by the current president, Lula da Silva, to be his replacement.  I have seen reports that speculate that he choose her so that he would be able to run for president again when her term is up (this is similar to why many believe that Russia's Vladimir Putin wanted Dmitry Medvedev to be Russia's president).
Whether that is true or not remains to be seen. But what is true is that Brazil grew into a major international power under Lula da Silva's presidency.  And that it hopes to make a bigger impact on the international community.
Consistent with biblical prophecy, and for reasons of religion, language, and culture, I believe Brazil will become a closer ally of the rising European power.
Two articles of possibly related interest may include:
Mexico, Central America, South America, and Brazil in Prophecy [Español: México, America Central, Suramérica, y el Brasil en profecíal] [Português: México, América Central, Ámérica do Sul, e Brasil na profecia] What will happen to those of Latin America? Will they have prosperity? Will they cooperate with Europe? Will they suffer in the future? What rule might the various Caribbean nations/territories play?
Europa, the Beast, and Revelation Where did Europe get its name? What might Europe have to do with the Book of Revelation? What about "the Beast"? Is an emerging European power "the daughter of Babylon"? What is ahead for Europe?