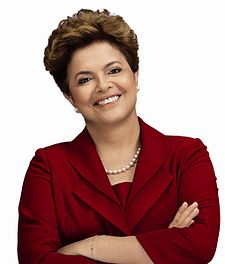 Dilma Rousseff
US President Barack Obama is in Brazil:
BRASILIA, Brazil — President Obama and his family arrived here on Saturday morning for his first trip to South America…Mr. Obama's visit had also been billed as way for him to connect with Latin Americans, especially in Brazil, a multi-racial society where he has been wildly popular since his presidential campaign…
The Brazilians under the new presidency of Dilma Rousseff, its first female president, are eager to build closer economic and political ties to the Obama administration, though their occasional differences on the international stage were reflected on Thursday night, when Brazil was one of five nations to abstain in the vote of the United Nations Security Council to authorize force against Libya.

The Obama administration from the start has described the trip, especially its Brazil leg, in terms of its potential job-creating benefits for the United States — in keeping with Mr. Obama's main domestic theme.
Some in the USA press have criticized Barack Obama for going on the trip at this time, but in my view, since he promised to go now, it is not inappropriate for him to be there as he promised.
There exists certain legal connections between those of Portugal and Brazil which ties those nations relatively closely.
While Brazilians are often of mixed ethnicity, Brazil is believed to have a significant Jewish influence as well (see Jewish Heritage of Brazil).
But essentially, the Latin American nations are primarily made up of Gentile-descended peoples. During the prophesied "time of the Gentiles" the Gentile-descended nations, and not the Anglo-descended ones, will rule the earth (more information on that can be found in the article Can the Great Tribulation Begin in 2011, 2012, or 2013?).
While the USA wants closer ties with the emerging power of Brazil, consistent with biblical prophecy, and for reasons of religion, language, and culture, I believe Brazil will become a closer ally of the rising European power.
Some articles of possibly related interest may include:
Mexico, Central America, South America, and Brazil in Prophecy [Español: México, America Central, Suramérica, y el Brasil en profecíal] [Português: México, América Central, Ámérica do Sul, e Brasil na profecia] What will happen to those of Latin America? Will they have prosperity? Will they cooperate with Europe? Will they suffer in the future? What rule might the various Caribbean nations/territories play?
Europa, the Beast, and Revelation Where did Europe get its name? What might Europe have to do with the Book of Revelation? What about "the Beast"? Is an emerging European power "the daughter of Babylon"? What is ahead for Europe?
?
Anglo – America in Prophecy & the Lost Tribes of Israel Are the Americans, Canadians, British, Scottish, Welsh, Australians, Anglo-Southern Africans, and New Zealanders descendants of Joseph? Where are the lost ten-tribes of Israel? Who are the lost tribes of Israel? What will happen to the Jews in Israel? Will God punish the U.S.A., Canada, United Kingdom, and other Anglo nations? Why might God allow them to be punished first?
Will the Anglo-Nations be Divided and Have People Taken as Slaves? Will the lands of the United States, United Kingdom, Canada, Australia, and New Zealand be divided? What does Bible prophecy teach? Are there non-biblical prophecies that support this idea? Who will divide those lands? Who will end up with the lands and the people?
Prophecies of Barack Obama? Eight reasons why Barack Obama is apocalyptic and eight reasons why Barack Obama is not the Antichrist. This article includes many biblical and non-biblical prophecies, from around the world, that seem to discuss Barack Obama. Did Nostradamus predict Barack Obama dealing with the Antichrist?  Might Barack Obama set the stage for the kings of the North and South as at least one Shiite prophecy suggests?  This is the longest and most complete article on this page on Barack Obama prophecies. Read it and decide for yourself if President Obama seems to be fulfilling various prophecies.
Barack Obama, Prophecy, and the Destruction of the United States Some claim that Barack Obama is the prophesied "son of Kenya", based up an early 20th century writing.