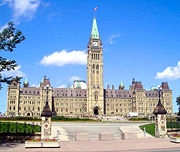 Canadian Parliament Building, Ottawa

Canada got hit with a terrorist incident, its second attack by Islamic converts this week:
October 23, 2014

The man who stormed Canada's government complex Wednesday, killing a soldier and sending Ottawa into an all-out panic, was a small-time criminal who recently converted to Islam and desperately wanted to move to the Middle East, according to reports.

Michael Zehaf-Bibeau, the 32-year-old whose morning raid on Parliament Hill ended when a sergeant-at-arms gunned him down as he was unleashing a fusillade of bullets in the halls of Canada's federal government, had recently undergone a religious awakening that left at least one friend alarmed. "We were having a conversation in a kitchen, and I don't know how he worded it: He said the devil is after him," Dave Bathurst told the newspaper. "I think he must have been mentally ill."…

Witnesses said an armed Zehaf-Bibeau drove to the Ottawa complex just before 10 a.m Wednesday, jumped out of a Toyota with no license plates and ran to the National War Memorial, where he shot a soldier later identified as Cpl. Nathan Cirillo. The 25-year-old father of a six-year-old boy, who was a member of Canada's Argyll and Sutherland Highlanders regiment, died later at Civic Hospital.
Zehaf-Bibeau then ran to the East Block of Parliament Hill, firing more shots and sending politicians, journalists and other workers scattering, although no one else was killed…
The raid came just one day after Canada raised its terror alert and two days after another jihadist convert, Martin Couture-Rouleau, killed uniformed Canadian soldier Warrant Officer Patrice Vincent in a hit-and-run in Quebec that police believe was intentional. Couture-Rouleau, who was shot to death by police, had recently had his passport seized to bar him from travelling to the Middle East to join the Islamic State.

Canada rasied its alert level after the attack, and cited chatter from Islamic State sources calling on supporters to strike back at Canada in retaliation for its decision to join coalition forces performing airstrikes in Iraq.  http://www.foxnews.com/world/2014/10/23/ottawa-gunman-displayed-possible-mental-illness-knew-homegrown-jihadist/

October 23, 2014

Canada's prime minister says that his country "will never be intimidated" following attacks this week in Ottawa and near Montreal that have killed two soldiers.

In a televised address Wednesday evening, Prime Minister Stephen Harper said the attacks are reminders that Canada is not immune to terrorism and vowed to "redouble" efforts to identify and counter threats. …

Little is known about the assailant, identified as ex-convict Michael Zehaf-Bibeau, 32, who was fatally shot inside parliament by Sergeant-at-Arms Kevin Vickers.

According to those present, many fled the complex by scrambling down scaffolding erected for renovations, while others took cover inside and barricaded doors with chairs as police with rifles and body armor took up positions outside and cordoned off the normally bustling streets around Parliament.

Police and witnesses, including parliament members, said they heard about 10 shots before the police moved in. …

Canadian Foreign Minister John Baird, in a telephone conversation with U.S. Secretary of State John Kerry, appeared to link the attack to Canada's participation in the U.S.-led air campaign against the Islamic State group.

Earlier this week, a man whom the prime minister described as a Muslim convert who had been "radicalized" drove a car into two Canadian soldiers in Saint-Jean-sur-Richelieu, about 40 kilometers southeast of Montreal, killing one.

President Barack Obama spoke by phone with Prime Minister Harper after Wednesday's attacks and said it was important for U.S. and Canadian counterterrorism authorities to continue working in sync. …

Canadian authorities have yet to determine the motive for the Wednesday shooting, which came as Canadian warplanes prepared to join the U.S.-led operation bombarding Islamist militants in Iraq.  http://www.voanews.com/content/canada-parliament-shooting-terrorist-attack/2493355.html

Ottawa, Canada (CNN) — It was a surprise, even for a journalist, to be driving down Wellington Street, the city's ceremonial thoroughfare, and to find myself swept into the chaotic aftermath of a disaster. I was rushing to a television studio at mid-morning and passing by the National War Memorial, just minutes after the shooting. A solider was down.

Police were closing streets, stopping traffic, barking orders, brandishing machine guns, fingers on triggers. They soon imposed a lockdown, lasting until mid-afternoon. It is from that confinement that I began writing this.

This is not supposed to happen in Canada — much less Ottawa, its sleepy, self-absorbed capital.

Sentries do not die on duty at the National War Memorial in this, our season of remembrance. Politicians do not cower in the committee rooms of Parliament, as its Gothic hallways ring with gunfire. Sharpshooters do not take up position on oxidized copper rooftops nearby, looking for men with long rifles.

This is Canada, once known as "the Peaceable Kingdom." Now we have learned, like so many other countries, that terrible, unsentimental reality of the 21st century: It can happen here.  http://www.cnn.com/2014/10/22/opinion/cohen-ottawa-shooting-lockdown/
Of course, terrorism can take place in Canada.  And Canada will experience more terrorism.  Those associated with the Islamic State reportedly are celebrating the attack in Canada.  Here is one limited report:
Wednesday's killing of Cpl. Nathan Frank Cirilloin the heart of Canada's capital showed, even simple attacks can elicit the widespread panic and attention these groups crave.

Many details about Cirillo's killing and the motives of the shooter, identified as Michael Zehaf-Bibeau, are still unknown. Was there any connection to Martin Couture-Rouleau, 25, who killed 53-year-old Warrant Officer Patrice Vincent Monday in a hit-and-run in Quebec? Did Zehaf-Bibeau have any ties abroad?

But no matter the connections, followers of the Islamic State (also known as ISIS and ISIL) benefited from the worldwide attention as they gloated on social media soon after Cirillo's death. "Canada getting a taste of their own medicine?" wrote one. Another prolific ISIS supporter wrote: "Canada starting to pay the price of intervention." …

Amarnath Amarasingam, a post-doctoral fellow at Dalhousie University's Resilience Research Centre, who has been studying Canadian ISIS recruits, says Wednesday's attack perfectly suited the group's narrative. "They're calling for Muslims to defend the Islamic State but if they can't travel, then Muslims around the world are to attack at home to support the caliphate." http://www.thestar.com/news/canada/2014/10/22/islamic_states_call_for_domestic_attacks_has_troubled_security_officials.html
Terrorism is wrong and should not be celebrated nor encouraged.  Yet, more terrorism is expected as terrorism is prophesied:
25 The sword shall destroy outside; There shall be terror within (Deuteronomy 32:25).

12 Behold, these are the ungodly, Who are always at ease; They increase in riches…19 Oh, how they are brought to desolation, as in a moment! They are utterly consumed with terrors. (Psalms 73:12,19)

12 "Cry and wail, son of man; For it will be against My people, Against all the princes of Israel. Terrors including the sword will be against My people; Therefore strike your thigh. (Ezekiel 21:12)

14 'But if you do not obey Me, and do not observe all these commandments, 15 and if you despise My statutes, or if your soul abhors My judgments, so that you do not perform all My commandments, but break My covenant, 16 I also will do this to you: I will even appoint terror over you, wasting disease and fever which shall consume the eyes and cause sorrow of heart. And you shall sow your seed in vain, for your enemies shall eat it. 17 I will set My face against you, and you shall be defeated by your enemies. Those who hate you shall reign over you, and you shall flee when no one pursues you. (Leviticus 26:14-17)
Canada is not the only nation to be hit in the future.  The other Anglo-Saxon nations (UK, Australia, and New Zealand) are also subject to future terrorism.
And the USA had another attack at the White House:
October 23, 2014

An intruder scaled the White House fence Wednesday, but was quickly pounced on by guard dogs in the latest scare since an armed man made it into the executive mansion last month.

Secret Service officials said Dominic Adesanya, 23, of Bel Air, Md., climbed over the fence near the North Lawn of the White House at 7:16 p.m., but was quickly subdued by K-9 units.

Adesanya kicked one of the dogs, but a second one stopped him and Secret Service agents tackled him, officials said.

"The dog got him," a Secret Service spokesman said.

… Dominic Adesanya's father said the 23-year-old suffers from mental illness.  http://www.nydailynews.com/news/politics/white-house-fence-jumper-caught-k-9-units-article-1.1983964
Both the Canadian and American attackers were accused of having 'mental illness.'  While that may be case, both were spiritually ill. Yet, they both attacked.
More attacks and terrors are coming.
Some items of possibly related interest may include:
Canada in Prophecy: What Does Bible Prophecy, Catholic Prophecy, and other Predictions Suggest About the Future of Canada? There are prophecies that suggest involvement with Canada. And many are not positive about its future.
The Prophesied 'Islamic' Confederation Where is an Islamic caliphate prophesied? Will one happen? Should you be concerned about it? Here is a link to a related video video: Will an Arabic Calphiphate Destroy the West?
Iraq, the King of the South, Armageddon, and Prophecy What will happen to Iraq? Is it the prophesied Mystery Babylon? What is Armageddon and how does that have to do with Iraq? Here is a related video Iraq, Armageddon, & Prophecy.
Is the Future King of the South Rising Up? Some no longer believe there needs to be a future King of the South. Might Egypt, Islam, Iran, Arabs, or Ethiopia be involved? Might this King be called the Mahdi or Caliph? What does the Bible say? A YouTube video of related interest may be: The Future King of the South is Rising.
The Arab and Islamic World In the Bible, History, and Prophecy The Bible discusses the origins of the Arab world and discusses the Middle East in prophecy. What is ahead for the Middle East and those who follow Islam? What about the Imam Mahdi? What lies ahead for Turkey, Iran, and the other non-Arabic Muslims? An item of possibly related interest in the Spanish language would be: Líderes iraníes condenan la hipocresía de Occidente y declaran que ahora es tiempo para prepararse para el Armagedón, la guerra, y el Imán Mahdi.
World War III: Steps in Progress Are there surprising actions going on now that are leading to WWIII? Might a nuclear attack be expected? Does the Bible promise protection to all or only some Christians? How can you be part of those that will be protected? A related video would be Is World War III About to Begin? Can You Escape?
Anglo – America in Prophecy & the Lost Tribes of Israel Are the Americans, Canadians, English, Scottish, Welsh, Australians, Anglo-Saxon (non-Dutch) Southern Africans, and New Zealanders descendants of Joseph? Where are the lost ten-tribes of Israel? Who are the lost tribes of Israel? What will happen to Jerusalem and the Jews in Israel? Will God punish the U.S.A., Canada, United Kingdom, and other Anglo-Saxon nations? Why might God allow them to be punished first? Here is a link to the Spanish version of this article: Anglo-América & las Tribus Perdidas de Israel. Information is also in the YouTube sermons titled Where are the Ten Lost Tribes? Why does it matter? and British are the Covenant People. A short YouTube of prophetic interest may be Barack Obama and the State of the Apocalypse.
Will the Anglo-Saxon Nations be Divided and Have People Taken as Slaves? Will the lands of the United States, United Kingdom, Canada, Australia, and New Zealand be divided? What about Jerusalem? What does Bible prophecy teach? Are there non-biblical prophecies that support this idea? Who will divide those lands? Who will end up with the lands and the people? Here is a link to a video titled Will the USA and other Anglo-nations be Divided and Their People Made Slaves? Here is a related item in the Spanish language ¿Serán divididas las naciones anglosajonas?
Who is the King of the West? Why is there no End-Time King of the West in Bible Prophecy? Is the United States the King of the West?
Barack Obama, Prophecy, and the Destruction of the United States-Second Edition for Second Obama Term This is a 160 page book for people truly interested in prophecies related to Barack Obama and the United States, including learning about many that have already been fulfilled (which the book documents in detail) and those that will be fulfilled in the future. It also has a chapter about a Republican choice. This book is available to order at www.barackobamaprophecy.com. The physical book can also be purchased at Amazon from the following link: Barack Obama, Prophecy, and the Destruction of the United States: Is Barack Obama Fulfilling Biblical, Islamic Catholic, Kenyan, and other America-Related Prophecies? What About Republican Leaders? Second Edition for Second Obama Term.
Barack Obama, Prophecy, and the Destruction of the United States-Second Term-Amazon Kindle edition. This electronic version is available for only US$2.99. And you do not need an actual Kindle device to read it. Why? Amazon will allow you to download it to almost any device: Please click HERE to download one of Amazon s Free Reader Apps. After you go to for your free Kindle reader and then go to Barack Obama, Prophecy, and the Destruction of the United States-Second Term-Amazon Kindle edition.